Start strong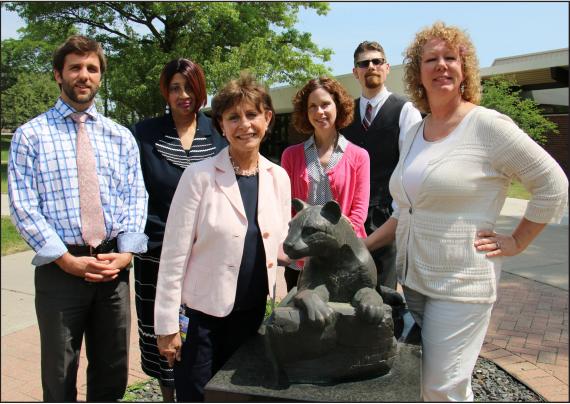 Academic Success Coaches are here to help
BY ELIZABETH CASELLA, MANAGING EDITOR
Although the fall semester has just begun its not to early to think about where to get assistance when the moment arises. Thankfully, if this is the case, the college offers some special faculty that can be utilized as resources to help support a student to succeed to the fullest potential. Within the Learning Assistance Center (LAC) located in the Bradner Library are faculty members ready to lend a hand. These members assist in a myriad of academic subjects and are coming together to form the team of Academic Success Coaches. They are here to help in areas such as Math, reading preparation, writing, science and to offer support to students on a mentor level as well.
"We have so many resources that are great here on campus. Getting students to take advantage of these resources so that they can be as successful as they can be is important. We are here to help and want to," said Ryan Lemasters, Faculty Facilitator and SASS Coordinator.


This team of Academic Success Coaches is comprised of six members who operate on main campus. These members are Niran Kheder, Terri Lamb, Ryan Lemasters, Nancy Anter, Dr. Carmen Wilson and Ryan Masters. Their services and skills are able to accommodate all students in a wide range of academic needs.
Niran Kheder is the Writing Fellows Coordinator, Adjunct Assistant Professor and Special Projects Coordinator. Kheder personally as well as her trained Writing Fellow student staff offer writing review services for students. They can help students that are struggling with grammar usage, writing style, organization and basic mechanics, provide an opportunity for revisions and a fresh set of eyes to look at pre written assignments or labs.
Teri Lamb is the Mathematics Learning Specialist, Tutor Program Coordinator and Online Tutoring Program Coordinator. Lamb offers help with students that need math tutoring or prep for test skills as well as students seeking tutoring for online courses.
Ryan Lemasters is the Student Athletic Success Strategy Coordinator. Any student athletes that need assistance academically can talk to him or students facing academic referrals or suspensions as well. Lemasters also can help students with study skill strategies and stress management.
Nancy Anter is the Learning Specialist. Anter assists with helping students that need to help learning college reading and learning strategies, as well as students that work with alternative learning strategies for those with disabilities. She also offers test prep skills and helps runs test prep for the Test of Essential Academic Skills (TEAS) and the Michigan Test for Teacher Certification (MTTC) tests specifically.
Ryan Masters is the University Bound Coordinator that works in conjunction with Wayne State University. He can help students that want to transfer design a plan and set a course that they need to be on while at Schoolcraft that will set them up for advancement once they leave for another University.
Dr. Carmen Wilson is a Learning Specialist the also focuses on study skills, college reading and learning strategies. She offers test preparation in groups and one on one sessions as well.
"We are here to help. We not only care about students academically, we care about them on a personal level too. It's as simple as that," said Dr. Deborah Daiek, Dean of Education Programs and Learning Support.
All of these tutoring and prep services are free to students. The Academic Success Coaches are here to help students not only review their work, or receive tutoring, but can also assist them with learning how to prepare for class and college learning. This then sets students up to use these skills for the future
"I hope Schoolcraft students meet with an academic coach this semester to discover how students learn best, and then capitalize on that knowledge. It's better to start strong, with a concrete plan, rather than just show up to class and hope it works out. The college courses and support services are designed for student success. Students should understand that design, and use it to their academic advantage," said Nancy Anter, Faculty Facilitator.
All of these coaches are willing to work with students and lead them on the path towards success. They also can put them in contact with the coaches one may need to focus on their specific areas of trouble. These mentors truly care about all students and want each one to be set up for accomplishing as much as they can.
It is best to start the year off strong by getting help early that is offered and have this support as students travel down their road towards achievement. To get in contact with any of these coaches visit the Learning Assistance Center (LAC) inside the Bradner Library or visit schoolcraft.edu and find their individual contact information under the LAC page within Learning Support Services.