Wilson sees potential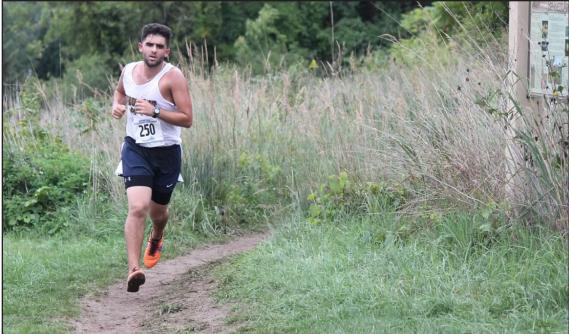 Cross Country off to a running start
BY JAMES PAXSON, SPORTS EDITOR
The men and women's cross country team hit the ground running under first year head coach Wright Wilson earlier this month. Despite having a small roster to begin the season and one returning sophomore, Caitlin Goyer, Wilson continues to recruit new faces to fill out his squad. Debuting earlier this month were three new freshmen men's runners, Todd Kazlukas, Ibrahim Mourad and Eric Wikerwitz.
Kazlukas from Inter City Baptist school has showed potential in his first two cross country meets without having any prior experience in the sport before.
"I have no experience running cross country anywhere. In high school I played soccer, basketball and baseball. Without have any experience I think my team and I have done very well in the races so far," said Kazlukas.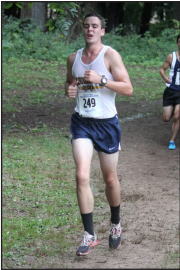 The first two cross country meets this season were the Golden Grizzly Invitational at Oakland University in Rochester on Sept. 2 and the Tommy Titan Invitational at Cass Benton Park located in Northville on Sept. 10.
Making strides
On Saturday Sept. 10, the Ocelots ran a 5k in the women's race (3.1 miles) and a four mile in the men's. Caitlin Goyer ran the race in 24 minutes and 19 seconds. Goyer improved from last year by running 41 seconds faster in this year's invitational.
"The difference between this year and last year for me is that I know what to expect from me. I was injured some of last year and did not show what I was made of. This year I am in better shape and I hope to improve and have my best times as the season moves forward," said Goyer.
On the men's side, Eric Wikerwitz finished in 23 minutes and 56 seconds and was the third best community college runner at the invitational. Todd Kazlukas finished his first cross country race in 26 minutes and one second and Mourad finished in 30 minutes and 26 seconds.
Golden opportunity
On Friday Sept. 2 the Schoolcraft Ocelots competed in the Golden Grizzly run at Oakland University. The women's race was a 4k (2.5 miles) and the men's race was a 6k (3.73 miles). Goyer finished the race in 19 minutes and 25 seconds which was good enough to be in the top 50 and capture the 44 place for women's in the race.
For the Schoolcraft men two runners finished in the top 50 with times under 24 minutes. Kazalauskas finished in 43 place with a time of 23 minutes and 22 seconds. Wikewitz finished 34 place with a time of 21 minutes and 41 seconds.
First year coach Wright Wilson sees potential as the season moves on, "I think as the season progresses this team will get better with more practice and the weather being less humid. The humidity factor always plays a part in the early season."
The Ocelots head to Grand Rapids on Friday Sept. 23, at 3 pm for the Grand Rapids Raider Run. To check out runners times and team schedules head to the MCCAA website at www.mccaa.org.