Outstanding Performance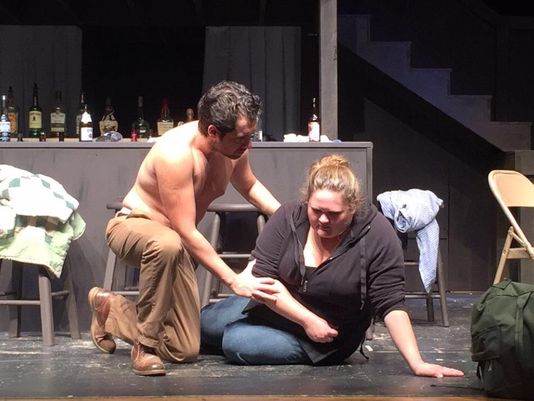 Theatre department presents two-part fall performance
By Chris Skarnulis, Arts and Entertainment Editor
Each year, during the fall semester, Schoolcraft's Theater Department puts on a single play production. However, this year is different. Instead of a single performance, two separate plays were incorporated into one full production. This year's production is a Double Bill of "The Sea Horse" and "Sorry, Wrong Number" written by playwrights Edward J. Moore and Lucille Fletcher, respectively. Directed by Professor James R. Hartman, both performances displayed an incredibly talented cast that evoked a series of emotions in their performances.
James R. Hartman is currently a Professor of Theatre and Drama at Schoolcraft. He has been actively involved as the artistic director in several productions in his long career at Schoolcraft. Hartman received the Schoolcraft College Presidential Recognition award last year and in March received the international prestigious League of Innovation award in Chicago. He is also an author; he has published two books: "Shakespearean Tragedies Revisited: An Actor's Edition" and "An Actor's Edition of Shakespeare Revisited."
Hartman chose to do the double bill because it was something different. Combining two different productions into one full performance was a good result. Both productions had thorough and dramatic plots that appealed to the audience.
"I found the double bill worked really well with the cast. It was a pleasure working with such a talented cast. They worked well together and made production efficient. I felt everyone was comfortable with his or her roles, which made the experience better," said Hartman.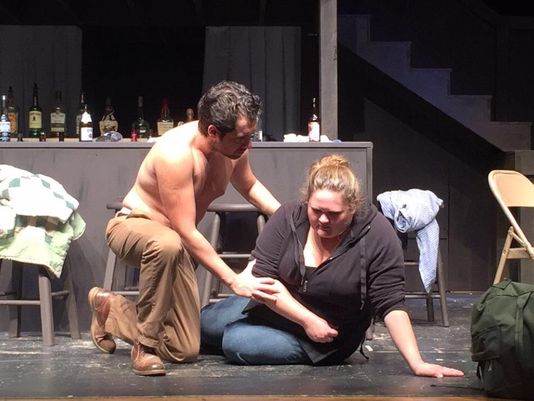 "The Sea Horse"
"The Sea Horse," separated in two acts, is set at a seafront bar. The plot follows the dysfunctional relationship between Gertrude Blum, played by Elizabeth Allen and lustful bar-hand Harry Bales, played by Franz Margitza. Blum, the owner of the bar, is conflicted by her feelings for Harry. She does her best to fend off Harry's romantic advances, having no interest in a relationship. Gertrude has an aversion to marriage following a previously failed marriage. However, Harry has a dream; he wants to buy a charter fishing boat and have a son. The play progresses through a ritual courtship as these two outwardly abrasive characters fight, make up, fight again, spin dreams, deflate them, make love (to a gym bag more or less) and reveal their locked up secrets.
"The Sea Horse" contained a cast of only two members. Despite an incredibly small cast, Margitza and Allen portrayed convincingly hopeless romantics. Relying heavily on dramatic portrayal of emotional hostility between the two proved to be incredibly effective.
This is lead "Sea Horse" actor Franz Margitza's (Bales) fourth production with the Schoolcraft Theatre Department. Margitza is a graduate of Wayne State University with a major in Journalism. He has enjoyed being involved in the theatre department, finding enjoyment in developing the roles he plays.
"I found that staying in character constantly really helps transition from role to role. However, that comes with difficulty; it is difficult to do when being onstage all the time," said Margitza.
"Sorry, Wrong Number"
"Sorry, Wrong Number" performed in a single act, takes place in a bedroom in an apartment in New York. The plot follows spoiled housewife Mrs. Stevenson, played by Melissa Benglian, as she attempts to prevent a purported murder she had overheard whilst on her telephone. Reaching out to a number of individuals, Stevenson utilizes all the resources she can before coming to a startling revelation: the murder is her own. Will she get help in time?
"Sorry, Wrong Number," featured a larger cast, but the entire cast excluding Mrs. Stevenson was not present onstage. The characters were portrayed by the actor's voices through a series of phone calls made by Mrs. Stevenson. This performance displayed the quality of suspense the best. Benglian portrayed a very timid, easily frightened and susceptible Stevenson as she attempted to piece together the mysterious predicament that she has found herself in. The performance also gave a chilling impression to the audience with their use of the extended cast.
Melissa Benglian (Stevenson) attended Schoolcraft and is a graduate of Grand Valley State University with a major in liberal studies. This year, she joins the theatre department for her fourth production. The character of Mrs. Stevenson relied heavily on drama, proving a challenge to Benglian when preparing for the role.
"Being frightened and on edge all the time takes a lot of discipline. However, my stationary position onstage helped me feel more comfortable with being in character," said Benglian.
The double bill proved to be satisfying. Both productions were short enough to provide a consistent plotline that kept the audience keyed in. Schoolcraft's Theater Department will be presenting these productions as dinner theaters the nights of Nov. 4 and 5, theater performances only the nights of, 11 and 12. Dinner and theatre performance tickets are $27. Dinner starts at 6:30 p.m. followed by the show at 8 p.m. Performance only tickets are $15 with the show starting at 8 p.m. Tickets are going fast. Tickets may be ordered in the Schoolcraft Bookstore in person or by calling, 734-462-4400 ext. 4596.Visa, MasterCard, or Discover is accepted.