Cycling their way to victory
Team Schoolcraft takes first place in Fall Frenzy, reclaims Golden Spokes Trophy
By Quinn Storm, News Editor
The roads are digital but the sweat is real. On Nov. 2, Schoolcraft took first place in the Expresso Fall Frenzy competition for the second time in three years. Finishing with an overall mileage of 4,664, they beat the California St. Mary's team in the championship one-on-one by 347 miles; St. Mary's finished with 4,317 miles. Overall, Schoolcraft had 177 riders in the championship round.
"We are beyond thrilled to win the National Expresso Fall Frenzy Challenge and Golden Spokes trophy for the second time in three years! A huge thank you goes out to all of our riders who worked very hard, along with showing a lot of grit and determination to help us win this competition. This is a total team effort that starts with my staff preparing all of the promotion and marketing efforts to get the competition off the ground, to the students, faculty and staff and other Fitness Center members who come together at all hours of the day and night to bike for us and help us win. "Team Schoolcraft" deserves the win this year-it's been a great ride!" said Patty Donohue Ebach, Recreation Manager at Schoolcraft.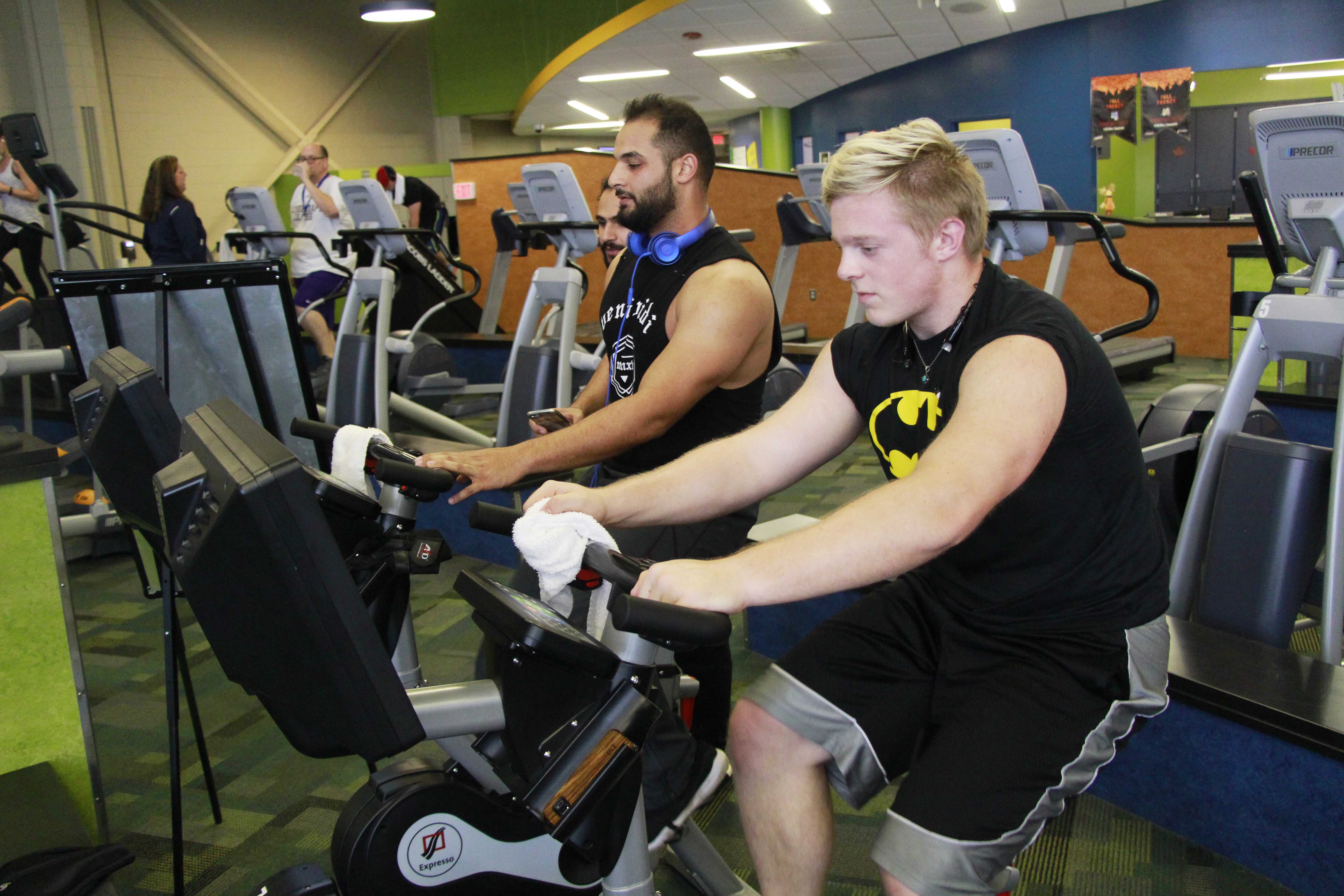 Fall Frenzy has been an ongoing event through the Fitness Center since Oct. 4. Hosted by Expresso, Fall Frenzy gathers colleges throughout the country and pits them against one another to see which team is able to ride the most miles. The winner receives a $500 award to throw a celebration for their school as well as the Golden Spokes trophy, and there are small prizes for specific riders at each college such as a T-shirt for certain riders who meet checkpoints. The Expresso Fall Frenzy competition has been a tradition at Schoolcraft for the past four years, and this win marks the second win for the college.
In the last stretch of the competition, Schoolcraft started Nov. 1 off 200 miles behind St. Mary's, but was then up by 300 miles Nov. 2. Overall, the event was very close and unpredictable. The last few hours really matter in a competition such as this one, especially when the stakes and competitive spirit are high.
"There's a lot of signs and bulletins and things around here that draw attention. A lot of P.E. instructors push this on the students to at least get them to come and try it- hopefully they stick with it and keep on biking. It's everyone working together," said Patrick Casey on why the Schoolcraft team is so successful. Casey is one of the students at Schoolcraft who was putting in miles, even Nov. 2 as the competition neared its end.


In the 2014 competition, Schoolcraft took home the title of first place, along with the highly coveted Golden Spokes trophy and $500 check. Schoolcraft looked to repeat in 2015 but fell short to St. Mary's College (CA) who took home first place prize and all the glory. This head to head competition was repeated again this year as these two colleges battled it out in hopes of victory and taking home the grand prize.
"Schoolcraft did so well in the tournament because we had more riders than any other team. It was amazing to see the students, staff and Fitness Center members of all ages (18- 80!) all come together and work toward a common goal. All of the late night cycling and hard work paid off and it was definitely rewarding to overcome Saint Mary's College (CA) since they beat us in the Championship round last year," said Lisa Cunningham, Assistant Recreation Manager on how satisfying it was for the Schoolcraft team to work so hard to meet their goal.
After five long weeks and more than 9,500 miles, the Schoolcraft Fitness Center is proud to have a team who put in so much hard work and effort into getting the win over St. Mary's. It really goes to show what a community of hardworking students, faculty staff and community members can really do.
Anyone interested in celebrating with the Schoolcraft team is welcome at the Fitness Center at noon on Thursday, Nov. 17, for a victory party, The Expresso Marketing Director will by attending to present the college with the Golden Spokes trophy, as well as a $500 check for winning the competition. Congratulations to all of those who participated and had a helping hand in winning the competition.