Mastering charcuterie
Executive Chef Polcyn to attend charcuterie master class in Italy
By Alexandra Lachine Arts and Entertainment Editor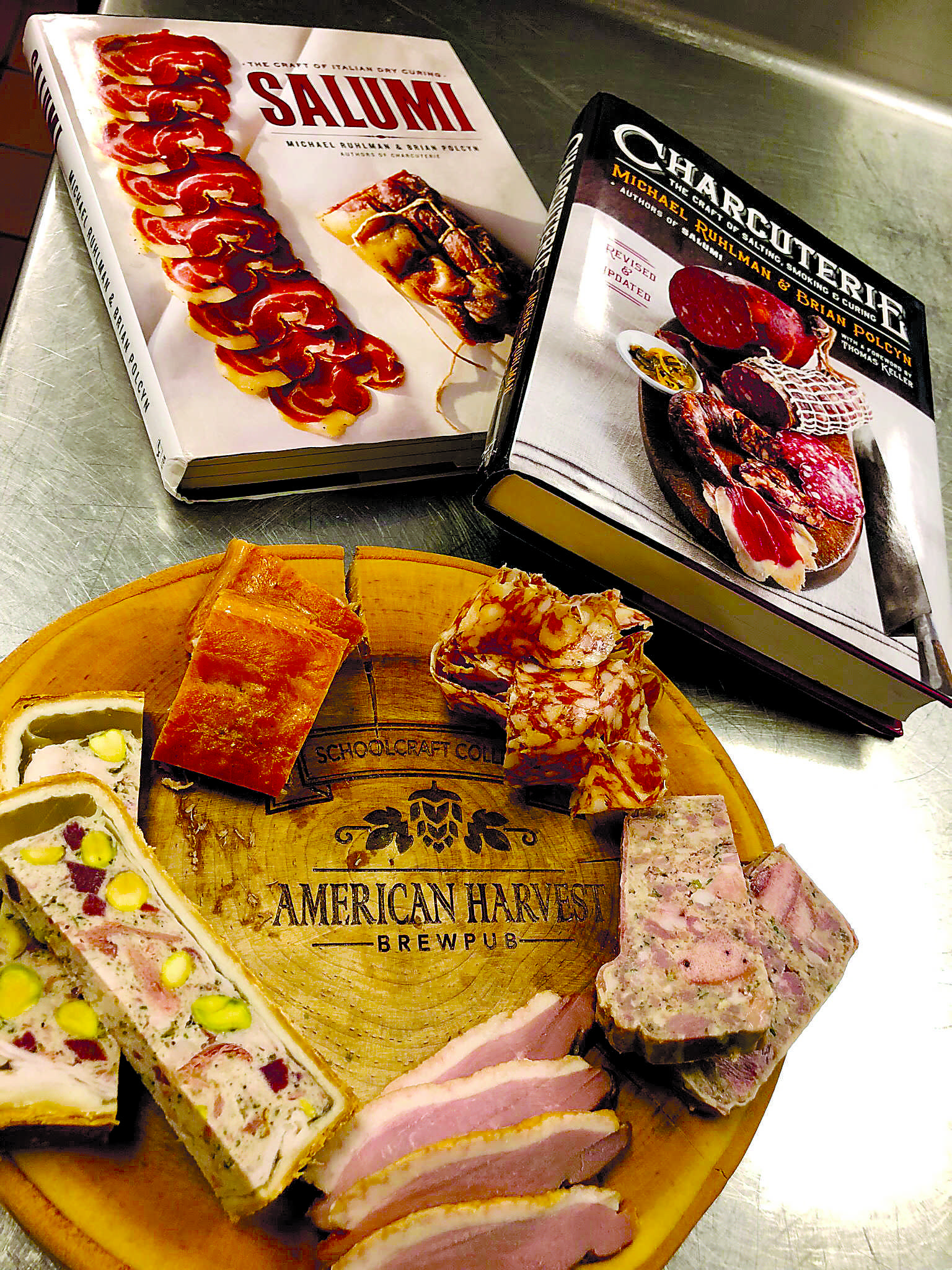 Crotone is a gorgeous town along Italy's eastern Mediterranean coast. This March, Crotone will host a class for only the most dedicated, qualified charcuterie practitioners in all the world, a mere dozen experts to be exact. Schoolcraft's very own Certified Executive Chef Brian Polcyn is one of those experts.
Having practiced charcuterie for 35 years, proudly owning six different award-winning restaurants in Metro Detroit over 28 years and teaching full-time at Schoolcraft for two decades, Polcyn is perhaps as qualified as these talented chefs come, having also written two books on the subject of which his history goes back decades.
"I learned charcuterie under Master Chef Miles at the Golden Mushroom in 1980 and found it to be very interesting and continued to practice. If you want to learn a lot about a subject, you teach it, because you have to be able to articulate it. That's been my lifelong journey, charcuterie," Chef Polcyn said.
Charcuterie is an ancient method of preserving meat through curing, smoking or salting. Millennia before the advent of refrigerators, such methods were vital to the survival and progress of human settlements as hunting parties sought to preserve their bounty for much longer than just an initial feast.
Recently, Schoolcraft has become one of a very small handful of schools in the country to have a Stagionello® curing chamber, due in part to Polcyn's certified expertise. "This particular cabinet is made by a master salumi maker in Italy, Stagionello. He was the one who developed the technology for authenticity," explained Polcyn.
"There's too many pieces of equipment out there that fake their way through, but most Europeans, like Italians, they know best. He developed the technology creating those environments all over the world, specifically in Europe, northern Italy, southern Italy, southern France, Portugal, those are the big dry meat areas," continued Polcyn.
"He made a program to make the condition of that box like the climate where the sausages are originally made. It's the reason why Portuguese chorizo tastes different from Spanish chorizo. They're still pork and seasoning, but they do taste different. The technical term is a drying room, but I call it a transformation room," Polcyn elaborated.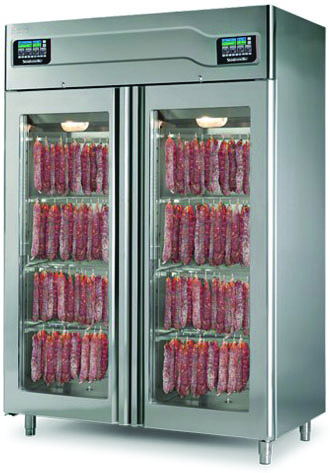 The chambers average in price at around $20,000, as this technology has taken over two millennia to develop and is incredibly advanced. Getting it to Schoolcraft was no simple process either, as finally having the technology in Culinary Arts was a vision that took over a year to actualize.
There's a lot of ethnicity to the craft of charcuterie, from northern Germanic style charcuterie, and that of southern Italy, southern France and Portugal.
"Europe is where the craft started as there would be more meat than they could eat and they would have to find a way to preserve it," said Polcyn. "The cutier was the most  revered job in these small villages because everybody would take their meat and they would preserve it for them."
With such advancements in culinary technology as that which the college now has, chefs and craftsmen are able to mimic traditional conditions through eight precise cycles into an exclusive micro-climate in Livonia.
While Culinary Arts has had the cabinet since September, after a year of preparation to order and receive it, creating expert charcuterie still takes a labor of love and time. Polcyn's first batch of salami became ready for consumption just before the college went on winter break back in December.
"It depends on the diameter. I can make them probably in as short as 27 days, but I've got salamis that have been hanging since Sept. 6," said Polcyn.
With a prestigious Culinary Arts program, Schoolcraft having such technology is incredibly exclusive.
"Thank god that Schoolcraft really, really supports their departments. It's such a privilege to work here because it's a very important part of my curriculum," Polcyn said proudly.
"We are teaching a subject a lot of schools don't teach anymore, charcuterie. Even at the big schools, like the Culinary Institute of America, they don't spend as much time with charcuterie … as we do here at Schoolcraft."
Polcyn's colleagues also sincerely agree that the prevalence of charcuterie is a vital,
ancient practice to Culinary Arts.
"I believe that there will be many cooking techniques and different opportunities in culinary and the industry," explained Certified Master Chef Shawn Loving.