Week of January 18
Get involved today!
Looking to get involved on campus in a virtual world?

Join a club or organization today by clicking here: 
https://www.signupgenius.com/go/4090b44a8a62ea3f85-student

Current students have a chance to win an iWatch or an Air Pods at the end of the Winter semester. Every student club meeting will provide students with an opportunity to win these prizes at the end of the semester (as long as they sign in with names, emails and phone numbers.) Every meeting that students attend will equal 1 entry. The frequency of meeting attendance will provide students with greater odds of winning the grand prizes and secondary prizes that will be determined later in the semester.
The drawing for the winter semester for the iWatch and Air Pods will take place at the Jack Box Games Event in April. Students who have entered by attending meetings and event do not need to be present to win. ("signup genius" entries will be the list that we are drawing from)  If they want to attend, they are welcome to be there.
Follow the www.schoolcraftconnection.com newspaper on social media to sign up at to get monthly log ins.
For a list of campus events and to sign up to participate go to:
https://www.signupgenius.com/go/4090B44A8A62EA3F85-student1
Current PTK members should sign up and add PTK to the end of their last name when signing up for events. All students who sign up on Signup Genius will be entered into a drawing for SC t-shirts (end of September) and will be given one entry into the end of the semester drawing for an iPad Mini or Air Pod.
Club Meetings
For a list of all club meetings go to https://schoolcraftconnection.com/club-meetings/
18th Annual Detroit MLK Day Virtual Rally & Cultural Program

January 18
Streamed online through YouTube at https://youtu.be/7q7QdR5DSDI
This year's 18th Annual Dr. Martin Luther King, Jr. Commemoration comes at a time of the worst public health crisis in more than a century.
At present we are facing the threat of yet another economic downturn.
Concurrently, there are rising tensions between the United States and other countries around the world including China, Russia, Iran, Venezuela, Cuba, Zimbabwe, among others. A U.S.-led war anywhere in the world would prove catastrophic to the majority of people inside the country and internationally.
In honor of the peace and social justice legacy of Dr. King we are calling on all conscious people in southeastern Michigan and beyond to join this virtual event. Dr. King during the last year of his life was a staunch opponent of the Vietnam War. King linked the rising rates of impoverishment with the failure of the ruling interests to end imperialist military adventures and occupations. He drew the connections that made him a target for the ruling class of his day. We owe it to his legacy to continue this work into the 21st century.
Due to the COVID-19 pandemic we are holding the entire program virtually. The event will be streamed utilizing Facebook, Zoom and YouTube.
Although we are not gathering in-person, the online character of the event provides the opportunity to invite guests from around the U.S. and the world.
We have already confirmed the participation of Jesus Rodriguez Espinoza, the editor of Orinoco Tribune, based in the Bolivarian Republic of Venezuela. Other special guests include a family member of police brutality survivor Jacob Blake in Kenosha, Wisconsin. Clarence Thomas, a retired member of the ILWU Local 10 has also agreed to speak. Others included in the program are representatives of Detroit Will Breathe, who will be honored at the event for their pioneering work. Aurora Harris, renowned poet, educator and community organizer will once again coordinate the cultural presentations along with musician Sarah Torres of Moratorium NOW! Coalition. More details of the program will be forthcoming.
The Detroit MLK Day Committee is once again requesting your participation and support to continue this tradition which mobilizes the largest social justice gathering in the whole of southeastern Michigan.
On Monday, January 18, 2021, the Detroit MLK Day Program will commemorate the 92st birthday of Dr. King. You are cordially invited to attend this 18th Annual Detroit MLK Day event. The Detroit MLK Day Committee is staffed by a small, dedicated group
of volunteers. Thank you for your kind support! (You may download event leaflets at www.mlkdetroit.org.)
Need help with your resume? Let Resume Essentials help!
Jan 20
1-2:30 p.m.
Resume Essentials features a certified professional resume writer who will show participants how to build a targeted resume that strategically "sells" skills, education and/or experience to employers. Discover what employers are looking for in a resume & cover letter!
No advance registration required. Free & open to the public. For more information, contact Career Services at 734-462-4421 or [email protected].
Visit www.schoolcraft.edu/careers and click on "Job Search solutions workshops" for details and link to attend.
Time Management Workshop
Jan 20
6-7:30 p.m.
Learn key time management strategies from Learning Support Services' Academic Success Coaches by attending this virtual event! Gain tips for success to incorporate in your Winter 2021 courses.
For link to attend sessions, visit https://www.schoolcraft.edu/lac/success-seminars-and-workshops/online-workshops
Math Workshop 1: Math Success Strategies
Jan 21
6-7:30 p.m.
Join Learning Support Services facilitators to discuss success strategies for your math courses! Learn how to prepare for an upcoming exam and how to stay on track for the semester.
For link to attend sessions, visit https://www.schoolcraft.edu/lac/success-seminars-and-workshops/online-workshops
Food Pantry Distribution
Jan 22
12-4 p.m.
The Student Activities Office has put together a committee to help our students restock their shelves with food from the Student Food Pantry. If you know of any students who are interested in this service, please have them contact the SAO at [email protected] call 734-462-4422 to secure an intake form. We have been providing food for our students who self-identify that they need this service.
We will be distributing on the Fourth Friday of fall and winter semesters to the students who get in touch with us and file a food pantry intake form. If you would like to donate food, please reach out as well and we can make arrangements to accept the donation of non-perishable food.
We will be sorting food on Thursdays before the Fridays that we will be distributing. Our first sorting of the product for 2021 will take place on Jan 21 from 2 – 4 pm. The distribution will take place from 12-4 pm on Friday, Jan 22. Staff and student volunteers needed for all upcoming dates.
Rsvp at [email protected] call 734-462-4422 if you can make any of these times.
Mark your calendars for these upcoming events
Join the Student Activities Office for the Virtual School Daze "Winter Bash"
January 27
4 – 6 p.m.
Zoom: https://schoolcraftcollege.zoom.us/j/88397180538
Meeting ID: 883 9718 0538
Join the Student Activities Office on January 27 from 4 – 6 p.m. on Zoom featuring free virtual caricatures with BobKat Art Studio Art. Meet student leaders from various campus clubs in an interactive Zoom session. Students can join participating clubs in breakout rooms and meet with group leaders who will discuss upcoming activities with interested students and discuss how they can get involved, meet new people and make plans to be a part of the award-winning programs that we have here at Schoolcraft College.
Looking for more upcoming events?
Check out the College calendar: https://www.schoolcraft.edu/college-events.
Around Campus
Fitness Center has reopened
The Fitness Center has re-opened and we are here to serve you for winter semester, 2021 and to help you reach your health and fitness goals.  Exercise also has many stress-reducing benefits and we can all use a little bit of that right now.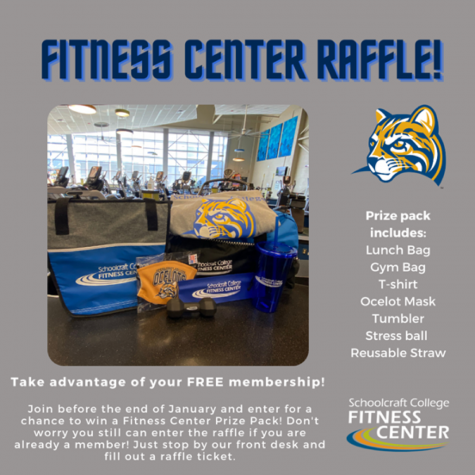 We continue to work hard to keep the fitness center environment as safe and clean as possible and capacity numbers are still in effect.  Face coverings are required for everyone using the Fitness Center and there are plenty of disinfectant wipes and hand sanitizer to go around.
The hours of the fitness center are 8am-7:30pm, Monday-Thursday and 8am-6pm on Fridays. We will continue to be closed on the weekends.
The track in the new Mercy Elite Sports Center is open now as well, for your use, during all hours that the Fitness Center is open (ONLY).  Enjoy walking or running on this track in a temperature controlled environment this winter! Check in through the fitness center to gain access to the track.
Open Pickleball play will also become available starting Monday, January 11.  Courts will be available from 10am-3pm (with a break from 12-1 for cleaning of courts and equipment), Monday-Thursday.  Courts can be reserved at our Fitness Center front desk up to an hour before playtime.  Cost is $8.00 per person.   This is not an organized activity. This is drop in with court times being given on a first come, first served basis and there are a limited number of courts and players that can be on those courts.
Finally, stop by and sign up to be a fitness center member, if you have not already.  Membership is free to you as an employee of Schoolcraft College.  When you come in, enter to win a prize pack at the Fitness Center!  If you are already a member, you can still enter to win.  Please stop by our front desk.
Career Coach
If you or someone you know needs help choosing or pursuing a career, let Career Coach help! Career Coach is a free, online career assessment and research tool available to students, alumni, and members of the community. Users can learn more about their skills & interests, conduct detailed research about careers and explore educational programs at Schoolcraft College. Visit www.schoolcraft.edu/careersor email [email protected] for more information.
College Central Network Online Job Board
The Schoolcraft College Central Network online job board receives hundreds of new jobs each month in a wide variety of industries at every professional level, from student to experienced professional. College Central is free, easy to use, and is available to students, alumni & community members! Get started today: www.collegecentral.com/schoolcraft. 
Perfect Interview
Job interviews can be daunting – and many job seekers don't know how to prepare. Perfect Interview is an interactive, web-based video software program that helps job seekers to prepare for their next job interview. Perfect Interview is free & easy to use – for students, alumni & community members. www.perfectinterview.com/schoolcraft 
Student Success Workshops – Learning Support Services: 
Learning Support Services offers student success workshops remotely via live-webinars. Online workshops can be accessed using your desktop, laptop, tablet, or mobile device – from home, school, workplace, or anywhere with internet access. 
REMOTE LEARNING MENTORS
Want support with navigating remote and online learning? 
 Remote Learning Mentors, or RLMs, are a student who work in the Learning Support Services department and are well equipped with study strategies for succeeding in the remote and online learning environment. They can meet with you on a regular basis as you continue your courses to provide tips, techniques, and refer you to the appropriate campus resource for any needs you have. RLMs are students like you—they're taking classes and are involved in various activities at Schoolcraft College. This mentorship program is provided to you for free through Learning Support Services and works around your schedule!
By Appointment: Remote appointment-based RLM support offered.
To schedule an appointment call 734-462-4436 or email [email protected]
REMOTE TUTORING, LEARNING CENTER
Drop-In: Students can login from any device with internet access. Google Chrome recommended for best experience.
To attend visit: schoolcraft.edu/lc
For user guide to attend remote drop-in tutoring,click here.
By Appointment: Online appointment-based tutoring offered.
To schedule an appointment call 734-462-4436 or email [email protected]
24/7 Online Chat Tutoring (NetTutor): Login to Blackboard or for more info, click here.
REMOTE WRITING SUPPORT, LEARNING CENTER
Drop-In Students can log in from any device with internet access.
To attend remote drop-in writing support: https://www.schoolcraft.edu/lac/writing-fellows
A user guide to attending remote drop-in writing support can be found here.
By Appointment: Online appointment-based writing support.
To schedule an appointment call 734-462-4436 or email [email protected]
By Email: Submit your paper for feedback via email.
Submit your paper via email: [email protected] ps.schoolcraft.edu  
More information: https://www.schoolcraft.edu/lac/writing-fellows/tutoring-options
Visit www.schoolcraft.edu/LC  for more information.
ACADEMIC SUCCESS COACHING, INTERNATIONAL LEARNING SUPPORT, TEAS TEST PREP 
Remote appointments are available. Visit the website below, or call 734-462- 4559 to schedule an appointment.
More information: https://schoolcraft.edu/lac/academic-success-coaches
Bradner Library
The college librarians are available to help support your instructional and information seeking needs. To discuss options for a virtual library tour, please contact your department's Library liaison. https://www.schoolcraft.edu/library/library-liaisons
The library is currently offering curbside pickup services for library books. Remote library services are also available. Please contact the library reference desk at [email protected] or (734) 462-5316 during regular business hours for library assistance. In person individual library research consultations are available by appointment.
Bradner Library (MainCampus location)
Curbside pick-up and by appointment (*These library hours begin on Monday, January 11th):
Monday and Thursday      8:00 a.m. to 7:00 p.m.
Tuesday and Wednesday 8:00 a.m. to 5:00 p.m.
Friday                                   8:00 a.m. to 5:00 p.m.
Remote hours (current and continuing):
Monday- Thursday     8:00 a.m. to 8:00 p.m.
Friday                            8:00 a.m. to 5:00 p.m.
Saturday & Sunday     Noon to 5:00 p.m.
Schoolcraft students, faculty, and staff can access library databases from off-campus through Blackboard by clicking the "Organizations" tab. Go to:  https://bb.schoolcraft.edu
A collection of our Library research guides by subject can be found at: https://libguides.schoolcraft.edu/
Additional Library resources and databases can be found on our library webpage: https://www.schoolcraft.edu/library
For additional assistance with our library databases and for virtual reference services, please contact our reference desk at  [email protected]
For more information, please give us a call at 734-462-4440
Just a quick reminder that there are no overdue fines for any overdue library materials during the pandemic.
CEPD COURSES FOR WINTER 2021:
Winter registration for CEPD non-credit classes is now available! We have a whole variety of fun (and new!) virtual classes this winter, including fitness, art, music, culinary, languages, youth enrichment, and more! 
If you have questions, feel free to call the CEPD Office at ext. 4448 or send an email to [email protected] for more information.
Schoolcraft College Business Development Center Classes
schoolcraft.edu/bdc/seminars-workshops
The Schoolcraft College BDC offers a number of classes and workshops catering to the needs of new ventures and established businesses. For more information on any of the seminars, contact us at [email protected]  or (734) 462-4438.
The Schoolcraft Connection is hiring
The Schoolcraft Connection continues to create content and is hiring writers, photographers and videographers to join the team. Please email [email protected] or call 734-462-4422.