Scoring and more scoring
Men's hockey team dominates, outscores WCC 33-1 in two-game series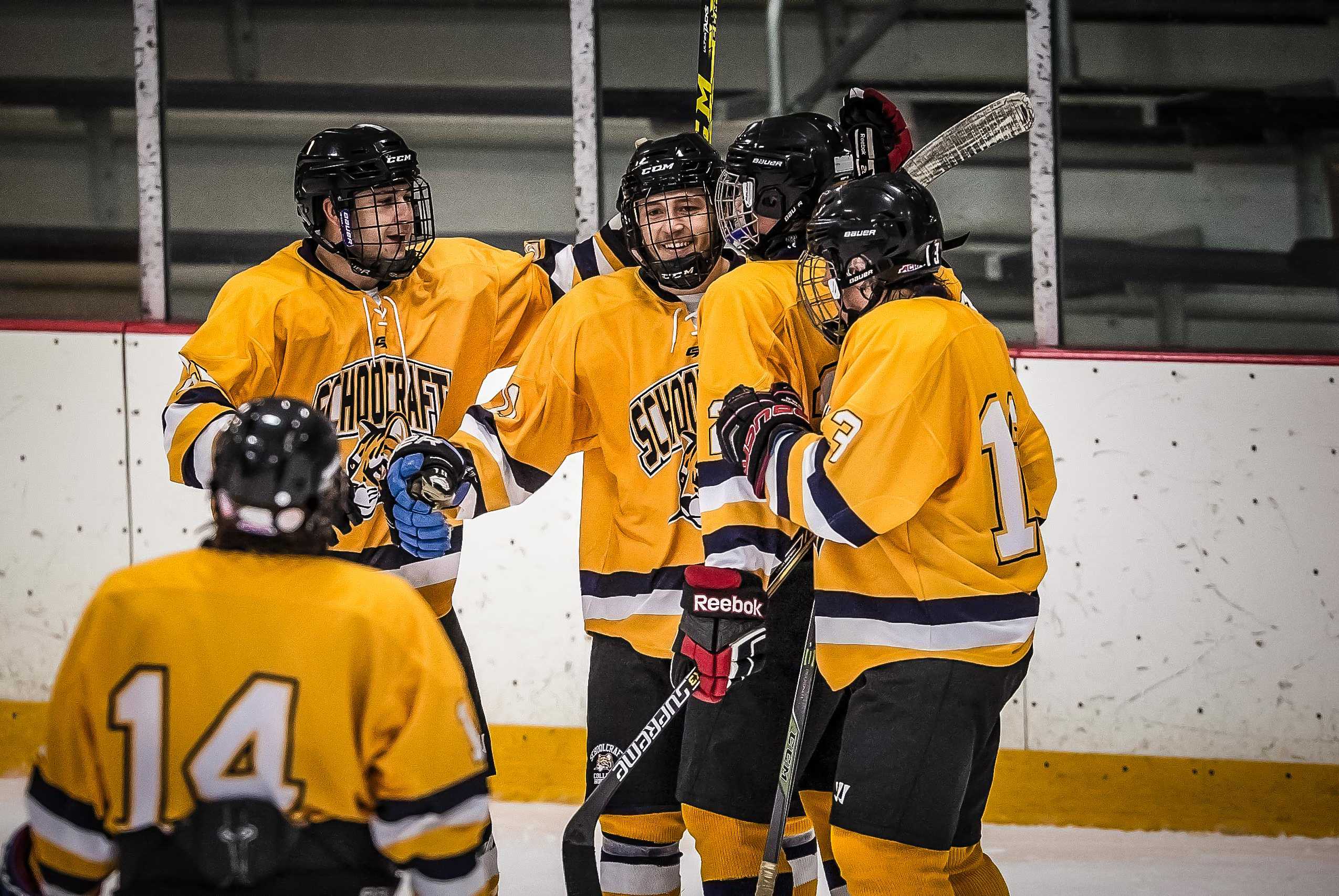 The Ocelots didn't waste any time starting the new year with a bang. In their first two games, the Schoolcraft Men's Hockey team dominated Washtenaw Community College (WCC) outscor-ing them 33-1, in back-to-back wins (16-1 and 17-0), Jan. 12 and 13.
Before the holiday break, the Ocelots were trying to find their stride, posting a 9-11 record. A couple bright spots going into the games against WCC were the Ocelots having four players above a point-per-game, and they defeated Western Michigan in their last game, 11-5.
Schoolcraft found their stride just minutes into game on Jan. 12 and never looked back.
When asked how his team was able to dominate, Schoolcraft's head coach Rob Lindsay said, "We practice hard and are running a new system."
Going into the second game, Lindsay said the keys to playing just as strong as the first game are "being physical, knock(ing) the opponents off the puck, shooting on goal and crashing the net."
Schoolcraft wasted no time getting on the board scoring at the three-minute mark into the first period of game one. Both these games got out of hand early on as Schoolcraft was taking control from the very beginning. A case can be made that WCC isn't the strongest hockey club, not being able to win a game yet this season, but no team should be taken lightly.
Throughout the weekend, Schoolcraft was up and down the ice pinning WCC deep in their zone for minutes on end. It was apparent that Ocelots were well rested and focused.
Right wing Vince Glenn had a productive weekend, scoring seven goals and six assists. Right wing Owen Hund also is a notable men-tion contributing three goals and seven assists. These two players put up points effortlessly in both games.
It seemed as if everything was going Schoolcraft's way by out-working WCC in every facet of the game, whether it be special teams, or five-on-five. Their work showed with the scoring of 26 even strength goals, 6 powerplay goals and 1 shorthanded goal in two games. WCC couldn't mount any sort of offen-sive pressure and were on their heels most of the weekend.
Frustration began to set in for WCC during the third period of the second game as they racked up six total penalties. One penalty was especially blatant when WCC forward Colton Doherty laid a late hip check on unsuspecting Schoolcraft defensemen Kyle Lynch. Doherty received a game misconduct and was sent to the locker room.
With the two-game sweep, the Ocelots are now even (11-11).