Opening eyes and broadening minds
International Agenda contributors showcase student perspectives
Published semi-annually, the International Agenda is a publication aimed at highlighting intercultural concepts and to act as an exchange of ideas for such matters. Published by the Schoolcraft International Institute (SCII) and founded in 1996 by Donald A. Ryktarsyk of the College's department of business, the publication aims to help students and faculty understand international and intercultural factors that contribute to the world around us.
"The SCII and its magazine help bring the College and its student body onto the international stage, which is really important," said professor of mathematics and current editor of the International Agenda, Randy K. Schwartz. Schwartz went on to point out global issues, economic issues and interactions both business wise and political, have huge implications on our lives.
Schwartz explained that even though his expertise is teaching mathematics at the college, he's always been fascinated by the various cultures all-around the world.
"In the 1980s, many of my students were from Palestine and Lebanon, and so I became intrigued with that region." Years later, Schwartz made the decision to go back to school to study Arabic. He was fascinated by Arabic history, especially with their incredible contributions to mathematics. He explained that he is "big" into copy editing works and writing, so he was a natural fit to producing the magazine in 2003.
The International Agenda reaches beyond Schoolcraft. The magazine's printed, black and white version can be found all-around southeastern Michigan, at locations such as the Barnes and Noble in Northville. The magazine also has readers and contributors all over the country, as well as international involvement. "Our current circulation (print plus online) is about 5500 readers per year, more than 80 percent of them off campus," Schwartz said.
The Writing and Arts Contest
At the beginning of every fall and winter semester International Agenda sponsors a Writing and Arts contest to allow students to engage with these multicultural concepts and the effects of them. It is a way for students to go beyond the concepts they learn in the classroom and gives them an opportunity to showcase these ideas in broader scale.
The International Agenda's Writing and Arts contest is held twice a year, once in the Fall Semester and again in the Winter semester. The prize amounts are $250 and $150 for first and second place, respectively, and both arts and writing category each have a first and second place winner.
The criteria for determining a winner are factors like the content of the piece and how it speaks to an aspect of various world cultures, it's aesthetic, it's creativity and originality. The subject matter can be anything that deals with cross-cultural material, such as an aspect of another country or culture, the impact of other cultures within the U.S. or a treatment of a global issue such as immigration, trade, health or human trafficking.
Fall 2018 Winners
Troy Priebe was awarded first prize for his artwork and $275. Priebe currently studies web and interactive media, as well as graphic arts and plans on graduating with a degree in both fields. Priebe's piece was called "The Future," and he describes the message as "What will we leave behind for our great grandkids?" He wanted to put a spin on this and make it more personal. "It's easy to be passive about the bigger picture that you can't really grasp the size of an entire population, but when you look at it in the tears of your direct family, it's a lot harder to look past."
Pinki Patel was awarded second prize and a $150 for her artwork this past fall. Patel is an international student and studies 3D graphics and video graphic design. Patel describes herself as a workaholic, which allows her to very dedicated to her work.
Patel's piece was "Epic Battle: Porus versus Alexander." Patel said she was inspired to create the piece due to a love of history and how sometimes the picture of history may not always be incredibly accurate. According to the International Agenda's Winter 2019 issue, the piece depicts the Battle of the Hydaspes in 326 BCE between Alexander the Great and King Porus of Punjab, Pakistan. Patel said the piece was dedicated to her professors and father. "They guided me a lot, and I could this only because of them," comments Patel.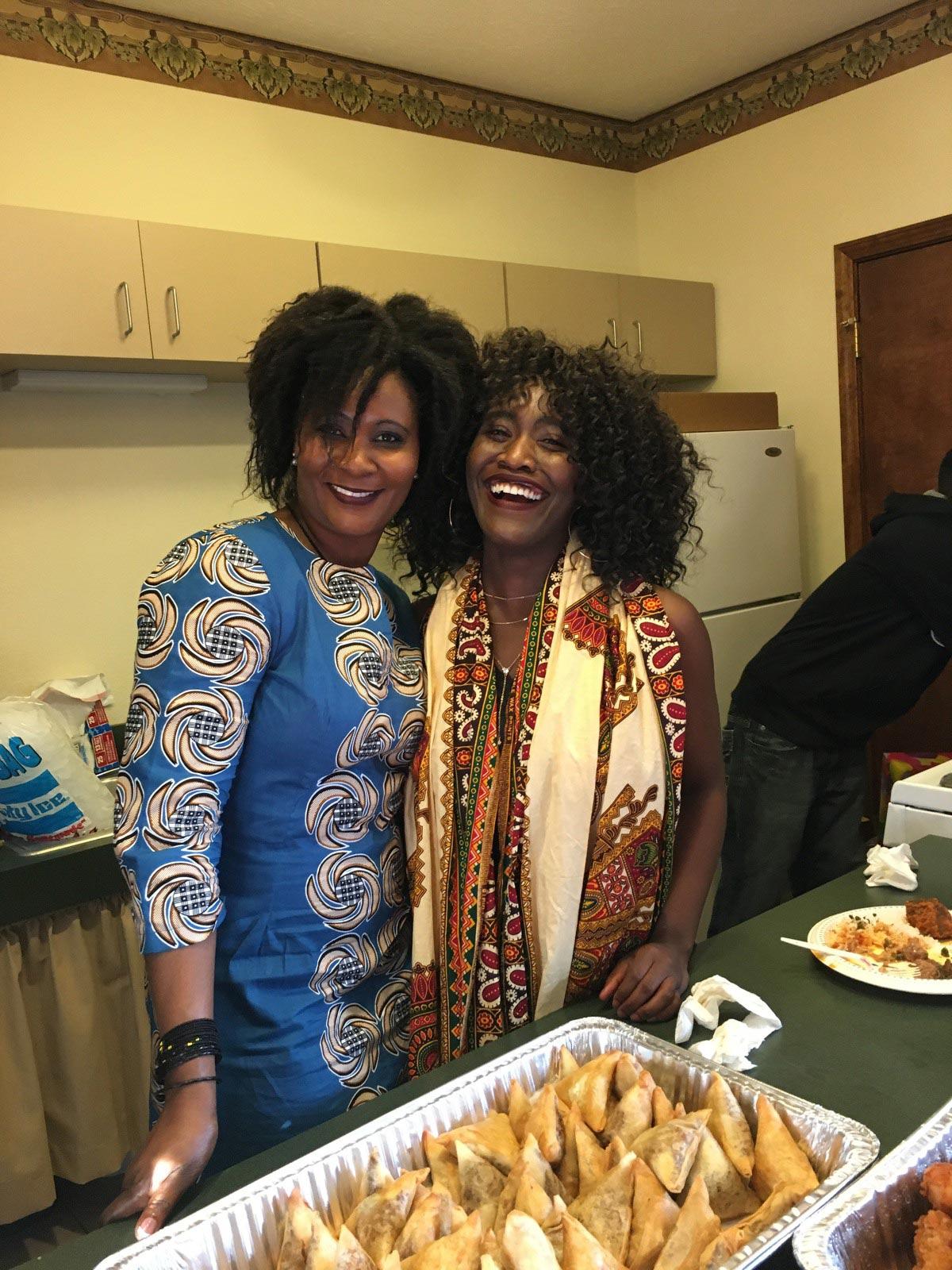 Marie Chantal Nyirahategekimana won first prize in writing and received $275 as well as third prize for her artwork and $100. She is studying for a degree in biomedical engineering. Her art piece was dedicated to her mother, titled "Black Superwoman."
"My mother was a student when the fighting started in Rwanda," said
Nyirahategekimana. Nyirahategekimana herself was born in a refugee camp in the Central Republic of Africa, and she drew from that experience for her submissions. She told that her piece, "I Thought," was written in response to two very conflicting circumstances. She recalled seeing a young boy in Cameroon having to break rocks for a living, and then, comparing that to an American classmate who, in anger, simply threw away money. This really stuck with her, and she now wants to open people's eyes to how much some have while others have so little. She wishes to travel to Uganda to help refugees and help their infrastructure.
All prize funds are provided by the Schoolcraft Office of Instruction.
Winter 2019 contest
The Winter 2019 contest is currently underway and is open to all students enrolled in either Fall or Winter semesters. The deadline for the Winter 2019 contest is April 8. To
find out more information, interested applicants can head to www.schoolcraft.edu/scii/international-agenda. The full color PDF of the magazine can also be found here.
"Any student who's fascinated by other nations and cultures or by international issues should enter," said Schwartz.
Additional questions about the contest can be directed to Randy Schwartz
at [email protected] or at 734-462-7149.