Nestled in a throne of lies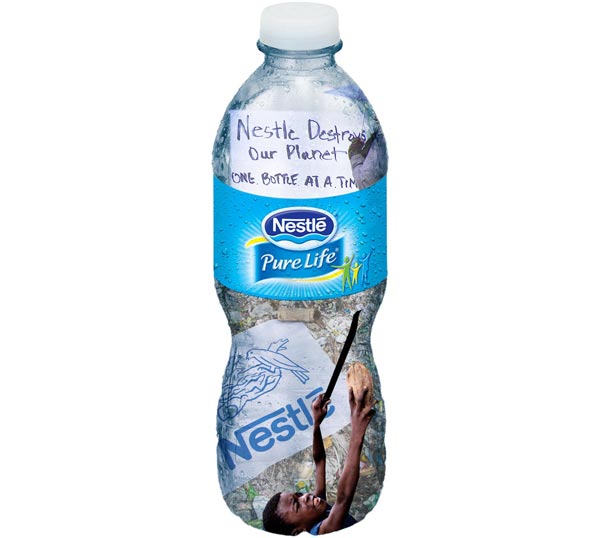 by Chantele Fox, News Editor
Graphic by Tamara Turner
I'm sure that most of us have seen the Nestlé Waters commercial, which shows the company providing truckloads of bottled water to the city of Flint in response to the Flint Water Crisis of 2014. Although this commercial depicts the company in a positive outlook, many fail to see what goes on behind the scenes.
In 1978, the Nestlé Corporation was granted permission to withdrawal water via a pipeline, which runs through the San Bernardino National Forest in California. A stipulation of this permit stated that withdrawal was based upon the sustainability of the area. However, in 1988 said permit expired, after which they continued illegal water withdrawal until 2002 when the Arrowhead Company received a permit.
In April 2018, things hit a little closer to home for all of us here in Michigan when the Michigan Department of Environmental Quality approved a permit, which granted Ice Mountain, owned under the Nestlé label, permission to increase their water withdrawal. In an article from The Detroit Free Press, it was stated that the increase would shift from 250 gallons per minute to 400 gallons per minute. Consequently, this will equal more than 200,000 gallons of water daily removed from Michigan's groundwater table, which is the water in the soil and underground. Such actions result in lasting devastation to our ecosystem including: the drying of springs, wells and soil, a decrease in lake levels, contamination of new wells and the harming of wildlife and vegetation.
Anyone can easily Google the Nestlé Company and visit their website nestle-watersna.com, which tells of their supposable "commitment to the environment" with the statement saying, "We are committed to water stewardship, responsible packaging and minimizing the environmental impact associated with our operations." Considering the constant backlash from residents in areas where they have established production, I find this to be extremely unlikely.
Nestlé has been involved in various scandals over the years ranging from lawsuits and accusations involving labor abuse to the exploitation of natural resources, which are used to manufacture the various brands under the Nestlé label that include: Coffee-mate, Garnier, Gerber, Nespresso, Purina, Stouffer's, Wonka and more.
"Nestlé Purina still fails to disclose on its products, as is required by law that slave labor was used in its making," states Steve Berman, managing partner in the law firm of Hagens Berman. According to The New York Times, in December 2014, Berman filed a class-action lawsuit against Nestlé claiming that forced labor was induced during the production of the Purina Fancy Feast brand.
I am flabbergasted that the CEOs of this company feel there are no negative repercussions to their actions. For instance, a video interview conducted by The Story of Stuff Project included a clip of a radio interview involving Tim Brown, CEO of Nestlé Waters North America. Brown was asked if he had any intentions of ceasing bottling operations in California, to which he replied, "Absolutely not. If I could increase it, I would… I feel good about what we're doing."
I will, however, give credit where it's due.
They remain consistent as they continue to serve consumers the lies of corporate America wrapped up in the disguise of sweet disappointment.
So, the next time you're trying to enjoy your morning cup of coffee and you reach for the Coffee-Mate creamer, be prepared for a cup full of displeasure.