Birds of Prey show swoops onto campus April 23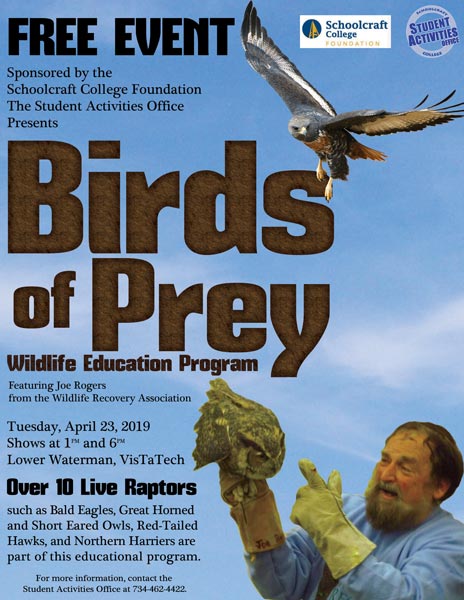 by Josiah Thomas, Campus Life Editor
Joe and Barb Rogers' work in the Wildlife Recovery Association is a work of true passion and dedication, displayed for all to see by The Birds of Prey live show. What began in 1979 as a means of providing sanctuary and rehabilitation for birds to be released into the wild has grown to include education, research and conservation.
On April 23 in Lower Waterman of the VisTaTech Center there will be a collection of up to 6 birds of prey, with 3 to 4 owls and 1 to 2 falcons on hand for two shows. The first is at 1 p.m. and the second at 6 p.m. Each session will be led by veteran bird-handler Joe Rogers who will explain each bird's natural history, including adaptations the birds need in order to get them to transition from the sanctuary to the wild, hunting techniques they practice in the wild, habitat needs, problems they currently face and ways that people can help them as wild birds. In Joe Rogers's words, he wants people to "understand, appreciate and protect these birds."
All of the birds at Rogers' sanctuary are brought in to him by places like the Michigan Department of Natural Resources (DNR) and the State Police, usually after an injury resulting from a vehicle collision. Many steps have been taken to get these birds back into shape, including rehabilitation, medical and veterinary care, gradually moving them to gradually larger cages and helping them develop their muscles in flight cages until they are ready to be released to where they came from. According to Rogers, "The first choice is always to release them into the wild."
Donations will be accepted at the event. They can also be processed as tax-deductible contributions at wildliferecovery.org/membership where donors can make an "individual" contribution there, processed through PayPal.
For more information, contact the Student Activities Office at 734-462-4422 or call the Wildlife Recovery Association at 989-772-1538.