Take a peek
Electron Microscopy class offers a look inside the building blocks of life 
College electives, often treated as something to get done and move on with, have more to offer than just a transfer credit. One such class offered this fall is BIOL 140, Scanning Electron Microscopy. This class is the only class of its kind offered at any community college in Michigan and offers a rare look at what life itself is made of.
Debuting in fall 2008, this class was, and still is, taught by biology professor Nick Butkevich. He developed this course with then-vice president and Chief Academic Officer, Richard Weinkauf. Butkevich described the subject as "creating an image of a specimen, using electrons to make things normally invisible to the naked eye visible."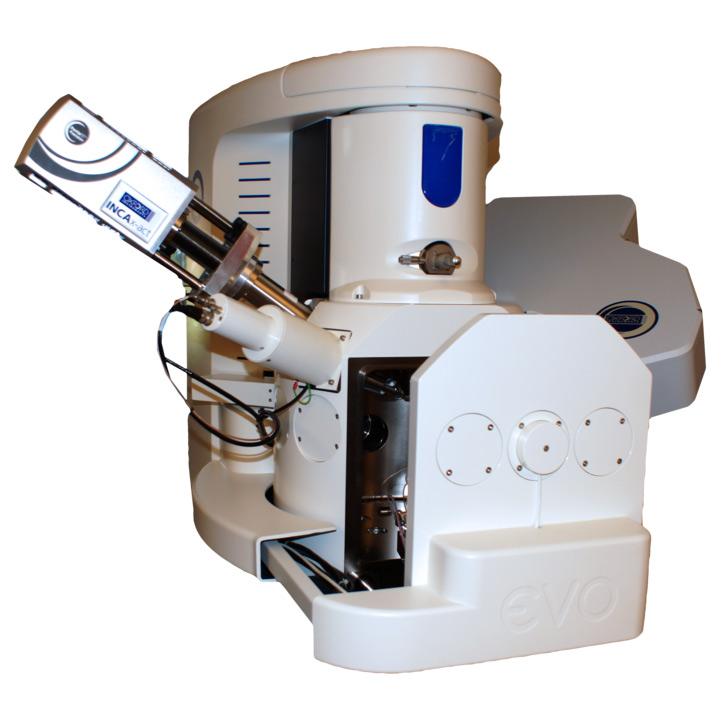 The electron microscope, is a state-of-the-art piece of hardware that works by "using a beam of electrons, instead of a beam of light, to form an image." From its inception, all that has changed in its operation is the changing from knobs to computer software, and Schoolcraft's microscope is operated by computer software.
"The beam of electrons is generated by the electron gun in the microscope," said Butkevich. "(It) strikes the sample surface, discharging secondary electrons in the sample. The secondary electrons are used to create an image of the sample surface."
The images themselves, many of which line the halls of the Biomedical Technology Center, all come in as black and white but have color added to them afterward.
What's even more amazing about this piece of technology is its ability to read wavelengths of different substances.
"Every chemical element has its characteristic energy and characteristic wavelength," said Butkevich. "Say you put a biological specimen like an insect in there, it'll show how much carbon and oxygen, how much nitrogen and hydrogen you'd expect to see in a living specimen."
While the microscope is very good at reading solid samples, it does have trouble reading liquids. The microscope requires a special apparatus to assist the machine in reading the sample; gases can't be used for samples at all, but the microscope does use some gas in reading samples, namely nitrogen because it's a clean gas that isn't toxic.
The microscope, besides being used for classes here, is also used for STEM outreach programs. "We like to use it to promote interest in STEM careers, and we're always interested in more opportunities to be able to do that, including networking with school districts and wherever there's a need," said professor Melissa Gury.
The equipment is so sensitive that it cannot risk being moved at all. It has to stay in its permanent spot in BTC-175.
So, what incentive do students have to take this class?
For one, they get to experience the latest technology in microbiology and for another, it will stimulate interest in science.
While the goal of the class isn't to train electron microscope operators, having this class looks on your resume.
"We just want to open people's eyes to some of the equipment we use in science and to excite people about it, especially in STEM careers and have people say 'Wow! Science isn't what I thought it was," comments Gury.
Having a working knowledge of an electron microscope is beneficial for more than just biology. In forensics, electron microscopes are used for analyzing materials such as hair, fiber and pollen analysis from a crime scene. In medicine, this microscope can be used to detect counterfeit pills, scanning a number invisible to the naked eye and seeing whether it's a match for a real pill or not.
It can also be helpful in examining paintings, analyzing it for texture and chemical composition in order to determine if the painting contains the exact same oils or dyes used by the original artist. Imagine having the chance to catch a counterfeit copy of the Mona Lisa.
Students will learn how to operate the Scanning Electron Microscope (SEM), examining the principles of electron specimen interactions and X-ray analysis as well as build a portfolio of images using various detectors.
The class counts as a four-credit hour Natural Science lab course as part of the Michigan Transfer Agreement and requires no prerequisite or text book.
The microscope is a sophisticated piece of equipment, and professor Butkevich himself admitted that he felt "intimidated" when first using it but then "exhilarated" after getting the hang of it. "It allowed me to see things I never thought I could."
For any student looking to try something new or fulfill the Natural Science lab course, don't hesitate to give this class a try.
Interested students can still sign up for this course under BIOL 119 through WebAdvisor.
For further information, please visit the class's information page on WebAdvisor or email professor Nick Butkevich at [email protected] or professor Melissa Gury at [email protected].