Frequencies In-tuned and Chakras Aligned
Chris Brown Shows color appreciation on "Indigo"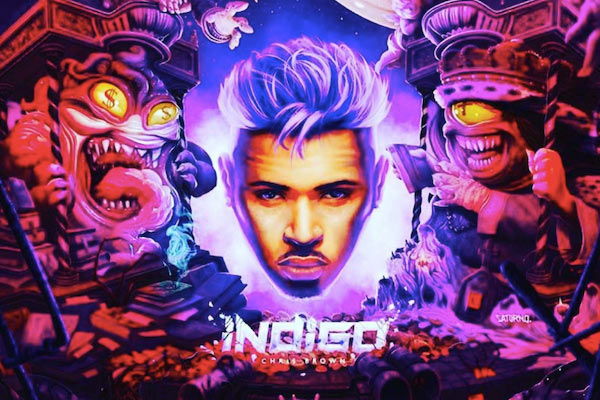 8/10
Just two years after the release of his 45-track double album (now 57 deluxe edition), "Heartbreak on A Full Moon" (HOAFM), Chris Brown is returns with his ninth studio album "Indigo."
Similar to "HOAFM," Brown decides yet again to bless or overload, (depending on what kind of fan/listener you are) with a 32-track double album on "Indigo." Unlike Breezy's previous double album project, "Indigo" isn't as lengthy, but still requires listeners to set aside some time in their day (life), to truly enjoy and even internalize what, the album is about, as well as what he has to say this time around.
Unlike "Heartbreak on A Full Moon" which had a bit more of a darker/sorrowful tone, "Indigo" opts for a brighter and happier tone filled with light.
Back in January on an Instagram post, Brown stated that "THIS "INDIGO" ALBUM IS ABOUT ENERGY, LOVE, LIGHT and HAPPINESS", and as he described "Indigo" is simply just that. The album is filled with nothing but colorful anthems that while at times can sound repetitive (content wise), still hold up sonically and can be enjoyed.
The album starts off with the high/turnt up energetic selftitled track "Indigo," a song that finds Brown singing about different bright colors, and "spiritual" connotations. On the chorus Brown sings "Green rolled up in leaves, Yellow mood ring, Purple light like a beam, I dream in indigo." On another chorus he sings "Open my third eye, that's my baby she woke."
Moreover, this track is essentially about Brown being in touch with the spiritual and physical realm (woke) while being connected to a girl that is also the same as him, enhancing each other's frequencies.
The second track "Back to Love" is ultimately about the ups and downs about love or "pure" love as Genius lyrics describes it. Brown finds himself wanting to be the better version of himself and promising to keep putting his best foot forward.
Throughout the course of the track also finds Breezy often sprinkles innuendos within the color and spiritual themed tracks. Songs such as "Indigo," "Emerald/Burgundy" (feat Juvenile and Juicy J), and "Natural Disaster/Aura" exemplify this, especially on "Emerald" where he states, "I just wanna realign your chakras, Baby, I'ma make you feel it in your body."
What makes "Indigo" different compared to previous projects isn't just the features this time around, but rather the theme of the album as well as the sampling and production. It can be implied or rather it is implied that the title of the album came from Brown researching "Indigo Children."
On Genius lyrics according to Lonerwolf, an indigo child is "a person who has come into this world destined to create change and spiritually awaken humanity. Indigo children are considered to be freethinkers with profound insight into the human condition and an ability to see the truth clearly."
"Indigo" boasts an impressive list of star-studded features, all of which who have collaborated with Chris in the past, or is there first time collaborating with the music icon. H.E.R (Come Together), Lil Jon (Temporary Lover), Gunna (Heat), Justin Bieber (Don't Check on Me feat. Ink), Trey Songz (Sexy), Drake (No Guidance- the two have never collaborated before the release) and more.
Overall "Indigo" is a bright, colorful, playful and even deep (if you dig hard enough behind the meaning) that once again showcases Breezy's raw talent as an artist. Much like "HOAFM," "Indigo" gives fans a taste of Brown's musical dimensions. From his rap, top pop, to R&B, to even dancehall, every side Breezy can be explored on this album.