Lending a hand to the frontline
Asian Student Association and Student Activities Office donate food to Beaumont Hospital healthcare professionals
On Tuesday April 28, English Department Chair and Faculty Advisor to the Asian Student Association Professor Anna Maheshwari, teamed up with Todd Stowell, the Director of Student Activities and delivered 100 meals to healthcare workers at Beaumont Hospital in Royal Oak.
Collaborating with the Asian Students Association's long-time catering partner, Taste of India Suvai, the club provided a moment of respite to the hospital's staff.
Maheshwari's son, Dr. Neeraj Maheshwari, a second-year resident Anesthesiologist at Beaumont is experiencing first-hand the brutal hours required to combat the pandemic. With everything the healthcare workers are doing to help their communities, Maheshwari saw an opportunity to give back to those who are on the frontline of this pandemic.
Dr. Neeraj Maheshwari and Dr. Zach Nowak, a third-year Physician, were able to coordinate with the hospital to bring in the donated food. The hospital staff was grateful for the delicious and thoughtful donation.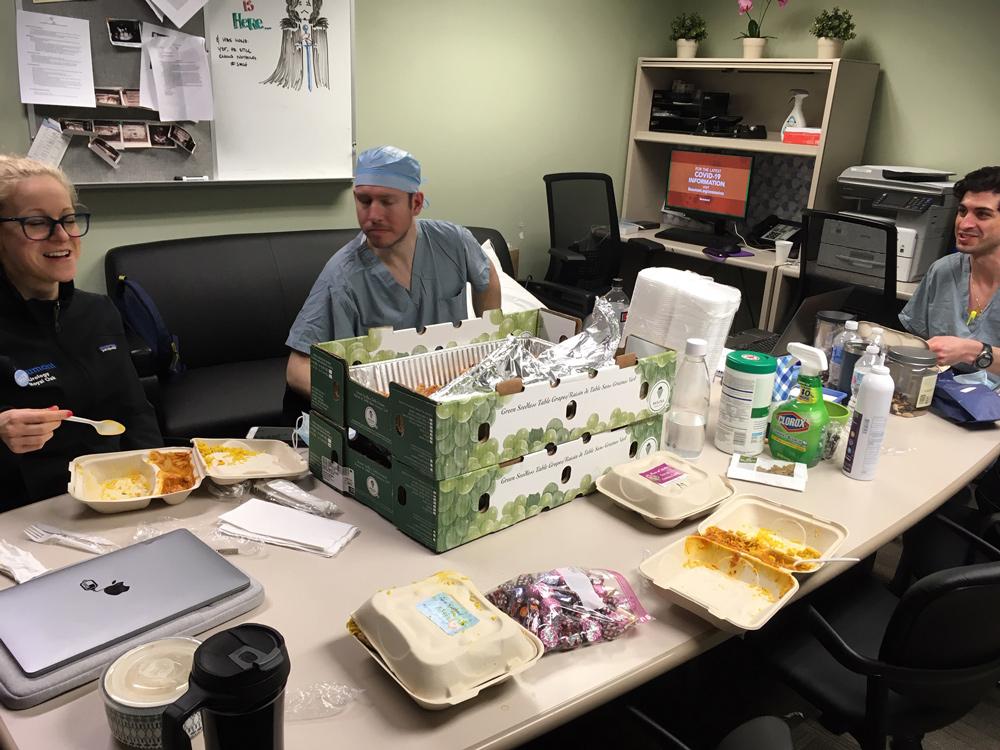 "We absolutely loved the food, it was absolutely delicious. Thank you for everything you have done for us," commented Nowak.
With social distancing ongoing, it can be difficult to coordinate a donation like this. When asked about who inspires her to help others, Maheshwari had this to say. "My mom (Dr. Saroj Bajaj) runs a college for more than 700 underprivileged girls back home in India and she was awarded the National Citizens Award by Mother Teresa in 1993. So, Mother Teresa and my mom inspire me to make a difference in my own small ways."
Professor Maheshwari went on to cite Mother Teresa's words as a source of inspiration. "We may not be able to do great things in this life, but we can certainly do small things with great love."
The Asian Student Association and Maheshwari were not alone in their efforts and wanted to recognize an essential advocate for the club.
"I wanted to give a big shout out to Todd Stowell for his unconditional support in helping me and my students make a difference in our community and beyond," said Maheshwari.
Suvai Taste of India Restaurant is currently offering a program called, Mission Possible.
The program is a "pay-it-forward" delivery service. Anyone can call and pay for meals for area health care workers and Suvai Taste of India will deliver the food.
As always, they also have curbside pickup. Customers can even specify which doctor's office or hospital where they would like the meals sent.
In addition, patrons can also have food delivered to their loved ones – for birthdays, anniversaries, Mother's Day and more!
Suvai Taste of India Restaurant is located at 217 S State St Ste B, Ann Arbor, MI 48104. To contact them call (734) 327-6500 or go to  tasteofindiatogo.com.
Photos courtesy of Schoolcraft College