Mobilized meal meet
Annual Michigan MEGA Food Truck Rally returns for 2020
The MEGA Food Truck Rally event has been postponed. The tentative date for the event is now September 26th.
Freshly made wheel-bound meals, drinks, music, family fun for all and copious amounts of alcohol; what more can be asked for in times such as these?
Presented by The Friends of the Village Charity, the Michigan MEGA Food Truck Rally at Canterbury Village will be providing all of these amenities and more Sunday, July 19 for two sessions. Session one takes place from 11 a.m. to 3 p.m. and session two from 4 to 8 p.m. The event will, of course, be following social distancing guidelines and will limit the population density via the two available time slots on the day of the event.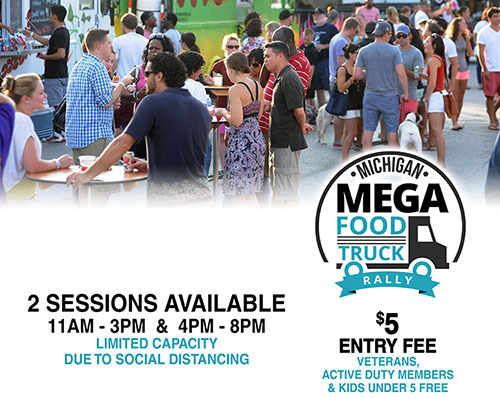 The food truck rally will offer a wide variety of foods from over a dozen different food trucks. Ranging from the humble burger and other American staples to Mexican food and also things some people might not expect. A "cakery" truck, a cheesecake truck, a western/cowboy themed ice cream truck, and… a corn truck? All right. Additionally, beverages such as Faygo and fresh-squeezed lemonade will be among the drinkables available.
As stated before, vast volumes of alcohol of all bottles and breeds will be available for the enjoyment of those of age. From craft brews to handmade cocktails, to seasonal ciders and beers, their arrangement is sure to satisfy any taste.
For entertainment, music will be provided by DJ Chris, a "Kids zone" for the youngsters' amusement, and with various shopping spots set up for visitors.
All employees at the food truck rally are required to wear masks and gloves throughout the day. As a result of an effort to reduce the population density and increase social distance on-site, the areas' capacity will be limited to abide by social distancing guidelines; to compensate for this, there will be two four-hour sessions on the day of the event – times are stated below.
On-site restrooms will be available, with strict capacity and sanitary protocols maintained by Canterbury Village attendants, and guests will be required to don both a mask and gloves. Guests should not bring any of their own outdoor coolers, food, beverages, and pets are not permitted.
Tickets are only available online for advance purchase at bigtickets.com/events/canterbury-village/megafoodtruck662020 for $5 per person per session; there will be no onsite ticket sales. Children under 5, veterans and active-duty military receive free entry, the latter needing to show ID at the entrance.
Additional information about Michigan MEGA Food Truck Rallies can be found at the website michiganmegafoodtruckrally.com.
The event will be located at:
Canterbury Village
2359 Joslyn Ct.
Lake Orion, MI 48360
About the Writer
Vae O'Neil, A&E Editor
Well hi there, my name is Vae. My pronouns are They/Them. I'm now well into my second year at Schoolcraft, where I've so far settled nicely into my...