Off campus, never offline
Kids On Campus goes virtual amid COVID-19 pandemic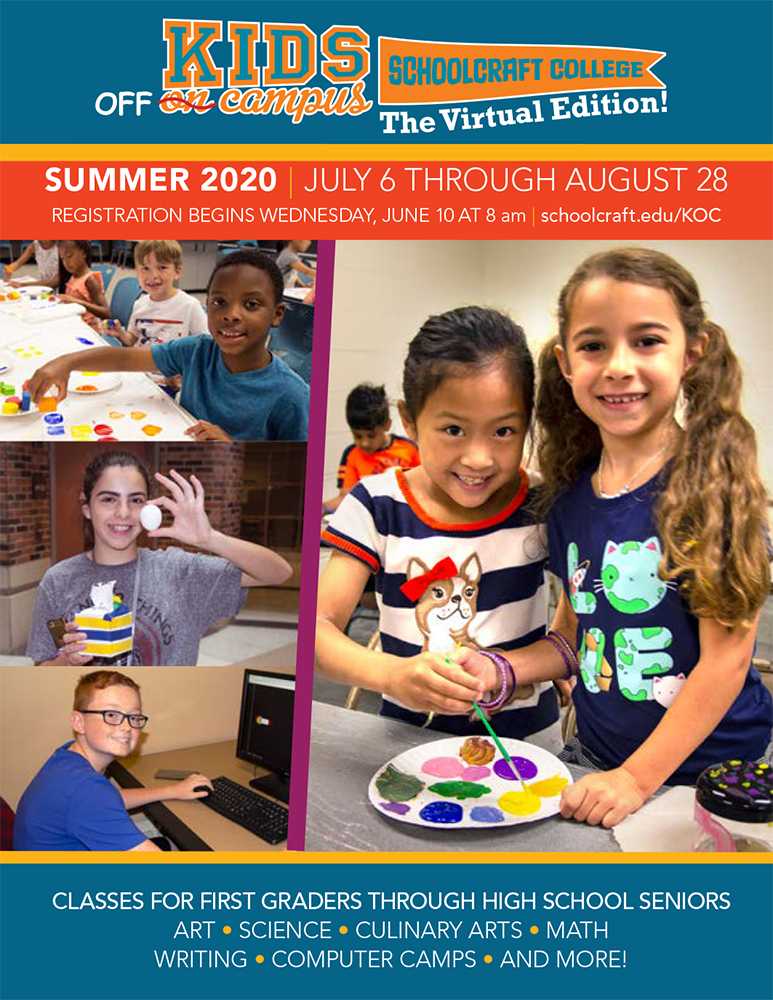 Parents looking for a fun summer experience for their children may have been disappointed by the recent cancellation of all on campus Kids On Campus (KOC) camps and academic skill programs due to COVID-19. However, there is no reason to fear because it will take more than a global pandemic to stop Schoolcraft College's KOC program.
Since June 10, registration has been available for a brand-new, never before seen event known as Kids Off Campus. In spite of the virus, the spirit of KOC remains ever-present to the program.
"We are very excited about the program that we have created and are looking forward to bringing it directly to your home," states KOC's staff in a statement on their website. "Watch your kids create, discover and grow through Zoom interactions with live instructors and other kids their age! Get the same quality experience in the comfort of your own home as you would from campus."
A wide selection of classes ranging from two to three hours a day are accessible. Arts, culture, communication, computer technology and academic skills are available to choose from. An instructor will send relevant information via email three to five days before each program and similar scholarships to the on-campus programs will also be available for families requiring financial assistance. In addition, Schoolcraft College gift cards will also be accepted as a method of payment.
Some of the offered classes will require specific resources. If a family does not have the required materials to attend a class, they may visit the Jeffress Center the Wednesday before said class between 4 and 6 p.m. to pick up a kit with all the necessary tools. KOC will be waiting for them outside and a map is available on the KOC website listed below.
There will still be plenty to do this summer from the safety and ease of a computer, tablet or phone. Don't let COVID-19 ruin any plans for a great summer with the Ocelots.
For more information and an application for Kids Off Campus, please visit schoolcraft.edu/docs/librariesprovider10/kids-on-campus/2020—koc-schedule—virtual.pdf?sfvrsn=6b20a4b5_2.
Summer 2020 KOC programs run July 6 through August 28. For other questions, please email [email protected] or call (734) 462-4448.