Schoolcraft collaborates with Michigan United to host panel discussion
Virtual symposium addresses racism as a public health crisis
Join Michigan United and co-sponsor Schoolcraft College for a virtual symposium called Covid-19 Detroit: Racism is a Public Health Crisis. Is Lansing Listening? Aug. 19 from 3 p.m. to 4:30 p.m. on Zoom.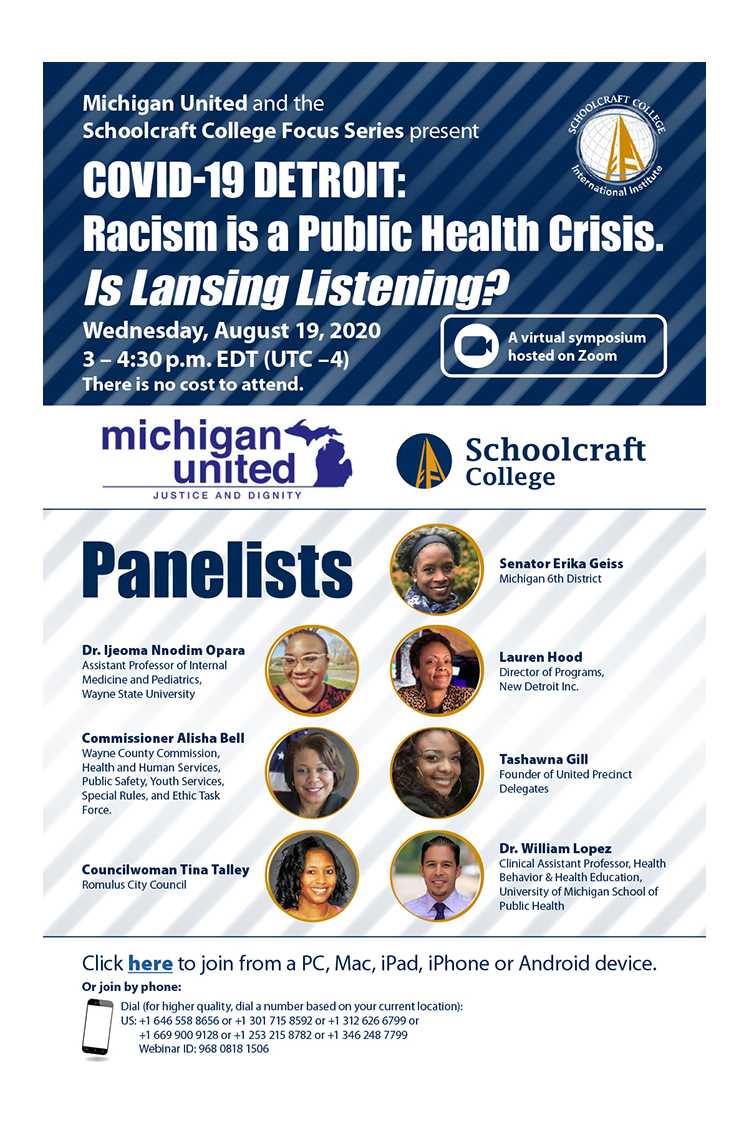 This is a free panel discussion that will address racism, positing it as a public health crisis. The panel will also discuss the effect of COVID-19 on Detroit and how Lansing can aid in fixing the issue.
Seven panelists will be present for the event, with many diverse backgrounds looking at the issues from various angles. Panelists include: Dr. Ijeoma Nnodim Opara (Assistant professor of International Medicine and Pediatrics at Wayne State University), Commissioner Alisha Bell (Wayne County Commission, Health and Human Services, Public Safety, Youth Services, Special Rules and Ethic Task Force), Tina Talley (Romulus City Council member) Senator Erika Geiss (Michigan's 6th District), Lauren Hood (Director of Programs at New Detroit Inc.), Tashawna Gill (Founder of United Precinct Delegates) and Dr. William Lopez (Clinical assistant professor of Health Behavior and Health Education at the University of Michigan School of Public Health).
According to their Facebook page, Michigan United is a "coalition of labor, business, social service, and civil rights members all across Michigan, fighting for the rights of homeowners, renters, immigrant families and students."
"The goal is to invite students, faculty, staff, and community to engage in thought provoking discussion surrounding issues related to race and Covid-19," explained Helen Ditouras, English and Humanities professor at Schoolcraft. "To encourage community stakeholders to tackle the crisis of racism and its effect on public health."
Raising awareness for race issues within Michigan is not uncommon for the organization and this is one of many events the group has planned to inform the public on social issues. Those looking to educate themselves on the racial effect COVID-19 has on areas like Detroit have a great starting point with such a varied panel of experts. Tune in to learn about the correlation between these two issues and the potential solutions to fix them.
"This series is different because it will be offered for one semester only and we will be focusing heavily on issues of racial justice," Ditouras explained. 
Due to the fact that all presentations will be hosted on zoom moving forward, students will have many opportunities to participate. They will all be recorded as well for those who won't be able to make it.
To attend the discussion via PC, Mac, iPad, iPhone or Android devices, please click here. You may also attend the webinar by using the following ID: 968 0818 1506.
This is an early bird presentation in prelude to the Focus Series theme for the fall semester on "Intersectionality Matters": Covid & Race in the Global Community.