Under the virtual big top
Annual School Daze Fall Festival set to make a digital debut on Sept. 16
It's that time of the year again, classes are back in session, the first day fall is around the corner and Schoolcraft's Student Activities Offices annual School Daze event is ready to bring students together – virtually.
This year School Daze will be held on Sept. 16 from 4 to 6 p.m. Broadcasting live with Linz Entertainment, the event will offer a plethora of fun. From trivia shows to club breakout sessions, School Daze has something to offer both new and returning students at Schoolcraft.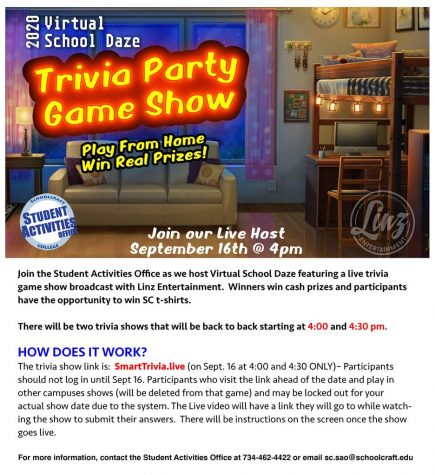 Those interested in participating in the trivia shows should note that they run back to back with the first round starting at 4 p.m. and the second at 4:30 p.m. Contestants will have the opportunity to compete for cash prizes, and those who don't take the top slots won't walk away empty-handed, as anyone who participates will walk away with Schoolcraft merch at the very least.
How do you participate? Anyone interested in participating should go to the trivia show link at SmartTrivia.live on Sept. 16 at 4:00 and 4:30 only. Attendees will not want to log in until Sept. 16. Anyone who visits the link ahead of the date and play in other campuses shows (will be deleted from that game) and may be locked out for your actual show date due to the system. The Live video will have a link they will go to while watching the show to submit their answers. There will be instructions on the screen once the show goes live.
For those who are looking to get involved in student life or bolster their resumes for transferring, Zoom breakout sessions with the various clubs on campus will be available after the game shows starting at 5 p.m. Club leaders will share their upcoming plans for the semester and how you can get involved. The first 50 students to attend and sign up for a club get a free Schoolcraft T-shirt courtesy of the Student Activities Office. Zoom log in for "Club Shout Out" from 5-6 p.m. is schoolcraftcollege.zoom.us or by using the Zoom Meeting ID: 860 0882 4882 and Passcode: 260428.
If Zoom meetings aren't your thing, Clubs on campus will have their own featured videos on Flipgrid that will tell you what their mission is for the Fall. You can even sign-up for the club on Sign Up Genius, which will be provided alongside the videos.
Club leaders will reach out and provide students information on when they are planning to meet and what upcoming activities they have in store.
Still not sold on getting involved in student life on campus? How about the chance to win an iPad mini or Apple Airpods at the end of the fall semester.
Every club meeting students attend will give them the opportunity to win these prizes at the end of the semester, with every meeting equal 1 entry. Frequency of meeting attendance will provide students with greater odds of winning the grand prizes and secondary prizes.
While School Daze may look a little different this year it will still be as engaging as it has always been.
For more information, contact the Student Activities Office at 734-462-4422 or email: [email protected].