Netflix Releases: The sequel
Guide to shows and films premiering to close out 2020
There's less than three months left in 2020, a year many critics agree to be stuffed with an exhausting amount of plot twists, with a number of characters that are far too silly and comical for them to be taken seriously in the story; some even say the series should have ended long ago. But nevertheless, we started this season so now we have to end it; but we don't have to do it alone, so here's a list of some upcoming films and shows on Netflix to help you through the latest season of "Life On Earth."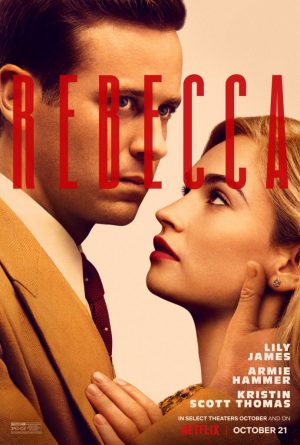 Rebecca
Film
Release date: Oct. 21
Directed by Ben Wheatley, "Rebecca" is a psychological thriller based on Daphne du Maurier's renowned 1938 gothic novel. A newlywed young woman (Lily James) arrives at Manderley, her new husband's grandiose family estate on a wind-swept English coast, following a cyclonic romance in Monte Carlo with charming widower Maxim de Winter (Armie Hammer). Brimming with naivete and devoid of experience, she starts settling into the adornments and embellishments of her freshly-found life, though finds herself at odds with the shadow of Maxim's first wife, the graceful and debonair Rebecca, whose legacy haunts the estate, thanks to Manderley's dastardly housekeeper Mrs. Danvers (Kristin Scott Thomas).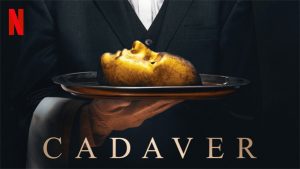 Cadaver
Film
Release date: Oct. 22
In the earth-shattering dystopian environment of nuclear fallout, Alice (Tuva Olivia Remman) and her parents Jacob (Thomas Gullestad), and Leonora (Gitte Witt) are in a constant fight for survival. One day a local hotel invites nearby survivors to attend a theatre play, with a provided meal, as a philanthropic gesture to aid those in need. With no better options at hand, the familial triad decides to accept this invitation, where the director, Mathias (Thorbjørn Harr), introduces the entire hotel as the stage of his grand performance. Attendees are gifted masks to help differentiate them from cast members, but the play turns sinister when audience members begin to vanish. Hazed becomes the line between reality and theatrics; that is, until Alice disappears in front of Leo and Jacob, and there's no longer room for doubt: Something quite wicked is taking place within Mathias' hotel.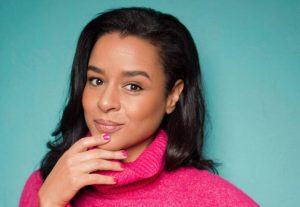 Sarah Cooper: Everything's Fine
Special
Release date: Oct. 27
"Sarah Cooper: Everything's Fine" is a variety special plump with sketches handling issues of class, gender, politics, race and other blasé topics. Consorting with Sarah will be a lovely bundle of the most special of guests, who will partake in brief interviews, sketches and additional skulduggery.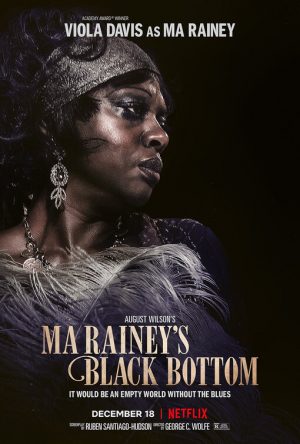 Ma Rainey's Black Bottom
Film
Release date: Dec. 18
Adapted from two-time Pulitzer Prize collector August Wilson's play, "Ma Rainey's Black Bottom" celebrates the metamorphic weight of the blues and those artists who have and continue to refuse society's prejudices and appraisals of their worth. "Ma Rainey's Black Bottom" is directed by George C. Wolfe and adapted for the screen by Ruben Santiago-Hudson, and is the final film of the late Chadwick Boseman.
Heat and friction rise throughout an afternoon recording session in 1920s Chicago as a band of musicians await pioneering performer, the mythical "Mother of the Blues," Ma Rainey (Viola Davis). Fashionably late, the bold and bright-spirited Ma clashes with her white manager and producer over control of her music. As the band shelters-in-place in the studio's rehearsal room, steadfast trumpeter Levee (Chadwick Boseman) spurs his fellow musicians into an eruption of stories uncovering long-untold truths that will forever alter the course of their lives.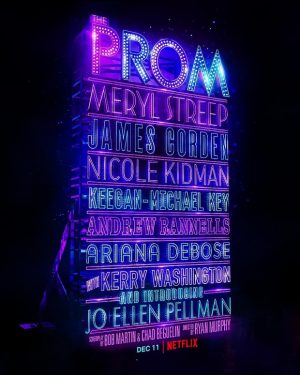 The Prom
Film
Release date: Dec. 11
Barry Glickman (James Corden) and Dee Dee Allen (Meryl Streep) are New York City stage stars with a crisis afoot: their costly new Broadway show is a miserable failure that has swiftly nailed the coffins shut on their careers. Meanwhile, in a small-town Indiana high school, student Emma Nolan (Jo Ellen Pellman) is choking down a very different flavor of catastrophe: heedless of the support of the principal (Keegan-Michael Key), the head of the PTA (Kerry Washington) has forbade her from going to prom with her girlfriend, Alyssa (Ariana DeBose). When Dee Dee and Barry agree that Emma's predicament is the perfect low-hanging fruit to help resurrect their public images, they set off with another duo of Angie (Nicole Kidman) and Trent (Andrew Rannells), another pair of misanthropic actors looking for some professional necromancy. But when their selfish celebrity Frankenstein project abruptly backfires, the quadruplet finds their lives utterly capsized as they rally to give Emma a night where she can finally revel in who she really is. Directed by Ryan Murphy, "The Prom" is the breathtaking heartfelt adaptation of Bob Martin, Chad Beguelin and Matthew Sklar's award-winning Broadway musical.