Pause to save lives
Michigan Department of Health and Human Services calls for three-week shutdown of colleges and other services
Last week Michigan saw its worst uptick in confirmed Coronavirus cases since the beginning of the pandemic with 44,019 people being diagnosed and 416 people dead. While the large spike is recent, cases have been going up for some time and begging the question if more restrictions were coming down the pipeline.
On Nov. 15, Michigan Department of Health and Human Services issued an Emergency Order, aptly named the Gatherings and Face Mask Order, calling for the halt of many activities including in person classes at colleges and high schools. The order goes into effect Wednesday, Nov. 18, allowing for a two-day adjustment as people prepare to stay home.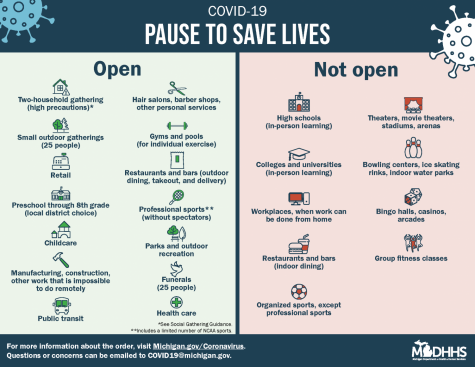 The order is not as all-encompassing as the initial executive orders were back in early spring, allowing for construction and manufacturing, health care and other jobs that cannot be performed at home to continue to work. Gyms are allowed to operate, but only for private training sessions. Casinos, movie theatres, indoor dining and organized sports are back on ice for the time being.
As for Schoolcraft, the following classes are allowed to operate in person after the Emergency Order takes effect this Wednesday: Schoolcraft's Police and Fire Academy, the EMT, the Nursing program and all other classes pertaining to the medical field. In terms of facilities, the Fitness Center is allowed to remain open for personal training sessions, the Children's Center will be allowed to go back to live operations Nov. 26 after a temporary halt. St. Joe's Sports Dome and St. Joe's Mercy Elite Sports Center will also remain open.
More information will be released from the college in the next few days as adjustments are made to work within the bounds of the Emergency Order.
Updates from the college as of Nov. 17 and 18:
Continuing Education Professional Development face-to-face group classes have been canceled. However, Personal training and individual swimming is still allowed to operate at low capacity.
Schoolcraft's Computer Lab in McDowell will remain open for student use with no appointments needed. The Computer Lab will be available Monday through Thursday from 9:00 a.m. to 7:00 p.m. and closed Friday through Sunday.
Henry's Food Court and JC Café will be paused until further notice.
To stay up to date with Schoolcraft's COVID-19 policies and procedures, visit: schoolcraft.edu/coronavirus.