Karbownik: Mr. Beast and YouTube Philanthropist
Beast Mode on 100 percent
Over the many years that YouTube has existed, there have been many different creators on the online platform that have changed the perception of online influencers. Some of the big names on YouTube that have brought change to the online platform include the Paul brothers, Smosh, Nigahiga, Dream, Dude Perfect and of course, PewDiePie. Yet there is one YouTuber some people do not talk about very much, but deserves way more recognition and praise. This YouTuber is Mr. Beast.
Mr. Beast, aka Jimmy Donaldson, is an American YouTuber who currently (according to Socialblade) has 55.3 million subscribers from his main channel MrBeast, along with 1.74 million subscribers from Beast Philanthropy. While Mr. Beast started off as a small YouTuber back in early 2012 doing let's play videos and videos that evaluated the earnings of other online creators, he went viral in 2017 in which he counted to 100,000 within his original video that went for 40 hours long. Since this video became viral, Mr. Beast has continued to go above and beyond with the content he produces and continues to earn millions of views and subscribers.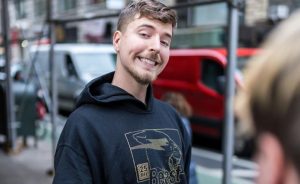 One of his major personality traits that continues to define Mr. Beast is his passion to give away lots of valuable gifts to many different types of people. Mr. Beast even stated in an interview back in late March 2019, with American YouTuber Casey Neistat, his ultimate goal in life is to make lots of money and then give it away before he dies.
Mr. Beast's goal is further reinforced on his main channel MrBeast on YouTube as it states very clearly that for every subscriber Mr. Beast gains, 10 cents will be donated to charity. Mr. Beast has even gone so far as to give away $1 million in a single video.
But it's not just money Mr. Beast gives away, he also gives away many other valuable gifts such as entire houses, cars and food. Some of these instances included a Domino's pizza delivery driver being tipped with a really nice house after dropping off some pizza for Mr. Beast and some of his crew. Mr. Beast has even played the part of being Santa Clause by giving away thousands of gifts for children around the United States for Christmas.
While Mr. Beast continues to support people in need and give away so many nice gifts to people, he has also continued his efforts to improve creator's careers on YouTube and bring the community together for special events. One out of many events Mr. Beast has hosted a $200,000 battle royale featuring many different YouTubers and online creators, with the winning team getting the prize.
As of January 2021, Mr. Beast created a special YouTube Rewind for 2020 not only celebrating and mourning the moments within 2020, but he also gave shout outs to 3 smaller random content creators on YouTube and encouraged people to subscribe to these creator's channels.
All these experiences and events that have been explained, barely scratches the surface as to what Mr. Beast has done to help people in need and those who are trying to make it on YouTube. Mr. Beast has laid down an important foundation for how someone can have a successful career on an online platform like YouTube and make amazing quality content out of it.
More importantly, Mr. Beast proves how not all online personalities and creators on YouTube are "bad actors" online and in real life as many people would want you to believe.
As Mr. Beast continues to make more amazing content and sees more success on YouTube, it is more than satisfying to say he is someone who earned his support and admiration from people of all backgrounds.
To view more information and content from Mr. Beast, click here.