Producing in a pandemic
Livonia based recording studio owner and SC alumnus, discusses career experiences during the pandemic
Over the past year, COVID-19 has had its way with humanity; it's maimed people, families, communities and, of course, businesses. Many independently owned shops of all kinds have been forced to go under, or adapt to the changing tides; thankfully, not all industries were hit as hard as others, as Brandon McLeod, a Schoolcraft alum, owner and operator of
Studio 222 Recording can attest.
McLeod got his hand on a recording studio through unusual circumstances; as a child he was diagnosed with ITP (Idiopathic thrombocytopenic purpura), which in effect causes easy bruising, internal bleeding, blood that is slow to clot, among other symptoms. Though it was life-threatening at the time, it didn't keep him from having an otherwise normal and passionate childhood; he grew up exposed to music, namely classic rock.
"Looking back, I was introduced to music really early on as a kid through my dad, and he'd play me a lot of classic rock stuff like Deep Purple, Rainbow – bands like Led Zeppelin, bands of that nature. I remember having cassette tapes and wearing those out, because I'd be listening to those so much as a kid."
Then, not too long after, he was given a chance to make a wish upon a nonprofit organization of the same name; for reasons unknown to even himself, he wished for a recording studio, where the Make a Wish Foundation helped catalyze his life's greatest passion. McLeod studied music production at Schoolcraft, and as he pursued his associate degree program he earned an internship with 89X (CIMX FM) Radio.
After rising the internship ranks to Promotions Team Leader, Brandon has collaborated with an impressive swath of well-renowned radio DJs in the metro Detroit area, as well as numerous label reps such as Warner Bros and Sony, bands like Deftones and WALK THE MOON, and with band tour managers as well, such as Smashing Pumpkins and Joywave. These collaborations were done so the station could pull off different events like meet-and-greets, pre-show performances and other such things; even with all of that on his plate, he also did work in photography and social media while working for 89X.
All of these events, from childhood illness to his Schoolcraft days and internship, led him to where he is now, producing music as a studio owner – and studying music at the University of Michigan. He continues to live out his actualized dream even through a global pandemic: recording various bands and musicians and also helping blossoming artists build a recording setup of their own at home.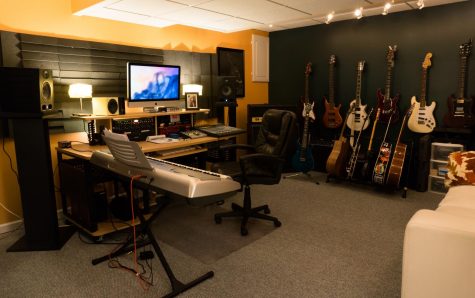 Though unsurprisingly, the pandemic has made things look vastly different from what they once were. When the beginning of the pandemic hit, so did an almost complete stall of incoming projects, though it didn't last long as things eventually bounced back in the following months, but not in the ways or frequency as before. McLeod theorizes that there was a surge of people learning how to record themselves from home.
"I helped a lot of people kind of set up their own project space at home so they could start recording and sending me stuff…and really, it was a lot of online collaboration. I've worked with people in Arizona, Alabama, Texas, even Ghana too…"
Though more personable sessions with clients had dwindled, Studio 222 Recording has expanded its outreach to a global scale, as well. This isn't to say that in person sessions went away altogether; eventually they returned with the now-normalized precautions of masks, workspace sanitization, social distancing and so on.
Why exactly is it called Studio 222 Recording? Doesn't exactly roll off the tongue.
McLeod's response to this reveals a big portion of the studio's lore; his group of high school friends and he had often held a belief (more them than him) that a coincidental sighting of the No. 222 would result in the person's current thought, at the moment of spotting the number, to come true. He didn't think anything of the name until a particular client arrived at the studio:
"…he goes, 'do you believe in numerology?' I was like, 'I've never even heard of numerology before,' and he was like, 'Well, 222 is like really prominent – there's a lot of people that believe in that 222 saying' and I didn't know anything about that."
And so, Studio 222 Recording was not only a center of creativity for musicians, but also a beacon for any numerologists who happened to stumble upon it.
Brandon McLeod remains as he has been, manning the helm at Studio 222 Recording, feeding his passion by deepening his knowledge at the University of Michigan, and spending time with his newly gotten puppy.
He's a man whose clients are considered more friends than business opportunities, and truly enjoys the partnership of collaborative art.
He can be found promoting his business on Facebook, Twitter, Instagram, YouTube and SoundCloud, all of which can be found at his website.