More than just sandworms
8.5/10
Rated: PG-13
Sci-Fi Adventure
2 hr 35 min

Dune has been pretty hyped up ever since Legendary Pictures acquired the rights to it back in 2016. Since the last Dune movie directed by David Lynch in 1984 bombed at the box office, this rebooting of a much beloved sci-fi novel written by Frank Herbert in 1965 was sure to have some expectations set. Especially when Oscar nominee Denis Vellenueve signed on to be the director in January 2017.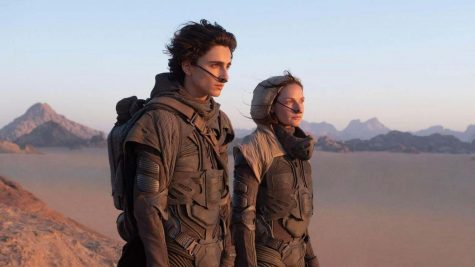 With amazing films such as Sicario, Arrival and Blade Runner 2049 under Vellenueve's belt, his movies are known for being  eye and ear candy all-around. This film definitely achieves that scale. Not to say that isn't with the work of cinematographer Greig Fraser, who's worked on films such as Rogue One and Vice, this man knows how to make a good composition.
"My planet Arrakis is so beautiful when the sun is low." Those are the words that start off this movie, said by Fremen Chani, played by Zendaya. What follows is a wonderful monologue about the story so far, sort of like the prologue to a book. The film follows Paul Atreites (Timothy Chalamet) who is the heir of the house, as he and his family acquire the planet Arrakis which is fairly useless other than the very valuable spice. This is where the Fremen people live as the native race. 
The Harkonen get introduced as the antagonistic house who owned Arrakis before our protagonist's empire. House Atreides was given the planet by the emperor. Those three groups play a large role in this film as the main conflict is between who owns Arrakis.
While each group is full of compelling protagonists and antagonists, the planet Arrakis is almost a character in itself. The film really captures the very harsh conditions a person on this planet would be living in due to the burning, dry gritty sand, sweltering, white blinding sun and the giant sandworms, of course.
It's impossible to talk about this film without mentioning the incredible sound design throughout. Viewers' ears are in for a seat shaking ride. There are parts where the dialogue is almost unintelligible, but with all the accents and voices going on that is to be expected. It's not enough to lose the plot, however, subtitles might be worthwhile on a rewatch to catch all those small moments where the words get lost. Another aspect of sound is the film score and of course Hans Zimmer absolutely nails the soundtrack, as always.
Those who have not read through Dune before seeing this film need not worry. 
The prologue narrated by Zendaya's character is easy to follow as well as the rest of Dune. Every little detail of the world that was carefully thought out with problems and solutions, causes and effects, different histories and cultures. It is told in such a way that this could very well happen in the real world. 
Dune is a wonderful piece of cinema and a must see. The just over 2 and a half-hour run time is rather long, but is not dragged along by boring dialogue or semi standard shots. This film is definitely worth the time that it takes to tell the story. 
This movie isn't the entire story of Dune, this is only a part one with the second part possibly coming out late 2022 (however that's just speculation). Fans of this franchise will have to eagerly await the continuation of this story.
Dune hits theaters October 22. If you'd prefer to watch it in the comfort of your own home, it will be available to stream beginning October 21 (at 6 p.m. EST to be exact), only on the subscription streaming service HBO Max.
To view a trailer of the movie go to https://www.dunemovie.com