A Pretty Sweet Victory
Culinary Arts alumna Erin Sonntag wins Disney+ "Foodtastic" competition
Vae O'Neil, Arts and Entertainment Editor
February 26, 2022
Culinary Arts alumna Erin Sonntag might have seen herself working in a restaurant, or maybe starting her own business, but she never envisioned herself competing on TV. 
Sonntag attended Schoolcraft from 2003 to 2005 where she majored in Culinary Arts, at the young age of 17. After graduation she served as advisor to the culinary program for a time, before starting her own cake-and-pastry business that lasted for nine years. From 2012 onwards she has helped hold the reins of a different cake business, Bella e Dolce, which has one location in Walled Lake serving downtown Detroit, Plymouth, West Bloomfield, Clarkston, and the tri-county metro area and another in Northern Michigan located in downtown Cheboygan.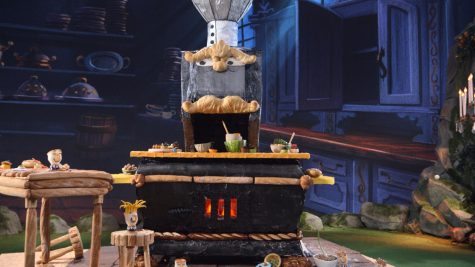 "The name is technically Italian," Sonntag said, "It means 'pretty and sweet'." 
It was at this point in her career, a little over a year ago, where she found herself in a position to show what she's got on camera (Or rather 30 cameras), competing in the Disney+ culinary competition show, "Foodtastic." 
Sonntag's call to action came in the form of a friend. The truth is she wasn't the first person to be contacted by the Foodtastic casting department. They first found the Instagram page of Maryse Swanson, Sonntag's longtime friend who also runs her own business, and asked her if she could build a team of three talented foodsters from the local area. Thinking of her friends, she said yes. Altogether, the team was made up of Swanson herself, Erin Sonntag and Lindsey Pritchard. Though in any other era, being on a show like this would've been impossible, "The greatest blessing of the pandemic was time," Sonntag said; if there hadn't been a great hiatus of weddings, and cake orders, she wouldn't have had the time to fly out to Los Angeles for filming. And filming a show is an experience unto itself.
At first, it was a bit intimidating for her to be on set. When most people think of a movie or television set, the image of a handful of cameras and a single microphone might pop into mind – this was not the case for Foodtastic. 
There were cameras everywhere. the production team would gently remind them to smile a bit.
As for how the contest is structured, "Foodtastic" is a food-based art competition where teams of three are given approximately 24 hours in total to build a sculpture out of food materials. The sculptures have to tell or complete a story that they're prompted with, related to stories housed under the Disney umbrella. The sculptures have to be planned out beforehand, all the math done in advance, not only to make sure everything works on the first try, but also to know how many materials and resources they'd need important, especially for the bigger pieces, such as a large stove-sculpture that Sonntag's team made, which was towering at ten feet in height.
Despite this planning, of course there were other challenges along the way. 
The biggest in Sonntag's opinion being that there never seemed to be enough time, and the unavoidable structural setbacks. For example, she discovered that she had to learn to anticipate how different food materials changed over time, such as how when lining a surface with american cheese slices, the slices will slowly shrink as they dry out. She learned this lesson the hard way, and had to react accordingly. 
In order to rate a team's work and declare a winner, there were a few deciding factors at play that judges would weigh: storytelling, attention to detail, accurate character portrayal, and a willingness to step outside one's area of expertise. 
The storytelling part, as mentioned before, measured how well a particular piece responded to, or completed a story that the team was prompted with; the attention to detail was similar to the difference between a smiley face and a portrait. The accurate character portrayal portion was very important, as these were Disney characters they were working with, "…let's say you were given a character, say, Chip; you'd have to make sure whatever you make looks exactly like Chip…" said Sonntag. If a creation looked off, or even a little different from what they appear as in Disney media, that contestant would be out of luck. Lastly, was a team's willingness to step outside their area of expertise. 
All three of the people in Sonntag's team specialized in baked goods and pastries, so in order to be properly competitive they had to branch out and use unfamiliar materials; jicama a radish-adjacent tuber, was one such material that was the main building block of their rendition of Chip, as the plant wouldn't oxidize over time.
Though after not too long filming for the show had ended, Sonntag, Swanson and Pritchard flew back to Michigan as "Foodtastic" Champions.
Sonntag's plans for the future include fewer screens, and many more cakes. She is currently in the process of moving from her 280sq.ft. space into a 2000sq.ft. area, which she plans on filling with more equipment and more bodies to help her make lovely treats for lovely people. 
Looking back through her 20 year career, she is grateful for the education and mentorship she has received, both within and beyond Schoolcraft, from people like Chef Chris Misiak; Tino Amaya, a longtime friend and business confidante; and Kim Sperl, original owner of Bella e Dolce. Have to admit, that is pretty sweet.
Foodtastic can be watched on Disney+, where Sonntag and her team appear in episodes four and 11.