Sous in charge
Alumna Jennifer Schoenbart reflects on her culinary journey from Schoolcraft to Continental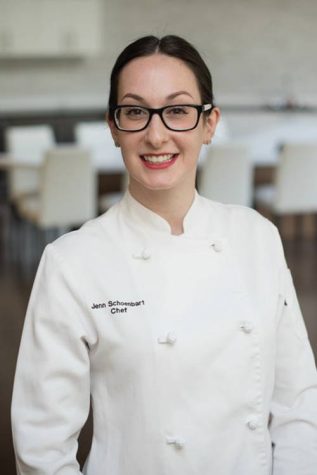 Schoolcraft College is renowned for its excellent culinary facility with a vast array of classes and specialty training. To put it simply, it is the place to be for aspiring chefs. That's why Alumna Jennifer Schoenbart says selecting the college for her culinary journey was an easy choice. She never had to look far for her dream education. From Schoolcraft's prestigious culinary program to Regional Operations Manager for Continental, the chef tells her culinary arts experience with evident fondness. 
Schoenbart was inspired to pursue the culinary arts due to the layers of creativity involved in the profession. 
"As a chef, you have the ability to express yourself through food and create a vision that is one-of-a-kind to you." said Schoenbart. She was initially drawn to Schoolcraft for the overall aesthetic of the school and their kitchens. What made the program that much more appetizing, however, was the courteous staff who always expect a student's best and push to make sure they achieve it. 
Schoolcraft starts small with the basics of cooking and lays the groundwork for finding success in the field. Schoenbart says they taught her many everyday techniques such as how to properly sear, braise and chop. From there, they built up enough practice that she was comfortable enough to assist with the program's continuing education courses. 
"I don't ever want to be a mentor or superior to someone and ask them to do something that I would never do or don't know how to do," said Schoenbart.
Schoenbart graduated from the Culinary Arts program in 2011 and found herself searching for a job soon after. 
Before applying, she would visit different restaurants and sample their food to see if any fit her vision, but none seemed to match quite yet. As a result, she chose to return to Schoolcraft and earn her Baking and Pastry degree in 2012. 
Feeling more well-rounded, Schoenbart was thrilled to obtain a job at Continental. She believes that Chef Dan Hugelier and Janel Sauder from Schoolcraft were supportive pillars that helped on her journey. 
Schoenbart has worn many hats since starting her Continental journey. She began as a pastry chef, but worked her way back to the savory side of the kitchen as she'd initially planned. From there she rose to sous chef and then to chef de cuisine. 
Nowadays she is the regional operations manager, in charge of six separate locations, each with cafes within their corporate offices. Her responsibilities now include helping with menu planning, maintaining client relationships, photographing meals for Continental's website and coaching their team of chefs. 
Since Schoenbart began working for Continental ten years ago, she has been nominated for three awards. Once for Crain's Detroit coveted "40 under 40" and twice for the "I am Continental" award which she has won once. 
To any current or future culinary students at Schoolcraft, Schoenbart has one piece of advice she could offer. "Soak it all in!" she urges. 
"Learn, ask questions, take risks. Find a job in the field and get real time experience. Take advantage of everything that Schoolcraft has to offer. It's really a once in a lifetime opportunity."
What the future holds for this culinary creative remains to be seen, but what is evident is that the chef has unmatched pride in her work. The passion she approaches her career with will surely carry her far.