Returning to the stage with a classic
Schoolcraft College Theatre Department presents "Barefoot in the Park"
Armando Saucedo and Matthew Kern
From the mind of the legendary Neil Simon, to Schoolcraft's stage, comes the long-adored play "Barefoot in the Park." Earning accolades for its brilliant writing and comedic performance, it sold out in theaters nationwide during its initial premiere and survived the test of time, with a film adaptation and a Broadway revival. It follows the story of newlyweds Corie and Paul Bratter and their starkly contrasting personalities; Corie, a whimsical woman whose animatedness and optimism counterbalance Paul's stern, pessimistic and anxious disposition. See how well – and how hilariously – these two personalities blend in when moving into their shoddy new apartment in this near 60 year-old comedy, currently playing at Schoolcraft.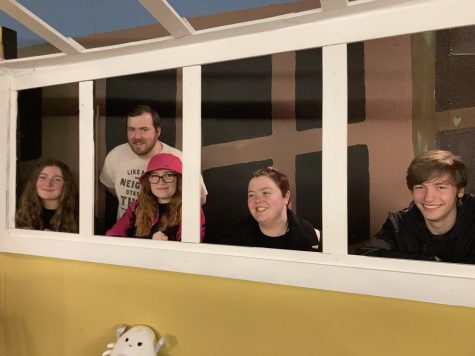 Nicole Levine, the stage manager for this production, has been brimming with anticipation for this production, especially because it is the first show being performed live at Schoolcraft since before the pandemic. She is no ameteur when it comes to the James R. Hartman theater, with "Barefoot in the Park" being the seventh overall Schoolcraft production she has helped bring to life. The contrast of the characters is what Levine loves most about this play's story, saying that it is fascinating, "…how two people with seemingly very different lifestyles work together to see how they work through the trials of marriage, and that it may [not] always be easy but it can definitely be worth it."
This play is indeed a bit of a comeback moment for the theater department, as Director Paul Beer can attest: "We are thrilled to welcome a live audience back to the James R. Hartman Theatre," Beer said. "We've missed the interaction with our live audiences, and hope to charm them with this classic Neil Simon comedy."
The remaining shows take place on April 1 and 2 at 8 p.m.
All performances are priced at $20 and tickets can be found at www.schoolcraft.edu/theatre, or by calling 734-462-4596. Keep in mind that all audience members are required to wear masks while in the theater, as is in accord with other live venues in metro Detroit.