What if red meant go?
Doctor Strange once again leaves fans marveled
PG-13
2022, Adventure/Action, 2h 6m
Rating: 8/10
When Doctor Strange meets a teenager with a mysterious and uncontrollable power in "Doctor Strange in the Multiverse of Madness," he must endure his known world twisting even further than it already has and risk everything to keep her safe. However, this new film, while stunning, is no comparison to the 2016 original.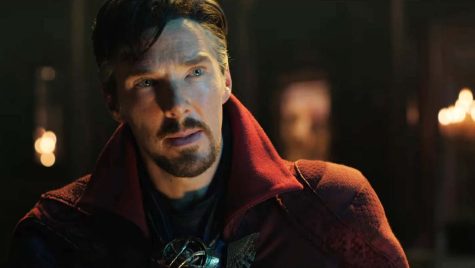 The first "Doctor Strange" movie starring Benedict Cumberbatch contained brilliant visual effects that were so well done that they left the audience questioning their definition of reality. "Doctor Strange In The Multiverse of Madness" is a little disappointing at times in comparison. In Marvel's quest to always keep the audience guessing, they have forgotten to make the effects feel consistently real. For example, the opening scene has a moment where two of the characters are standing on a piece of rubble in space. Audience members are able to visualize the set without the effects too easily. That being said, such moments are easy to brush off and the new film as a whole is absolutely delightful (if not a bit campy). The sheer excitement of the vivid multiverse dramatically outweighs any shortcomings. 
An amalgamation of demons, sorcerers and one strange zombie have come together to create an entertaining film that once again keeps the gears turning within the minds of audience members. There is even a topsy-turvy, tentacled cyclops that will have some audience members looking for a certain Time Lord who also happens to be a doctor. While the visual effects have taken a small step backwards since 2016, they have yet to lose the magic that Marvel fans expect. Since the use of the multiverse is disclosed in the title, it is no spoiler to say that the alternate worlds are beautiful. It is simply incredible to see what our planet could have looked like had the cards been played differently. 
In true Marvel fashion, this movie was absolutely studded with star power. The ever-charming Benedict Cumberbatch in particular was phenomenal. He brings the perfect level of clever humor and witty cynicism to keep audience members rooting for his character while remaining wary of what this man might do next. Similar to his performance of a well-loved sociopathic detective, Cumberbatch captures hearts with his sharp dialogue and fascinating methods of problem solving. Talent like his doesn't come from nowhere and Cumberbatch clearly continues to do his homework when it comes to portraying the illustrious Doctor Strange. 
Elizabeth Olsen continues to evolve the complex spirit of Wanda Maximoff while keeping true to the character's roots. Despite all she has gone through in character development, she still has the same mannerisms as in earlier Marvel appearances.  Now filled with an unhealthy amount of trauma, anger and her own maternal struggles, the beloved Scarlet Witch goes through a lot in this movie. Fans will go feral with excitement when they see what Marvel has in store for her this time around. Have no fear, Wanda lovers, she is not a monster. She's a mother. 
America Chavez, played by Xochitl Gomez, is new to the MCU yet she feels like an old friend. She fits in well with the pre-existing characters while still bringing her own charm. Gomez is naturally adept at playing a teenager, seeing as she is one herself. Chavez has the perfect mixture of fear, wittiness and impulsiveness to make her believable. The dynamic between Doctor Strange and Chavez is entertaining and leaves the audience craving more interactions between the two. There are moments in which Chavez brings out an almost paternal side of Strange, like when he assures her that she will meet her two mothers again one day, that will leave fans with a warm feeling in their chests. 
"Doctor Strange in the Multiverse of Madness" is directed by Sam Raimi who has directed a number of movies in the past, including the early 2000's Spiderman trilogy starring Tobey Maguire. 
The film is engaging and easy to sit through in its entirety, even for less involved fans, but anyone new to the franchise will want to make sure they have seen "Doctor Strange" (2016) and "WandaVision" (2021) prior to this new film. 
Audience members may also want to be aware that the beginning of the film seems a bit choppy with a high stakes intro followed by a much slower lead-in to the real plot. Luckily, the story kicks into high gear as soon as the antagonist is revealed. From then on there isn't a dull moment until the credits roll.