Letter to the Editor
As a community advocate, Mentor and DEI TrailBlazer, it's an honor and a privilege to share with you all that Juneteenth is a day of remembrance, recognition, and celebration. Today, Juneteenth commemorates the freedom of African Americans while bringing emphasis to the past in order to remind the world of our past history, along with the myriad of sacrifices made by people of color in order to liberate African Americans from enslavement. 
Juneteenth also known as "Freedom Day" is the oldest nationally celebrated commemoration of the ending of slavery in the United States. According to History.com Juneteenth (short for "June Nineteenth") marks the day when federal troops arrived in Galveston, Texas in 1865 to take control of the state and ensure that all enslaved people were freed. The troops' arrival came a full two and a half years after the signing of the Emancipation Proclamation. Juneteenth honors the end to slavery in the United States and is considered the longest-running African American holiday. On June 17, 2021, it officially became a federal holiday. 
Confederate General Robert E. Lee had surrendered at Appomattox Court House two months earlier in Virginia, but slavery had remained relatively unaffected in Texas—until U.S. General Gordon Granger stood on Texas soil and read General Orders No. 3: "The people of Texas are informed that, in accordance with a proclamation from the Executive of the United States that all slaves are freed." 
As we reflect on the aforementioned, and the atrocities faced by African Americans during the multitude of massacres that took place during the Confederacy, and throughout history, even until this very day. We are compelled to act with a sense of urgency in creating more awareness in our higher learning institutions. The uncomfortable but true fact is that in the absence of accurately given accounts of the past, past and current inequalities, unruly discrimination and racism remains flagrant throughout our society. 
Hence we seek to educate, empower and embolden generations to come in an effort to promote and encourage equality, civility, empathy, diversity and inclusion. Although it's not possible to undo the past, we have a responsibility to create pathways that help to bridge the continued gaps in education, healthcare, housing and financial inequities caused by blatant systemic discrimination. 
It is our greatest hope that the trials and tribulations suffered, will serve as a reminder that our past doesn't have to dictate our future. In fact, we know that a plethora of the greatest achievements the world has ever seen, can be attributed to the works of some of the most prolific African American inventors of our time; who like many other minorities, have helped to lay the very foundation of this tightly woven fabric of our nation. It is our greatest hope, that as we strive to build a more diverse and inclusive community here on Schoolcraft College campus, that we gather together in solidarity, in an effort to create a culture of caring empathetical understanding. One that echoes through the corridors of our minds. "You Belong Here. You Are Valued. You are Needed." Our Administration Is committed to uplifting our most at risk populations, and in doing so, we will continue to forge ahead through our transformative learning experience, which we've unveiled through our Vision 2025 Strategic Plan. To learn more, we warmly invite you to become a part of the mission, message, and vision of our communities brighter future, by clicking the link added below.
https://scf.schoolcraft.edu/ vision-2025/ https://www.schoolcraft.edu/about/mission-and-vision/ 
Ways to advocate and support change in your communities:
Support your local community centers through volunteerism and service
Vote
Contribute to HBCUs and other organizations that support the advancement of African Americans
Become an Ally
Contact your States Representatives and let your voice be heard at https:// www.house.mi.gov/AllRepresentatives 
http://www.history.com/news/what-is-juneteenth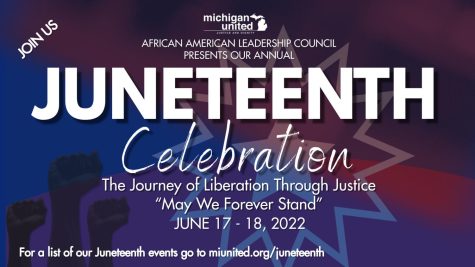 Join us for our Juneteenth Celebration
On June 19, 1865, United States federal troops went to Galveston, Texas, and informed the enslaved Africans they were free. Let's remember and celebrate. Join us for our jammed-packed Juneteenth The Journey of Liberation Through Justice "May We Forever Stand" celebration! Events include:
Our important Juneteenth seminars on June 17 to discuss:
Black Fathers Matter

 at 9:30 am. This panel focuses on the financial, physical, spiritual, and mental well-being of Black men and the importance of Black fatherhood. Register 

here

.

Black Women's Reproductive Health 

at 11:30 am. This panel focuses on racism and ending the stigma of reproductive health. Register 

here

Millennials and the Vote

 at 1 pm. This panel focuses on the millennial votes' power and explores the importance of millennials' GOTV Register here.
Juneteenth After-Work White Party 
Join us for fun 

on June 17 at 5 pm

 for our

 Juneteenth After-Work White Party

 at the Kola Restaurant & Ultra Lounge located at 32523 Northwestern Hwy, in Farmington Hills. Wearing white is recommended. Register 

here

.
Hey Flint! Get vaccinated! Join us 

from June 17 to June 18

as we administer COVID-19 vaccinations. We're at the Juneteenth Black Wall Street event on

June 17 from 2 pm to 6 pm

, at

Flint City Hall

in the Kearsley Flat Lot and we'll be at the Flint Juneteenth Parade on

June 18, from 9 am to 6 pm

at the

Flint City Hall

in the Flat Lot.