Letter to the Editor
July 2022 is Disability Pride Month which recognizes the 32nd year since the Americans with Disabilities Act (ADA) was passed into law, prohibiting discrimination against people with disabilities in public accommodations, employment, transportation, state and local government services, and all public and private places that are open to the general public. The first Disability Pride Day event, after the act was passed, was held in Boston, Massachusetts, later turning into a month-long celebration.
The month-long events include making the statement that disabilities are an identity and culture that should be celebrated and that society's structures have to be changed to allow for whole and meaningful participation however someone shows up. The Social Model of Disability "looks for ways that society can be planned and organized in order to provide accessibility, independence and opportunity in a way that enables people rather than 'disables' them."
While the ADA creates a base for ensuring that organizations make legal accommodations, how do we go above and beyond that to create a campus that removes barriers and fully empowers people with disabilities to reach their full potential on campus?
Below are some resources but we also wanted to share a special message from student Madison Ling on her experience here at Schoolcraft.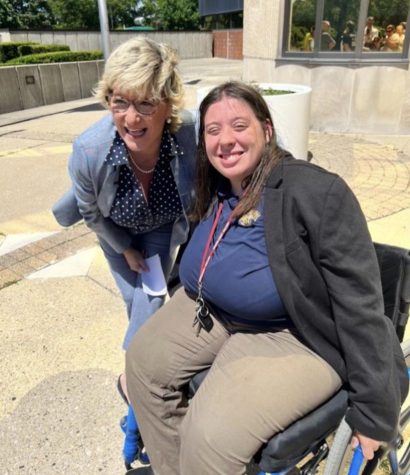 "Schoolcraft resembles a home, community, and all encompassing experience that I didn't know was missing from my life until it was there. Living a life with a disability, or as any minority, is not inspirational, nor is it for the faint of heart – It's reality.
There are inconceivable challenges and complications that come attached to any given condition and that give way to frustration, pain, and heartache – Feelings and thoughts that are more crippling than any physiologically induced condition by far.
There was a time when I viewed myself as limitless without the slightest uncertainty. Overtime, life's trials and tribulations truly made me begin to question the validity of this inherent belief. Health complications, societally inflicted ableism (whether intentional or not), and ensuing self-doubt were the true source of paralysis in my teen years, not my disability.
My mind, once an impenetrable fortress, was crumbling for the first time. My philosophy "I can't is not an option, but I can try is" and the unshakable confidence I once had in my adaptability were waning. Just when I thought I was down for the count, I came to Schoolcraft College and everything changed.
While I would like to think I took the College by storm, the truth is that this campus and our treasured community took me by the hand, reminded me who I've always been, and what life can be with the right support behind you. I went from taking community transit to becoming an independent driver, a young adult unsure of her place in the workforce to a proud student employee, and a socially timid recluse to a decorated student leader that leads with gratitude for where I've been and where I'm going. My mindset with regards to the future and my goals have transitioned from "that's impossible" to "maybe, I can try" to "of course I can do that. I am Madison Ling and I'm an unstoppable Ocelot."
All of this is because I made the #CCSmart decided to come here. I'm unbelievably grateful to have a community composed of friends, faculty/staff, police officers, and an incredible College President that have a healthy balance of being my greatest supporters and being a safety net should I ever fall. Most of all, I'm Ocelot Proud to see the changes developing on our campus and to be a part of making Schoolcraft College a more diverse, inclusive, and equitable place for all."
— Madison Ling
#YouBelong
We're committed to helping student leaders CRAFT a brighter future here at Schoolcraft College. We don't measure students' ability to succeed based upon their limitations, Instead! We help students level up, by creating awareness, access and resources, which in turn enables our Ocelots to thrive in any given situation. We will continue to operate with a growth mindset, by empowering students to achieve their personal and professional goals. By defying the stigmas associated with disabilities, We remind every student here on our campus that you can achieve anything you set your mind to achieve.
Resources
One resource we can use as a tool in our toolbox is the Institute for Educational Leadership's Guide, Higher Education's Next Great Challenge: Ensuring Full Inclusion For Students With Disabilities, which has been attached above and that you can find in the resource link below.
The guide explores four different areas for moving beyond compliance, including:
Begin at the Beginning: Recruiting Students (and Faculty/Staff) with Disabilities
More than Compliance: Accommodations as a Student Retention and Inclusion Approach
Bridge the Divide: Strengthen Access and Accessibility with Technology
Beyond Disability-Diversity: Full Inclusion for All Students
Additional Resources
What is the Social Model of Disability and what do the Disability Pride Flag colors mean?
https://www.qicreative.com/news/disability-pride-month
Higher Education's Next Great Challenge: Ensuring Full Inclusion for Students with Disabilities
https://iel.org/higher-education-inclusion-guide/
Vector Solutions (Safe Colleges) – Available under Extra Training Americans with Disabilities Act Overview
Schoolcraft College Disability Support Services
https://home.schoolcraft.edu/dss/disability-support-services
American Council on Education:
https://www.higheredtoday.org/2020/10/19/higher-educations-challenge-disability-inclusion-campus/