For the love of the game
Alum Sam Ellis brings passion for soccer to his profession as Physician Assistant
When Sam Ellis walked off the field for the final time as an Ocelot in 2012 with the Men's Soccer program, little did he know he wouldn't be leaving it for long. He was just beginning his career in sports, just in a different way. Now a Physician's Assistant in the Detroit Medical Center hospital system, Ellis has continued to stay involved with the sport through his work, specializing in Orthopedics and Sports Medicine where he brings a unique perspective to his patients. He is also on the medical staff for the Detroit City FC soccer club.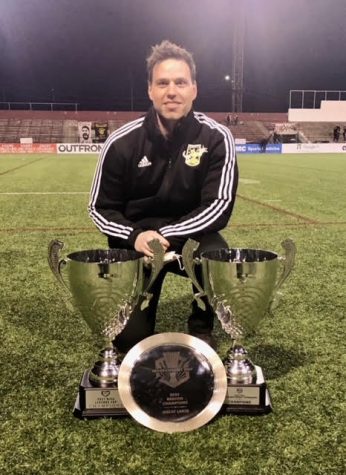 Ellis and his twin brother, Mickey, grew up surrounded by soccer and began playing at four years of age with local teams.
 "In England, it's like everyone has to play football and we got into it really young," said Ellis. The older they became the more competitive teams were and he moved up to playing for academies.
He knew he wanted to find a career that balanced soccer with something, which he found out was the medical field when he took an anatomy class at sixteen years of age and absolutely loved it. 
"Along the way I tried to find a connection between the medical side and the sport," noted Ellis. He took on extra homework, did extracurricular activities, and always looked forward to classes that involved the subject.
Ellis and his family moved from England to the United States in 2010 as he was graduating high school. The day following their arrival, he and his brother wasted no time before they were thrown into Schoolcraft's Victory Soccer camp and began working with the team's management. Although there was very little time to adjust, he observed that the culture of soccer promotes connection as everyone shares the same interest making it easy to relate to and make friends. He received a scholarship in 2011 and played for Schoolcraft while completing his associate's degree.
After completing his degree at Schoolcraft, Ellis transferred to the University of Detroit Mercy in 2013, moving his focus to his education, specifically in Physician's Assistant studies. This would permit him to complete his Bachelor's degree in Biology. While taking classes, he also completed an Emergency Medical Technician (EMT) program and patient care hours. 
Ellis was able to immediately start pursuing his career after graduating from Detroit Mercy in 2015. He completed the Detroit Mercy's Physician's Assistant Program in 2017, before moving on to a Physician's Assistant Sports Medicine Fellowship with the DMC hospitals that allowed him to work with various sports medicine doctors.
Ellis noticed that growing up playing soccer aids his patient care as it allows him to picture or recognize the movement of how an athlete was injured. Since he played the sport, it makes his patients feel comfortable as well under his care.  
Due to his career, Ellis took a break from playing the sport. Over four years to be exact. Recently, however, he decided to join a Livonia adult soccer team. He has been training for the past few months to prepare and is excited to "get back into it!" Although the break was long, Ellis's passion for soccer never weaned. 
Now, Ellis returns to the game with a newfound knowledge and respect for medicine. He is ready to secure the win on and off the field and challenge the competition. Ultimately, his knowledge of the sport continues to aid him in being the best athlete, and Physician's Assistant, he can be.