A new leader
Manufacturing and Engineering Club returns revamped with new leadership
As the new semester commences, students are spending more time on campus. Some have chosen to get more involved, and are looking into joining or creating clubs that are targeted towards their interests. Engineering major Liam Fahey did just that. Fahey took it upon himself to re-establish the dormant Engineering and Manufacturing Club which will be holding its first meeting at Schoolcraft's Manufacturing and Engineering Center (MEC) campus on Saturday, Sept. 17 in room 110 from 10 – 11:30 a.m. The MEC campus is located at 12997 Merriman Rd, Livonia, MI 48150.
The process began when Fahey had originally volunteered to help out in the Schoolcraft's vegetable garden with Director of Student Activities, Todd Stowell. Fahey had not met Stowell before and was not aware of his position. After discussing clubs as well as sharing his background and major, Stowell mentioned there was no active engineering club because there was no one to lead it.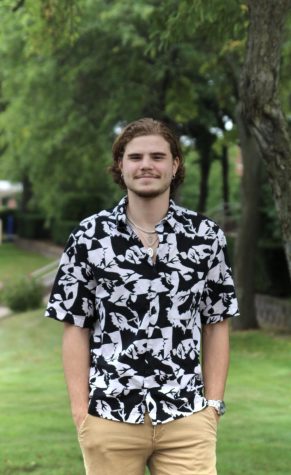 "I sat [on the thought of running an engineering club] for a little bit, and I didn't know if I would be able to accomplish that or not," said Fahey. "20 minutes later after playing around with the idea in my head I was like 'if we had one, we don't now, someone eventually has to do it.' So, why not try it myself?"
He also wants to explore other aspects of manufacturing and engineering and expand club members' exposure to the subject. Fahey already works in the field as a machinist and it intrigued him to learn the overall process of engineering. 
As the opportunity of becoming the student leader of a club appeared, Fahey began speculating the considerations to be accomplished; what he would want out of a club, where to take it, what could he offer to the club and achieve, the type of students to attract and what sort of opportunities would the club present to other students. The process of producing a club, however, laid itself out. He had a goal in mind for the considerations, then began working with Stowell.
"I am very much in the beginning of everything, I have not found [the process of producing a club] difficult. I mean it all really, the Student Activities [have] everything set up to really go smoothly if you have an idea and you want to shoot for it," said Fahey.
Fahey will be prioritizing collaborations with other clubs at Schoolcraft and other local colleges via lectures, competitions or conferences. He wants the club to be social, productive and network with a wide variety of types of engineering clubs. 
Fahey has also been working with Head of Manufacturing Gene Keyes as well as Computer-Aided Design (CAD) and Engineering instructor Steven Rochon in the Manufacturing and Engineering Center (MEC) to help him rejuvenate the club. 
"There's business involved, science, there's even law, and I think understanding the entire process of how everything works together in itself is engineering," said Fahey. "Us as students here at Schoolcraft are going to be a part of how we can make things better or improve different things along the engineering and manufacturing field. I think [there is] more [than] just understanding the engineering side itself."
Fahey hopes members of the club gain experience and develop greater networks in the industry by creating the atmosphere for them to do so. The club is meant to be fun and inclusive to all students who see it as a hobby and those who are going into the engineering field in any capacity. 
"I would like the club members to have fun but continue to learn outside of classes and work," said Rochon. "The benefits can include the appreciation of someone else's talents, to network with each other, to further think outside of the box, to further understand the process of ideals to reality for products, to understand the relationship between industry & community, and to talk with people that work in industries of interest."
Future plans for the club include attending Society of Manufacturing and Engineering (SME) seminars and eventually becoming affiliated with the association and an SME chapter.
For more information on the Manufacturing and Engineering Club contact the Student Activities Office at 734-462-4422 or email Fahey at [email protected].