Hispanic Heritage Month
ADVERTORIAL
Schoolcraft College is proud to recognize Hispanic Heritage Month, celebrated annually from Sept. 15 – Oct. 15 to recognize the rich history, vibrant culture and the plethora of contributions of those whose ancestries span across 20 countries in Latin America, including Mexico, Central and South America and the Caribbean. According to the Census Bureau, In 2020 there were an estimated 65.3 million Hispanics and Latinos living in the United States and Puerto Rico (19.5% of the overall population). 
This month Schoolcraft College will hold its inaugural event series, exploring the contributions, barriers, and experiences of students, faculty, staff, and community members of Hispanic descent. Stay tuned for the event schedule and dates.
A member of the Schoolcraft College community would like to share their experiences and reflect on this topic.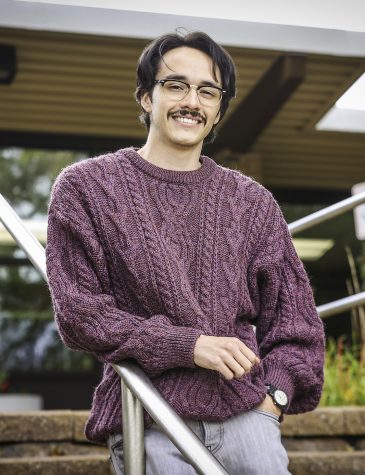 "My name is Armando Saucedo-Villegas and I was born in Saltillo, Mexico. I am the Multimedia Editor for the Schoolcraft Connection where I record, edit, and publish all of the video content that goes up on our YouTube channel: Schoolcraft Connection. Being Latino gives me a connection to my family. For many Latinos, "Family" is not just the people you live with, family is tradition. 
As an immigrant, I try very hard to maintain connection with my traditions and culture. However, I also realize that my family came to this country for better changes. Having that dichotomy all my life of being from a place where I barely remember and living in this area of cultural diversity where life has been changing constantly is tough. I know I haven't had it as hard as I could have had it; lighter skin and not having an accent means that if I don't mention being latino in the conversation, it wouldn't be considered an option. I don't try to hide where I'm from, but it does say something about the people that act differently when I mention that I wasn't born here.
As much as these 31 days help spread awareness of obstacles that Latino people have in their life, I know I don't have the same problems as people that have darker skin than I do. A problem that I and many others do have however, is having to live in a car-dependent suburb and having to drive everywhere, especially school. One way to make Schoolcraft a better place not just for people like me, but everyone on campus is to add some form of public transportation, or add better protected bike and path networks to get to the local restaurant for lunch. This solution doesn't have anything to do with me being Latino, but it would open up opportunities for every student to be able to arrive on campus without having to rely on buying a car that may break down just to get an education or have access to any amenity found at Schoolcraft."
Check out Student Spotlight Stories in our DEI Corner of the Schoolctaft Connection at the link below https://schoolcraftconnection.com/this-week-in-campus-life/
You Tube: @Schoolctaft College Student Activities 
Resources
Hispanic Heritage Month https://www.hispanicheritagemonth.gov/
Afro-Latinx Resources for Teachers https://spanishmama.com/afro-latino-resources-for-teachers/
Disparities in Higher Education https://www.pbs.org/newshour/education/more-hispanics-are-going-to-college-and-graduating-but-disparity-persists
Local Latinx Owned Businesses: https://www.metrotimes.com/detroit/35-essential-latino-owned-restaurants-in-detroit-you-should-have-tried-by-now/Slideshow/29236487/29229077