Old tradition soars back to campus
Get up close and personal with native Michigan raptors, Sept. 28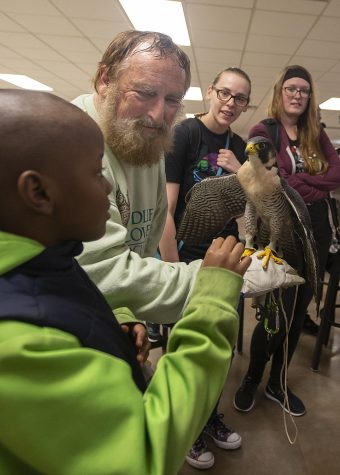 For the first time since 2019, Schoolcraft welcomes back the Birds of Prey Educational Seminar. Striving to promote interest in native wildlife, Joe Rogers of the Wildlife Recovery Association will present over 10 raptors including (but not limited to) two Peregrine Falcons, Barn, Great Horned, and Short Eared Owls. Two shows, 1 p.m. and 6 p.m., will take place on Sept. 28th in the lower Waterman level of the VisTaTech Center. 
The presentations will go in depth into the behavioral patterns, calls, hunting techniques and niches of each bird species shown. 
The Wildlife Recovery Association is a non-profit organization based in Shepherd, Michigan. It has been working since 1979 to provide wildlife rehabilitation and release services and promote educational awareness for the native birds of prey species of Michigan. Sponsored by The Student Activities Office, the program has been visiting Schoolcraft college for over 20 years and has engaged generations of students and staff in its live interactive programing. 
"Each show is kinda different," said Director of Student Activities Todd Stowell. "If people have come to it before, there's an opportunity to see a whole different show every time."
All birds shown cannot be released into the wild as they are all domesticated. 
Fly on down to the VisTaTech center on Sept. 28 and check out the Birds of Prey Educational Seminar.

For more information on this event, contact the Student Activities Office at 734-462-4422.