Forging a legacy
The Otaku Anime Club provides a safe place to nerd out with friends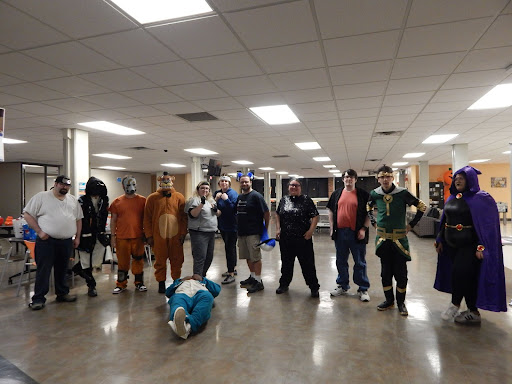 Schoolcraft College is a great place to make connections and few know that better than the members of the Otaku Anime Club. 
The entire group is founded on creating a welcoming environment for students to be themselves and have fun with like minded people. Fans of anime who are looking for a place to enjoy their favorite shows among friends will find a great opportunity to do so with this organization.
The club has been around for over two decades now and is still steadfast in providing a safe environment for anime fans and their friends to hangout and relax in the lower Waterman Center. The club meets twice a month, typically on alternating Saturdays and provides snacks for members to have while they watch anime, play video games or just talk to their friends.
The club's Audio Visual (AV) specialist has a list of the popular anime for each season to play at the meetings. Some retro shows are played upon request, but generally members can guess what will be played based on what's new and popular. 
Current club president Thomas Arthur is looking to expand upon attendance and to forge a legacy that will last long after he graduates. When asked what his goal for the club was, Arthur responded, "There's a lot of individuals that are into anime or into nerd culture and they don't really say anything. I know back when I was a lot younger, we would get made fun of. I want a spot where if that still does happen, people can come and hang out [and feel safe and welcome.]"
Anyone who's been around campus at all in the last few months (or really just in the area) will have seen posters advertising the convention that the Otaku Anime Club is presenting. The idea of Schoolcraft hosting an anime convention has been floating around for years. There were even whispers of a convention called "Ocelot Con" for awhile, but Otaku U is the first one to really make it to the forefront of campus events. 
Arthur has done and continues to do everything in his power to make the convention a real thing and his hard work is finally about to pay off. After over a year of research and gathering with other clubs at Schoolcraft, Otaku U will be held on December 3.
If you can't make the convention, there are plenty of meetings to get involved with and meet the members. When asked what her favorite part of the club was, Otaku Anime leadership consultant, Rachel Sersen said "I really like [being able to] head there to relax and unwind after a long school work week. [Being able to] chill with friends, watch anime or if you're feeling like you want to play some games…it's just a good social place to come and unwind."  
For more information on the Otaku Anime Club, contact the Student Activities Office at [email protected] or 734-462-4422.