Innovative guitars and talented fingers
Musician Luca Stricagnoli shares his journey as an international artist
From the age of 10 years old, Luca Stricagnoli knew he would pursue a career in music and conquer his dreams of performing all over the world. Starting as a musician on YouTube, he now plays in countries all over the world. "I generally get to play in a lot of other countries because luckily guitar is instrumental,so all I need is a translator if I['m] playing in China, in Russia or something like that. The show is the same," said Stricagnoli.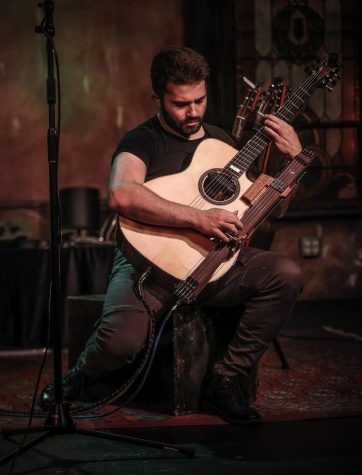 As a finger-style artist, Stricagnoli enjoys playing originals and arrangements that he describes as a "guitar-stravaganza." In his performances, he incorporates different kinds of techniques and alternative objects that create a specific musical sound; kitchen knife, violin bow and sometimes even his own feet. However, his artistry was not the only contributor to developing his popularity on YouTube, but also the eclectic and original guitars especially crafted for him. 
"I have a guitar with three necks, one of which is reversed. I have a guitar that is displayed horizontally, like a keyboard. I have [one with] a neck that is attached through a magnet to the guitar and it's also reversed," said Stricagnoli. "These guitars are my inventions, and they're built by an Italian guitar maker." 
Guitar became special to Stricagnoli from an early age. He spent the first 23 years of his life in Italy before moving to Germany, after meeting his wife; Meg Pfeiffer, a songwriter. He did lose his passion for music for a while and got invested with Judo and the gym. However, it was not long until the love for guitar resurfaced. 
He discovered artists in the U.S. playing finger-style and fell "in love with this sensation of being surprised by the playing." He began creating videos on YouTube and was looking into signing with guitar labels. After posting his first video, he sent it to an Italian label only to be rejected. His friend, however, recommended sending it to Candra Records, a U.S. company who, after a few days, responded and uploaded his video. The video ended up reaching one million views and kicked-off the start of his career. He then began receiving concert requests and had his first performance in Italy in 2015. 
Stricagnoli noted that the U.S. gave him the opportunity to fulfill his dreams and he favors the music industry, which is why he and his wife plan to move to Nashville, Tennessee. He found that there are less barriers for a musician to grow their career and gain more experience in the U.S. He plans on continuing to tour around the U.S. and the world, as it's what he truly loves to do. The future for Stricagnoli in America is unclear for now, but it is clear that his passion for music will drive his career forwards. 
For those interested in listening to and downloading Stricagnoli's music can find him at https://www.lucastricagnoli.com/. He also has a new album titled, "Unsent" featuring his wife Meg Pfeiffer which is now streaming. To learn more go to  https://www.unsentalbum.com.