Gen Z's now in office!
Maxwell Frost becomes first elected Gen Z in Florida Congress
As the midterm elections come to an end, candidates recently elected are settling into their new positions. Many of these officials are the "firsts" of their states, including a new generation occupying a position in office; specifically Gen Z, to be exact. 
Maxwell Frost, a 25 year-old member of Gen Z is the first of the generation to be elected into office. He now occupies a Democratic house seat in Florida's 10th Congressional District and intends on continuing to address current societal issues during his term. 
"Representative Frost is but one member of a large institution. His ability to enact his campaign platform and institute changes on a national scale will involve his ability to build political power, gain support from other members of Congress and create a network that provides him with needed political capital," said Schoolcraft Political Science Professor Alec Thomson. "Frost is entering a chamber where he will be in the minority and will have to rely on support from some Republicans to reach his short-term goals."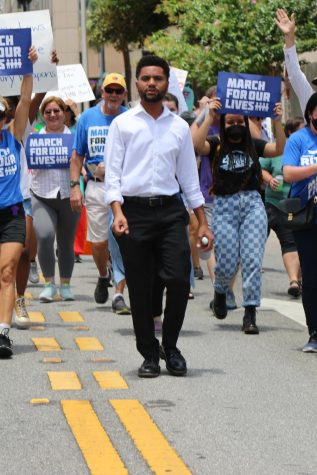 Frost's political journey began in 2012 at 15 years old during Obama's term. As a young student, he became an activist for issues that involved improving safety in public schools by advocating for gun-safety regulations, as well as other social issues that affected him and others his age. He served as an organizer for a few organizations, including the March for Our Lives and the American Civil Liberties Union (ACLU) before running for office. 
"[After a shooting at Sandy Hook Elementary School in Connecticut,] people came from around the world to a Washington D.C. vigil. There was a sense of mourning, of sorrow, but also of community and being together," said Frost in an interview from Elite Daily. "Seeing a 16-year-old with the demeanor of a 60-year-old, crying over his sister, had a profound impact on me. I [then] made a commitment that I wanted to fight for a world where no one has to feel that way."
Frost's motivations to be politically active did not only come from direct personal experience but also from his family. His grandmother and mother moved to Florida from Cuba during the Freedom Flights in the 1960's. Both experienced harsh, impoverished conditions as his grandmother worked in unsafe factories who exploited their workers and his mother was "caught in a cycle of drugs, crime and violence" and did not have access to healthcare during her pregnancy with him. 
"I started having conversations with people in my community and I quickly found out that people were pretty excited about the thought of a young person such as myself — also an organizer and an activist — running for office," said Frost to the Elite Daily. 
Knowing what his family went through and his personal experience, Frost has dedicated his life to creating a safer place that prioritizes youth and access to healthcare and transportation for communities in Florida. 
For more information about Frost, visit https://www.frostforcongress.com/ 
Article featured https://www.elitedaily.com/news/maxwell-frost-campaign-congress-florida