Reflections from the heart
Campus art installations take on deeper meaning for artist Homayra Adiba
Although a transfer student with an undecided major, Homayra Adiba is driven by her passion for art. 
Adiba was born and raised in Dhaka, Bangladesh and before migrating to the United States she attended Pathshala South East Asian Media Institute where she graduated with a degree in photography. She moved to the United States in 2016 where she went from a professional photographer to a full time retail worker. Sometimes even working three jobs to get by. 
"I came to Schoolcraft to help direct my life again toward my artistic profession, which is a decision I am very proud of. Because I am not from Michigan, I had to do a lot of research to find a fitting school. My co-workers, and my cousin raised here, helped me find Schoolcraft and I trusted people's recommendations," says Adiba. 
Adiba, although unsure what she wants to study, is currently interested in sculpture. So far she has studied two semesters of metal sculpture, one was ART 117 (Foundations of Metal Sculpture), and the other was ART 227 (Outdoor Metal Sculpture). It is with the outdoor sculpture class that Adiba found the opportunity to create two sculptures 
"My professor Melissa Machnee is a wonderful friend and advocate," explains Adiba. "The opportunity to be able to showcase two outdoor sculptures at the beautiful campus of Schoolcraft is only because of Melissa's confidence and advocacy for me. I look forward to taking another course with her if everything works well."
Adiba has always done art, professionally and personally. She started writing poetry at age 8 where her father went to editors of children's newspapers and magazines and got her published. Throughout her teenage years, Adiba studied music and some sports. After college she switched gears and temporarily studied graphic design and multimedia art before switching to photography.
Presently, Adiba's work is rooted in her idea of home, an idea which was challenged by migration.
Her first sculpture, which resembles a paper airplane, is located between the Biomedical Technology Center and the Health Sciences building. It is titled "A Letter to My Father" and is dedicated to her father who recently passed away in April of this year.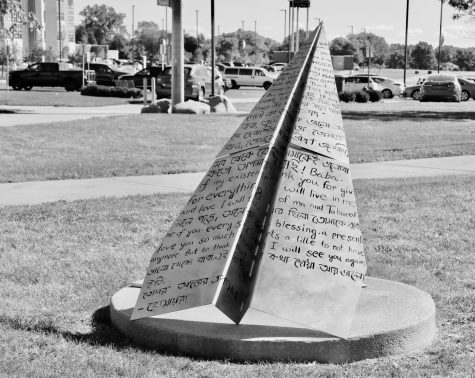 In her words, "This sculpture was a tribute to my father who raised me and has a big influence on anything artistic that I do." When she talks to her father, she speaks in a mixture of Bangla, which is her mother tongue, and English which is why the letter is mostly written in both languages. She included one line in Hindi in the letter, a line from her father's favorite song, the song she sang to him when he passed.
In times of change faced with the loss of family, Adiba thought of home. Mixing the languages was an artistic choice that represented the vast mixing of cultures both her and other Americans face. Something she believes a lot of Americans can relate to. 
She intentionally decided to leave out the translation of the letter because loss is a universal feeling anyone can understand. "It's the things that any daughter would say to their father. The things we say when we lose someone we love." Any audience with only the knowledge of English can catch the emotion behind her letter, as powerful emotions can transcend any boundaries placed in front of them.
Her second sculpture titled "A Flag to All Nations," is located adjacent to the Liberal Arts building's southeast corner  and serves to stir conversations and debate about the impact of the pandemic on both people and the environment. An idea that came from her interest in the environment, and the personal impact COVID had on her.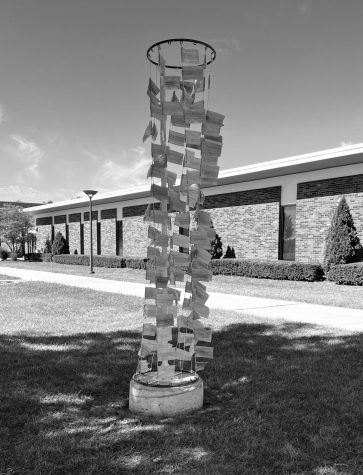 "Since Covid-19, all of our lives have changed and globally it has created an imbalance, paranoia, and threat I have not experienced before. But pandemics are complicated like any other global issue. From a distance, it may look like we have gone through it together but the pandemic has scared some people's lives more than others, and some nations more than others. And since it's a pandemic the numbers of lives we have lost are unimaginable," said Adiba. 
Adiba's flag sculpture serves as a time capsule for the pandemic, and a way to reflect on what the people of the world went through. She chose masks to represent the pandemic in a "logo-like manner," and worked to repurpose old masks for the sculpture. Each mask was individually hand sewn with red thread. A deliberate choice meant to symbolize the sun, or in other words: "hope." 
She wishes to use the sculpture as an experiment to see how long the masks stay intact in Michigan's natural weather conditions. So she posed the question, " If the masks, after an extensive one year, are still in good shape […] then what are the shapes of the discarded ones?"
She goes on to add, "So, if someone looks at the sculpture and wants to take something home, I would send them the message of responsible trashing. That's the least we can do for our environment."
As an artist, Adiba's creative pursuits will never end, and for the next couple years she will continue to pursue art at Schoolcraft. If any readers are interested in seeing more art from her, visit her website at: www.homayra adiba.com.