On the offensive
First half of season full of positives for Ocelot basketball teams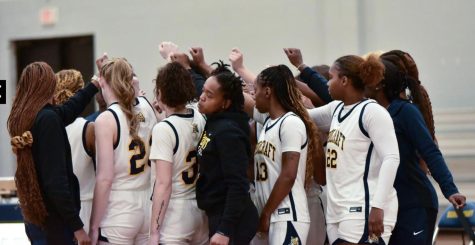 Women's basketball stays perfect, ranked 7th nationally in NJCAA D2 polls
The nationally ranked Women's basketball team ended 2022 with a perfect record in the Michigan Community College Athletic Association (MCCAA) Eastern Conference, good for first place in the standings. The team continues to show maturity and chemistry and looks to repeat as conference champions in 2023. Sophomore forward Eve Parish believes it's nothing but up for the second half of the season.
"Our team is seven in the nation right now, I believe that we're just gonna keep on going up. I think we come in here, we work hard every day and we know that we have a target on our back, so we won't have no choice but to work hard and keep going up in the charts. [We'll be continuing to play] in the Conference during the winter semester, we still need to dominate the court." 
In nine games, the Ocelots are averaging 67.7 points per game, averaging 52.3 rebounds and 12.4 steals per game.
The Ocelots strengths come from the depth of the team. Each player brings something different to the court. According to sophomore guard Ruby Garner, the team needs to remain hungry and keep grinding in the second half of the season.
"We just gotta stay at that and stay hungry for it. Something that stands out the most with the team is we all add different pieces to the team; we all fit together and in the game. There's a few things that we need to work on to make us even better. We gotta stay hungry and keep grinding to stay where we are right now." 
Conference play will start in the second half with matchups against Macomb, Mott, Wayne County, Oakland and Henry Ford in the month of January. February will bring games against Jackson, St. Clair Community College.
According to sophomore guard Shayla Arder, family is the theme for this squad.
"Something that stands out the most to me is that our team chemistry is great. Like we play as a family. Nobody on our team is selfish. We share the basketball and we work together; that's how we are undefeated right now. This semester. I hope we stay undefeated, and go to nationals." 
These Ocelots are hungry for a deep run towards a national championship and based on their first half performance, it looks like that goal will be attainable.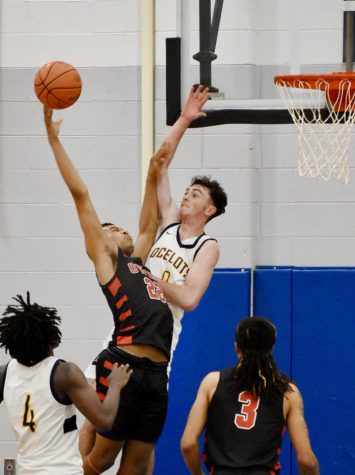 Men's basketball looks to build confidence in the new year
The Men's basketball team has had a rocky start with the MCCAA Eastern Conference. So far, the team has a record of 2-9; 8th place in the Eastern Conference coming into 2023. The two Ocelots wins came against Delta on Nov. 12, 2022 and Kirtland Community College on Dec. 10, 2022. In their last game of the season on Dec 30, they lost 74-61 against the Lorain County Community College. The team still remains optimistic as this is only halfway through the season. 
"I think we're growing every week, but we [have to] focus on the key aspects of the game. My hope is we can turn things around. We are getting some guys coming back from injuries [which is great] and will be a big help to our games and conference play. Then we just gotta keep executing our plays and play together," said Sophomore guard Ross Stofflet. 
Consistency will be key for the Ocelots heading into conference play. Injuries have plagued the team during the first half of the season and not having a full healthy lineup has been challenging. Despite the setbacks, the Ocelots feel they can turn things around. 
"Our fights, our resilience [stands out to me the most.] We've been down a couple of guys, our first couple of games of the season but we still manage to have a good attitude and keep fighting and come to practice every day. This semester I hope everybody off the court has grades that are good and have a better semester than we did last year; have a better record than we did," said freshman guard Keon Henderson. 
Teammate freshman guard, KaRon Allen agrees with Henderson regarding the tenacity of the team. 
"[What stands out to me the most is] just how much fight we got on us. We are a very scruffy team. We know how to get after it, we just gotta convert. [I hope the team] plays more together, getting the plays right and executing a lot more than we did before." 
The Ocelots will be up against a tough schedule in January with games against Macomb, Mott, Wayne County, Oakland and Henry Ford. 
With more consistency and a healthy lineup these Ocelots can claw their way back into the standing pretty quickly.