From Mullingar, to the stage
"Outside Mullingar" is brimming with heart and passion
The curtains of the James Hartman Theatre shall rise again for a quirky Irish love story about how it's never too late to take a chance and fall in love. Written by John Patrick Shanley, Outside Mullingar is the tale of introverted neighbors, Anthony Reilly (Bryan LaMance) and Rosemary Muldoon (Marion Beer) as they navigate their lives amidst complication and familial turmoil.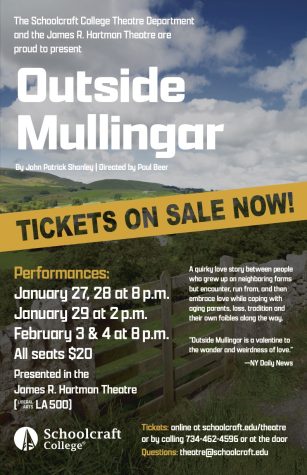 "This is a heartwarming story," said Director Paul Beer. "The four characters are each charming in their own way and our actors (all Schoolcraft students and alumni) are doing a terrific job of bringing them to life."
The theater department seeks to bring new elements to each show and Outside Mullingar is no different. With creative new innovations in the set and the use of authentic Irish accents from Mullingar, the show will continue to embrace the tradition.
Stage Manager Rachel Yee added, "I'm excited for the audience to see the roller coaster of emotions that happen through the show and laugh about things they may relate to. I'm excited to see if the audience will pick up on some of the foreshadowing that happens as well" continued Yee. 
Audience members can also watch for subtle technical elements that work to bring this setting to life. Lighting Technician Zachary Hantz hinted that "there are a few subtle changes in lighting throughout the course of the play that depict a change in time of day and, subtle as they may be, I personally think they look really cool and I really hope the audience notices the simple detail." 
Between the technical elements designed to take the story to the next level and the phenomenal cast bringing the characters to life, "Outside Mullingar" is a must see. Audience members will enjoy laughing along with the characters as they stumble through obstacles of love. 
Tickets for Outside Mullingar are available for $20 online at https://schoolcraft-college.ticketleap.com/ or at the door of the Heartman Theatre in the Liberal Arts building (LA 500). The show is recommended for ages 13 and up due to thematic content and face masks are required in accordance to the theater industry standards.