Resilience and inclusivity
Honoring the triumph and struggles of Black history
February is Black History Month, and offers a moment to celebrate, discuss, recognize, reflect and remember Black Excellence. Remembrance of the social justice warriors who rallied to protect and conserve the freedoms and rights of all races, genders and religions regardless of their ethnicity. 
"Black History Month is a time that I'm reminded that the torch lit decades before me must continue to shine bright in order to continue paving away for minorities to truly experience the rights afforded them by the Civil Rights Act passed; a direct result of the civil rights movement spawned by the efforts of Dr. Martin Luther King Jr.," said Research Assistant for the Office of Equity and Engagement Catreese Bell- Qualls.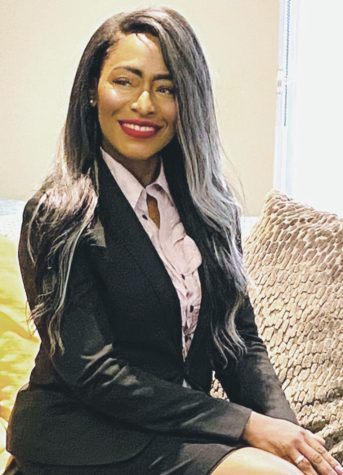 Bell-Qualls is not the only member of the Schoolcraft community affected by this month either. The historical relevance and deep culture are not as well known to everybody. One such Nursing student at Schoolcraft, Deborah'nica Polk, didn't always feel the significance of the month. 
"Black History Month is a little different for me. For me it's extra special because I discovered all of this after I was 20. I grew up in Alaska and I didn't really know much about Black history, I moved to Michigan and that was a culture shock for me. My boyfriend knew more about it than I did, so I definitely think it's a month to represent black people as a whole, the history and everything we've been through," said Polk. 
Schoolcraft is highlighting Black History Month with a series of events; the theme is: Black Resilience. They are hosted by a collaboration of the College, The Office of Equity and Engagement, The Center of Experiential Learning, as well as student involvement including the Black Student Union Club (BSU) and the Democratic Club. The events will explore these historical, present and future warriors and honor the revolutionary movement of civil rights. 
"We've innovated the way we think, and we want everyone to know that our dedicated President, Dr. Glenn Cerny, is committed to working with our entire organization of leaders to enhance the quality of life for every individual that enters the doors of Schoolcraft College," said Bell-Qualls. "These events allow us to immerse ourselves into an inclusive environment centered around maintaining a culture of community centered around building stronger relationships." 
These events are meant to reflect and dive deep into the biases and stigmas that influence our interactions with people of varying backgrounds, ethnicities and mindsets. Noted by Bell-Qualls, the goal is to create a safe environment for members to engage in issues that negatively impact the African American people among our diverse community. 
"These type of events are designed with our newly established Inclusion, Diversity, Equity and Access (IDEA) Strategic Theme in mind, in an effort to promote awareness to problems we face and community, ways that we can improve policies, processes and practices that remind every current and potential student that they are seen, valued and heard. And moreover, that we're here to help students craft a better, brighter future where they can feel a sense of belonging." 
Keeping this goal in mind, Bell-Qualls plans to continuously maintain this narrative past the month of February. 
Polk shares this opinion with Bell-Qualls, and suggests colleges could send a weekly newsletter to every student's email to spread more awareness of programs and clubs that creates a safe space for anyone; which then translates to the rest of the community. Other ways she suggested can be the individual consciousness of others of differing backgrounds 
and ethnicities in communities and finding more unity within them. As Polk noted, branching out in not only our own community but other colleges, even at the state level, who come together for events like open-forum and simply having those conversations ignites inclusivity and understanding. 
"When people ask me why I read my books about black history, [or] how [we can] make a difference, It's [about] being open to learning and I think doing more things with the community," said Polk. "Arab Women United is actually working with the Senate to do community outreach and [the president of the club] is working with other colleges: I think that's going to build that community because we don't know what other events that they have going on." 
Black History Month celebrates, reflects and recognizes the history of civil rights movements and sacrifices many black women, men and allies made to allow future generations, like Bell- Qualls, to "run, walk and stand boldly against the oppression, discriminatory practices, micro-aggressions and stereotypes that strip minorities of their natural ability to experience a life free of poverty, education, healthcare, housing inequities and social equality." 
Months that are dedicated to addressing specific issues are intended to bring awareness to disparities between diverse groups of people and may be very necessary to linking the gaps of inequities that exist between those groups. This then provides the opportunity to welcome relationships built among civility and inclusivity. "Then as a society, we must make an assertive effort to actively engage with other people outside of our own communities, in order to better understand their needs, values, customs and cultures. It is then that we become better people," said Bell-Qualls. 
Schoolcraft community members interviewed collectively agreed that black history should be recognized throughout the year and not isolated to one month, but hope that February brings an awareness and allows people to be receptive to problems that may not directly affect but do affect society. 
"I hope that all the events that the BSU are a part of bringing social awareness to a growing problem; there are a lot of things going on in the African American community that are not discussed. I also hope that we can educate not only ourselves but also those that join us in all that we do in honor of Black History Month and the months that follow," said BSU President De'Ernest Johnson. "My goal is to bring wide awareness to all who come to the Schoolcraft campus. I believe we all should grow together in order to aim for a brighter tomorrow." 
This is the rooted reasoning behind highlighting underrepresented groups in certain months; to answer 'how can we be better people to each other.' How to be more inclusive, open-minded and truly explore the mindset of others.