Batter up!
Schoolcraft Softball and Baseball teams are ready to swing into the season
After months of consistent off season training, the baseball and softball teams are ready to start the 2023 season. 
Both teams noted newfound unity within the group and anticipate that due to this atmosphere, it will carry the Ocelots to victory. 
Fly guys
At the end of last May, the Baseball team finished fifth in the Michigan Community College Athletic Association (MCCAA) Eastern Conference with an overall record of 15-28 and 10-18 in conference play. Shortstop Slade Douthett expects this season to be better than what Schoolcraft has seen in previous years. 
"I think we're looking pretty good. I expect for us to be better than what the Schoolcraft [community] usually sees and go far in the postseason. I think we have a lot of good talent, especially some returning players that have come back and I think we're well rounded. We have a really good friendship and have bonded really well." 
Having passion for the game runs deep within the team and constantly striving for improvement is what makes this game special each time the team takes the field. left fielder Nate Saavedra, who is particularly intrigued by the strategy involved in the game. 
"I love baseball because I've been playing since I was 12 and [the aspect of] always having to make adjustments to the game, which drew me to the sport. [With that said,] I think our pitching has gotten a lot better and we also have some key returning players: we'll do really well this year and hopefully go far in the playoffs. I think we improved a lot from last year."
Last season was not optimal but this has not shadowed the teams ambitions. It may have even fueled their drive and determination to grow their chemistry and energy, as center fielder Landon Kempainen noted this apparent growth. 
"Last year wasn't as good as we would like, [it] was very disappointing. [However,] this year looks a lot better, [especially with this group of] players. We have really good team chemistry and good bonds. The conference is also a lot better than last year so hopefully we have a really good season this season."
Leading ladies 
The Softball team finished their 2022 season third overall in the MCCAA Eastern Conference with an overall record of 22-19 and were 17-11 in conference play.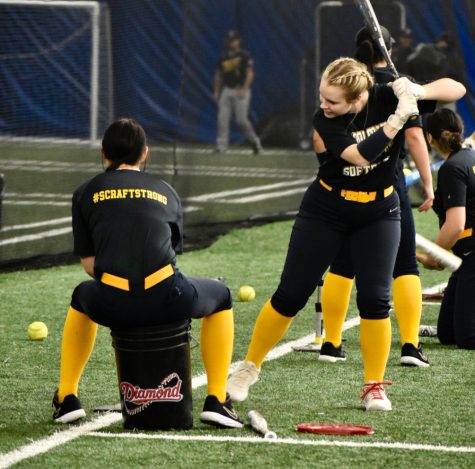 The women's team keeps on theme as their chemistry and collaboration has skyrocketed. Team co-captain and first baseman Natalie Kahn finds the team has a 'family bond' and they are going to go far in this season. 
"I think we're looking good. We're having fun. We're working really well as a team. I think we're gonna win a lot of games and go far in the season. We all form into one and there's not really different groups: it's just all in one big happy team." 
Softball is more than just a game in the eyes of these Ocelots. Kahn added, " [The sport Softball itself] has always been like an outlet for me, whenever I'm stressed or something. It's outside of my normal daily life that I like to go out and it makes me happy." 
Sharing this opinion is team co-captain, catcher and shortstop Bridget Bogden and also appreciates the consistency that softball has. "I love softball. It's consistent in my life, like I know [that practice is] going to be at 12 p.m. I know I'm gonna have it on certain days of the week, and I know that it's going to be there [for me]." 
The consistency of softball could very well contribute to the closeness and chill personality of the team. "Everyone gets along pretty well, we've all been really chill with each other 
and we all get along and joke around. Overall, I think the team's looking pretty good. I think we can expect to win a lot more games than last year. We have a lot of speed on the team this year and we also picked up a couple of pretty good power hitters. We have both of those in our arsenal that, I think, will help us a lot throughout the season," said Bogden. 
Connection and hard work will be key in surpassing the scores they received last season. Luckily, these women have been preparing all year and feel as though they can take on anything. 
"I see a lot of girls who are hardworking, who are ready for this year and they're expecting a big outcome and they're ready for anything." said utility player Katie Kowski. "I'm expecting a really good connection with the team. I would say we're doing very well together and we have a lot of talent. I'm ready to see all of us finally fully pull together after our games down in Myrtle Beach and connect as a team during the season. The game itself has always been like an outlet to me. And knowing that every time I've had a hard day or something has gone wrong, I could go to softball [practice] and forget about it. [I can] let out all of my stress and just know that it's always there for me and I can count on it." 
The exhibitions have begun, but their games officially start at the end of the month, with the Baseball team's first game playing away on Feb. 26 against Cabrini University JV and the Softball team playing on Feb. 27 against Danville Area Community College. 
One thing's for sure, with this love of the sports and each team's notable compatibility, the Ocelots anticipate to go far in their seasons.
For up to date information on both teams throughout the season, visit www.schoolcraftocelots.com.