Our favorite childhood TV shows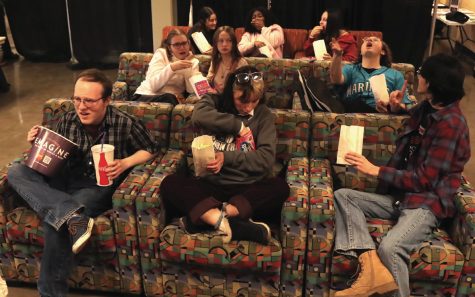 Nothing says nostalgia more than watching old childhood TV shows. Whether it was right before school, after homework or the best part of a sick day. Although we have the streaming apps today readily available all the time and anywhere, the scheduled broadcasts gave us something to look forward to at certain times of the day. 
With the American animated anti-heroic protagonists gray cat and brown mouse, "Tom and Jerry" was known for its short comedic films. Originally created by Joseph Barbera and William Hanna in 1940, the films-to-now televised show was encompassed by the rivalry between Tom the house cat and Jerry the mouse. The plot of each episode typically centered on Tom's repeated attempts at capturing the mischievous Jerry followed by the destruction behind such attempts. Although centered around simple entertainment, they occasionally displayed true concern for each other's well being and friendship. 
Fred Rogers taught a generation of children the value of curiosity, respect and self expression with his show "Mister Rogers' Neighborhood" all the way back in 1968 through to 2001. Rogers would explore different topics each episode that allowed for young viewers to see different aspects of the world and how it works. The scope of this show was very different from other children shows at the time, and trusted the viewer to stay tuned due to the passionate charisma of Rogers himself.
"Noodle and Doodle" began in 2010 and ran for 3 seasons. It was a children's arts and crafts show that was filmed in a double decker bus. The show inspired kids to make healthy eating decisions by turning food into fun art. Sean and his puppet, Noodle, also taught kids how to make simple crafts that tied into the theme of whatever food item they made. Additionally, Sean's dog, Doggity, would make a special appearance in each episode! While Noodle and Doodle is no longer airing today, it can still be viewed on Youtube and Amazon.
"Drake & Josh" is a show from Nickelodeon that started in 2004, and was produced by Dan Schneider. It's about two teenage boys who are the complete opposite that become stepbrothers. They go through crazy adventures together that will have viewers on their feet. It's impossible not to laugh at this show, and it's a great childhood memory for anybody who would watch it.
"Phineas and Ferb" is an American animated TV series created by Dan Povenmire and Jeff Marsh that aired on Disney Channel and Disney XD. The show is about Phineas Flynn and his stepbrother Ferb Fletcher and the unrealistic inventions they create during their summer vacation. These creations annoy their older sister Candace, who frequently tries to "bust" or tell on them to their mom, Linda Flynn-Fletcher, but is never able to do so successfully. This show helped kids embrace their creative side and take their imagination to a new level with a theme of wholesome entertainment. 
"Winx Club" was created by Italian animator, Iginio Straffi, and was originally produced by Rainbow S.P.A. and later Nickelodeon. Many kids couldn't stand a day without an episode of "Winx Club" in their life. While the kids who watched this show as it aired may have outgrown it now, the fairy warriors will always have a special place in their heart. 
"Wizards of Waverly Place" first aired in 2007 and garnered a successful run of four seasons complete with a movie and several special length episodes. The series follows the Russo family through their day to day as wizards living in the mortal world. The three teenage children of mortal parents must learn to master their magic in a world where wizards must never be found and magic never discovered. Filled to the brim with sibling shenanigans and magical mishaps, all with lessons to be learned, "Wizards of Waverly" Place supplied endless entertainment for ensnared children. 
Some shows entertain while showing children the wonders of creativity and how to apply knowledge to the real world, "Art Attack" is one of them. "Art Attack" is a show where the host takes the audience through a step by step process of making several arts and crafts pieces with everyday items. Throughout the 90s and early 2000s, the show was beloved by creative minds that grew up to make something beautiful out of what others consider as nothing.