Continuing to serve
Former deputy retires from policing, but isn't done teaching next generation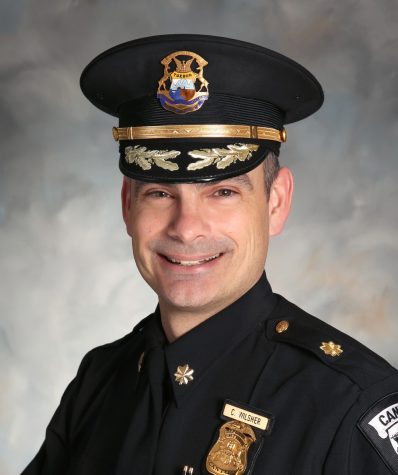 Craig Wilsher has had extensive experience working inside the criminal justice system as well as teaching it to students at Schoolcraft College. As a  part-time professor who teaches CJ-201 Criminal Investigation and CJ-209 Basic Criminalistics in the Criminal Justice Department,  Wilsher has a passion not only for the work he has done hands on at the department but also for education and learning. The professor aims to help guide his students to finding out what they love to do. Hence why he makes each lesson engaging, designing his lectures in such a way where even the most tired and apathetic of students not only participate, but enjoy coming to class. 
Wilsher began his foray into higher education as an accounting major, but soon picked up a criminal justice class after deciding it wasn't for him. After being in the profession for 25 years, he knows he found his true passion and that is in the classroom.
 "That's the great thing about college … it gives you an opportunity to explore other options," said Wilsher. "Right out of high school, 18 years old, it's difficult to know what you should [and want to do] or what you're even interested in. Some people know that, some people are pretty focused on one thing but there's a lot of kids that come out of school. College is the perfect place to go and vet those understanding of different fields to take and understand them better."
Wilsher has recently retired from his position as Deputy Chief of the Canton Police Department after serving the community for 24 years and 6 months. Retiring, but not without paying his dues. Wilsher will continue to work in the criminal justice system for a company called Fusus selling crime detection software.
"I thought he was very informative, as well as genuine with his explanations of criminalistics. He was very professional and kept class on track," said Criminal Justice student Jonny Griennell. "He was always very kind to students and hands on when it came to lab details."  
Reflecting on his service, the former deputy addressed the relationship between police and media. He finds it to be a beneficial tactic in awareness of investigations or public safety announcements but also believes there is a necessary balance in spreading information.
"It's a balance you have: a [productive] relationship with the media. It's important to address them, otherwise that is when inaccurate information can be spread," said Wilsher. "They get information from as many sources as they can to make the most credible story. Sometimes it's not spot on, so it creates issues."
Naturally, it is safe to assume that a former deputy would be at least slightly more inclined to believe the occupation to be a great one. Wilsher is a man with a lot of values that he has learned and continues to develop. At his core, Wilsher is a man who wants to help the people in his community, and because of that he loves his work as professor, believing that this is the best way he can help others. 
Students interested in learning more about criminal investigation and classes taught by Wilsher can register for CJ-201 Criminal Investigations or CJ-209 Basic Criminalistics. There are no prerequisites for these classes. Courses are taught Winter, Spring and Fall.
Criminal Investigations will teach students the criminal investigation techniques of surveillance, collection, recording and preservation of evidence. Students will study the analysis of evidence and use of science labs. 
The Basics Criminalistics class acquaints students with proper techniques of criminalistics. Students will have the opportunity to perform investigations in simulated crime scene situations using scientific investigative techniques involving collection, presentation and interpretation of physical evidence.