Take to the slopes
Mt. Brighton provides a winter venue to play near campus
Winter in Michigan is always a mystery. It could be snowing feets, trapping people within their homes, it could be barren and dry: a disappointment to those who envision a perfect winter season. On the other hand, it could be the perfect amount, making the world white and right for winter activities. For those adventurous folk, the ski slopes are where they prefer to be, feeling the rush of wind as they fly down the hills. If you are looking for the best local option to hit the slopes, look no further than Mr. Brighton which is only 26 minutes from Schoolcraft's campus with 26 trails, the most within the metro area.
Standing tall in the small city of Brighton MI, the popular resort has been open each winter since 1961. It's home to many active and new skiers, allowing its slopes to even be navigated by local school border cross teams, and is a favorite of US Olympic Athlete Jake Vedder.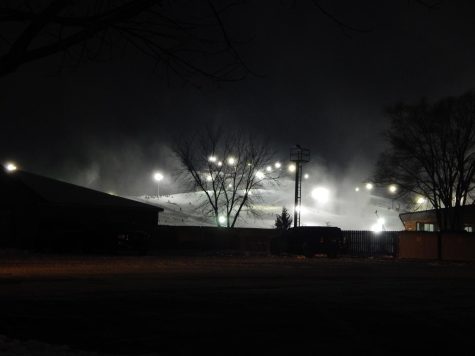 The mountain is so popular that it even allows its employees trips to other resorts, fully paid, to improve their skills and experience skiing culture. Schoolcraft Computer Graphics Technology student, Summer Sultana, enjoys taking to the slopes to snowboard.
Sultana found out about Mt. Brighton online and had to check out. 
"What draws me to the slopes is being able to get fresh air after always being stuck inside during the winter and wanting to get better at snowboarding each time I go. What I like most about Mt Brighton is that it's the closest to my house,." said Sultana. 
The mountain welcomes skiers of all skills: from their bunny hills to the black diamonds, to even their adaptive skiing programs that welcomes people of blindness and other disabilities to take to the slopes.
"This place is truly epic and not just because Vail Resorts owns them. They are the most customer centric employees you will ever encounter. Everyone is there to help you!" said local guide Jim Covington.  "The conditions of the trails and snow are top notch for Southern Michigan and their Ski and Ride School is terrific for all levels. Try them out soon if you haven't been.You will have a great time."
The resort offers rentals for all equipment, as well as buying your own for those who wish to take this hobby to new lengths and participate more often. The prices can range a bit for those who enjoy this hobby but worth the price of admission. 
From groups and weddings to dining and fun, the slopes have it all within a short distance  of Brighton, with all kinds of shops and activities for those who wish for a longer getaway. 
Another local guide, Jessie R. Brown, wrote a review saying "I hadn't been to Mt. Brighton for several years. So, I was pleasantly surprised at the variety of runs for all levels of skiers. It's great to have such a resort and facilities so close to home and just off a major freeway."
The slopes have much to offer for everyone and as anyone who has taken a go down any slope knows, no slope can truly be explained in full. It's simply a feeling. The feeling of the views, the movement and speed and laughter and memories you make as you learn to move with the snow. 
Current hours of operation for Ski & Snowboard are Monday – Friday: 3 p.m. – 9 p.m., Saturday: 9 a.m. – 9 p.m.,
Sunday: 9 a.m. – 8 p.m. Hours are subject to change at any time. 
For more information on Mt. Brighton visit https://www.mtbrighton.com.