Elevating knowledge
Health Sciences Center sees new additions to further health related programs
 Providing programs that include practical applications and simulations to make the transition of college to career seamless is something Schoolcraft strives to achieve. The Health Science Programs which consist of Emergency Medical Technology, Health Information Technology, Medical Assisting, Medical Imaging, Nursing, Occupational Therapy Assistant, Pharmacy Technology and Surgical Services are no exception when it comes to that topic; which is why the College developed the Health Sciences Center (HSC) designated for growth and expansion of these programs. 
The HSC was built on the former Applied Science Building which housed the engineering technology and occupational trade programs. Those programs have found a new home at 13001 Merriman Road, Livonia, MI in the Manufacturing Engineering Center (MEC), providing the opportunity to develop a facility for the health sciences students.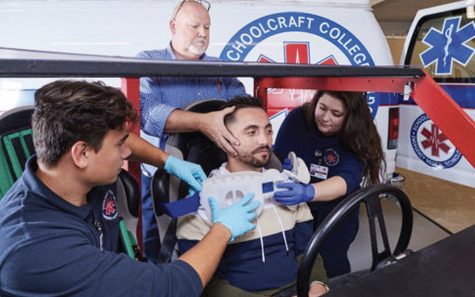 Next month will mark the one year anniversary of the HSC opening, featuring the new expansive space for classrooms and labs bringing the eight health sciences disciplines together. The HSC has received recent program additions, which are a continuation of the original construction and include Surgical, Radiology, Sterile Processing and Ultrasound Technology.
"[Feedback from the students have] been very positive, they really like the building: especially like a lot of these spaces where they can work. I see students out in the hallways, sitting at the tables out there studying. They also tend to hang out in the building a lot more than we used to see over at the Radcliff Center [where the Health Sciences programs were originally held]," said Associate Dean of Health Professions David Kesler. "I think that has to do a lot with how it's set up, good lighting, comfortable seats and their classes are right here as well."
The programs with imaging labs include phantoms to provide the students with visualization of anatomical structures that include body systems and internal organs. The technology also includes smart features for easy transportation and preventing errors. 
"Students can simulate and experience the latest and greatest equipment for diagnostic imaging. The imaging labs and student focused classroom ensure that students are well prepared to enter hospitals and clinical facilities," said Program Director of Radiologic Technology and Medical Imaging Faculty Representative Jufauri Ely. 
Ely has also received appreciative comments from program officials regarding the support and significant investments Schoolcraft has made for the HSC and its programs. 
The Medical Imaging programs include equipment that introduces radiography and/or sonography (ultrasound) to students pursuing that field or those attaining additional imaging certification under their belt.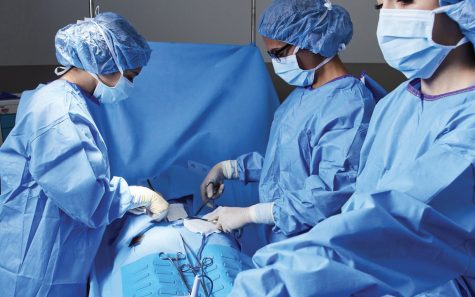 In regards to the Surgical Services, Schoolcraft offers curricular options for those either looking to work in an operating room or the "behind-the-scenes" patient safety regulation through sterilization of equipment. This subject of programs, including Sterile Processing, is specifically designated for integrative support of surgical, diagnostic and procedural interventions and can expect to be presented with all aspects of the healthcare delivery process. 
"The St. Joe's IHA partnership provides a modern medical environment on our campus that meets the primary and urgent care needs of students, faculty, staff and the community. It benefits students by providing them with practical experience opportunities," said former Schoolcraft President Dr. Conway A. Jeffress, quoted from the Schoolcraft Foundation website. 
Through the expansions and new technology in the health science programs, these additions should allow Schoolcraft to address medical field shortages by extending programs to include the certifications needed for graduates to occupy niche high-paying and demand jobs. This would not only support and furthers frontline workers, but also the college in return. 
For more information regarding Schoolcraft's Health Sciences Programs, go to https://www.schoolcraft.edu/academics/health-professions/.