Need a bite to eat?
Smoothies, paninis and more around campus
There is arguably nothing that brings people and communities together more than food! From themed, freshly cooked meals, baked goods, smoothies and coffee, there are far more options on campus than students may realize. 
Many of the foods provided do have some alternatives available for those with dairy, gluten and other allergies, as well as vegetarian options. Schoolcraft aims to provide nutritious but also comforting meals such as baked paninis or grab-and-go snacks like hummus with pita chips. 
"We do our best to make it convenient for the students, staff and faculty to stay [on campus]. We [strive] to provide a lot of options and stay relevant. We are also constantly looking for ways to reduce pricing [for our community]," said Culinary Operations Business Manager Lisa Alteri. 
MAIN STREET CAFE 
Due to the renovations to the North entrance of the Vistatech Center, Main Street Cafe is temporarily located next to Henry's Cafe in the Waterman Wing, but will find its permanent home across from the American Harvest Restaurant come fall 2023. Directly produced by Schoolcraft's Culinary Arts programs are baked goods such as breads, cakes, pies, breakfast pastries and more. Food is available for the community to purchase with all proceeds reinvested into the culinary programs to maintain and update equipment, as well as access top quality ingredients for students. The options vary each week depending on the learning objectives of each day in the culinary arts production classes. 
The Main Street Cafe's hours of operation are open Wednesday – Friday from 10:30 a.m. – 2 p.m. in the fall and winter semesters unless noted.
"There is definitely more to come in the future. We are really excited about the new Main Street Cafe; it's gonna be amazing because [it will act as] a new hang-out spot [for students, faculty and guests]," said Cafe and Markets Manager Maeghan Scully.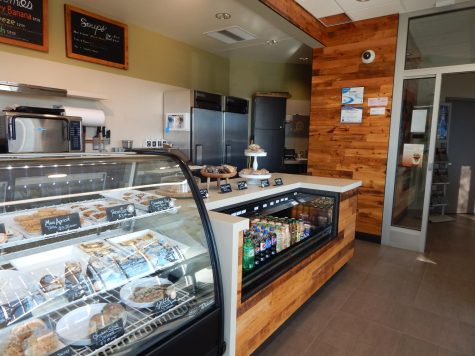 JC CAFE 
Located in the southwest corner of the Jeffress Center, the JC Cafe is open Monday – Friday from 9 a.m. – 2 p.m. which features a rotating selection of ready-to-eat items like sandwiches, flatbreads, entrees etc. made from scratch in-house. Many of the options are made to order by pound, allowing the customer to choose the portion. The cafe is also a part of the Starbucks Barista Program and offers lattes, cappuccinos and more that are made to order. 
HENRY'S CAFE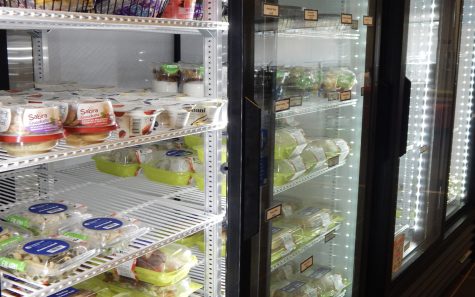 The largest out of all the on-campus dining options is Henry's Cafe which is located in the south side of the Vistatech Center and serves freshly cooked daily-themed meals with the current schedule Monday – Pasta Bar, Tuesday – Taco Bowl, Wednesday – Asian Bowl and Thursday Sliders. Also freshly made are their Detroit-style pizza bar with garlic bread, soup station, as well as their fridges stocked with prepared sandwiches, salads, snacks and an assortment of drinks; produced by the Culinary Operations.
They also have snacks like candy bars and chips, as well as cookies and muffins that are baked daily. If you are in need of a little pick me up, there are also coffee/tea machines available, as well as some cooking appliances such as a toaster oven and a microwave. 
"When I used to work for the Vistatech Center, Henry's was always my go-to for lunch. I've always been greeted with a nice conversation from the staff whenever I'm there," said Accounting Major and Vice President for the Business Club Adam Rose.
The grab and go portion of the cafe has the same hours as the building with their fresh made to order meals available Monday – Thursday from 11 a.m. – 2 p.m. 
MARKETS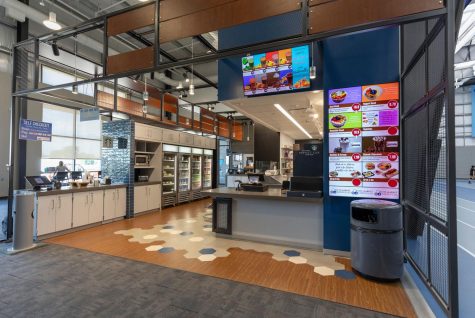 Around campus, especially in the buildings that occupy exercise and sports facilities, markets are available for those who need a little pick-me-up or quick bite with their self-serve meal and snack options. The college boasts three markets (Elite Market and Smoothie Bar, Ocelot Market and Ocelot Market Express). All food is operated and prepared by Culinary Operations along with Culinary Arts students to offer salads, sandwiches, nutritious snacks and assortments of beverages. They also contain a Starbucks Serenade machine for those craving a warm fresh-brewed coffee, hot chocolate or a chai tea latte. All markets operate during the building hours they are located in. 
The Elite Market and Smoothie Bar, located inside the Trinity Elite Sports Center received a 2022 Gold Metal from the National Association of College and University Food Services due to its innovative and unique concept. Thus, inspiring the expansion to other buildings including Ocelot Market located in the Trinity Health Sports Dome and Ocelot Market Express at the front desk of the Fitness Center inside the Physical Education Building. Specific to the Elite Market, its smoothie bar operates on an event-based schedule which is typically the weekends but is looking to open during the week in the near future.
According to the Schoolcraft Dining website the Elite Market Smoothie Bar, the menu options are made with wholesome ingredients such as dates and honey as natural sweeteners, [along with] fresh fruit and daily-free liquid options like oat milk and coconut water. They also use low-fat yogurt in our yogurt bowls and you can customize your smoothie with nutritional boosters such as bee pollen, power greens and protein powder."
OTHER OPTIONS
The crown jewel of the College is the American Harvest restaurant, which is currently receiving a whole new makeover and is anticipated to open fall 2023. This student-run restaurant serves as a part of the Culinary Arts programs for students to be accustomed to serving and putting their skills to the test. Guests can expect to experience a daily-changing a la carte menu of soups, salads, freshly baked bread and a selection of deserts with a Brew Pub that will offer Schoolcraft award-winning beers. Although on the pricier side, the community has the option to make reservations to attend either lunch or dinner during the Fall and Winter semesters.
Of course, there are vending machines around campus for those who need a quick snack or drink during a break.
Nonetheless, as the college moves further from the hits it received from COVID-19 and increased costs, the cafes on campus look to open further and provide more diverse and