Wenske: How did I get here?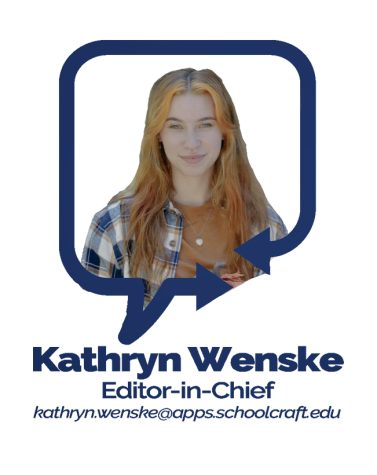 I truthfully would have never anticipated to occupy the Editor-in-Chief position, but I am absolutely grateful for this opportunity. Last winter semester was the beginning of my freshman year, I immediately started getting involved with student life like joining the Business Club and became the Chairwoman of Recruitment. After a wonderful routine appointment with my advisor (hi Gary), he recommended the Schoolcraft Connection due to the fact that I absolutely love to write and thoroughly enjoy English and Literature. 
I sent my application, previous English papers I had written and my resume done by Julie Hill from Career Services to Rena Laverty, who is our Advisor for the newspaper. I got an interview and was offered the News Editor position. I obviously took it as that was the position I applied for and was stoked to be a part of a college newspaper; especially because I was a homeschooled student and did not have the opportunity then. 
I started working on my first two articles and was interviewing an alumni for one of them with Laverty. Afterwards, she and the then Editor-in-Chief, now my Managing Editor Ben Bolstrum wanted to have a conversation with me. Not even a month into working for the Connection, I was offered the Editor-in-Chief position. Blessed with this opportunity, I accepted! Had no idea what I was doing, But Bolstrum did and he would walk me through it. 
I did indeed have some goals and expectations I wanted to accomplish but discovered them throughout the academic year. I very much upheld deadlines, and am sure my editors have hated me a couple times for the very limited two weeks to interview and write stories for the upcoming issues. Overall, I most definitely wanted my team to do projects they thoroughly enjoyed and wanted to do. I also welcome diversity and love how the Connection provides the ability for those to have a platform for their voice, especially as students, which also diversifies the content we produce, thus reaching more audiences. 
My team has gone along with my quirky ideas, specifically for our group photo ideas that are in the group editorial and the themes of our issues; which I will forever hold dearly. I got very lucky and am extremely proud of everyone who is a part of the Connection. I cannot wait to see where these wonderful people go in their lives and I wish the best of luck to my graduating and transfer editors. See you in the next issue!