Ardent artists
Schoolcraft Art Club to showcase works on April 1 in downtown Northville
Schoolcraft's Art Club will be hosting a multi-media art exhibit, at Sweet Brew 'n Spice, April 1 from 3 – 5 p.m. in downtown Northville at 133 West Main Street #230. Visitors will discover many selections  of artwork created  by members of the club. Everyone  is welcome to stop by and enjoy some sweets, and drinks while looking at phenomenal art. Some artwork will be available to purchase and proceeds  earned will go towards future funding for the club.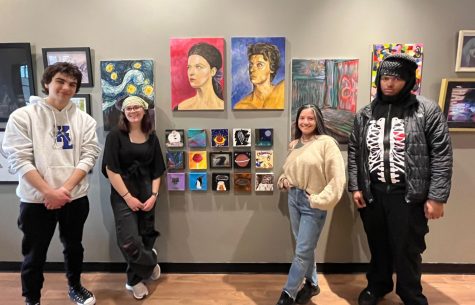 "I am so excited for this exhibit," said Sara Mallory, one of the artists who will be featured at this showcase. "It's a rare opportunity to show off my art in college. The piece I am most proud of is one I call 'Stressed Out'. It is a multi-media self portrait that tells the viewer how I am in college."
Through this event, the Art Club hopes to promote the works they have created while supporting their creativity as well. With this in mind, more events can be held in the future.
"I am really excited," said Kendall Borchardt, who sits on the board of the Art Club as Speaker of the House. "I helped set up the exhibit. It was a long set up but it was really fun. The small canvases that are put together in the middle were pieces we did for Winter Daze. It was a little fundraiser to help raise money for the Art Club, so those ones we will be selling. They will remain up until the exhibit is done." 
Don't miss out on a fun opportunity to support local artists. Entrance to the exhibit is free, so even those who don't leave the exhibit with art of their own can enjoy the experience. Support local artists by alone or with some friends by visiting this Multi-Media Art Exhibit.
Artists participating are:
Kessslyn Rozza
Kendall Borchardt
Lauren Biseinger
Florencia Benavidez
Miriam Wizinsky
Sara Mallory
Eve Nicholson
Griffin Lumetta
Sarah Henry
David Byum
For more information, contact the Student Activities Office at 734-462-4422.