Networking and new careers
April 13 Spring job fair brings nearly 100 companies to campus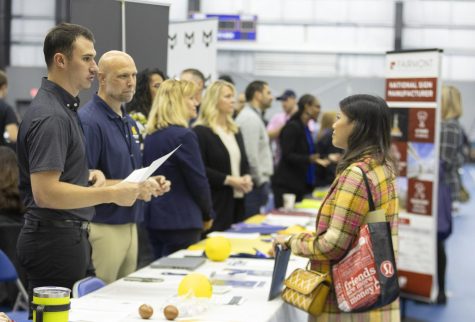 If you are looking to start a new career, switch jobs or network, the Spring Job Fair is the place to be April 13 from 4-6 p.m. inside the Trinity Elite Sports Center.
Attendees can expect to see nearly 100 booths of small to larger businesses, including Roush and University of Michigan Medicine, and so many more for new students, graduating, or career changers interested in Healthcare, Law Enforcement, Business, Education, Advanced Engineering and more. There is also a diversity of positions varying from each company, whether it is entry level jobs or positions that require more experience, along with internships. Some are hiring for full time positions but many of them may be inclined to college student schedules. 
Twice a year Career Services and the Manufacturing and Engineering Center (MEC), co-operated by Director of Career Services Julie Hill and Employment and Internship Coordinator at MEC Karen Maxton, host a Job Fair that everyone is open to to Schoolcraft students, alumni and community members.
"What I hope the students gain is confidence. When they walk through and they talk to employers, it's like preparing for a job interview: you get a chance to talk to the people who are actually going to be hiring. So, I just hope that students come with an open mind, learn something and pick up some swag," said Hill. 
Attendees are welcome to come as they are, but it is recommended to present as professional and offer companies you are interested in a resume or business card as the Job Fair acts as an informal interview. 
"If you have your own business card, you can bring that; just so that you can kind of leave your mark, even if you're still a year away from graduating. I recommend coming to the job fair because you can get a feel for the companies that are out there that are hiring," said Hill. 
The student body, like the Business Club and student ambassadors will also be there to aid, as well as direct attendees.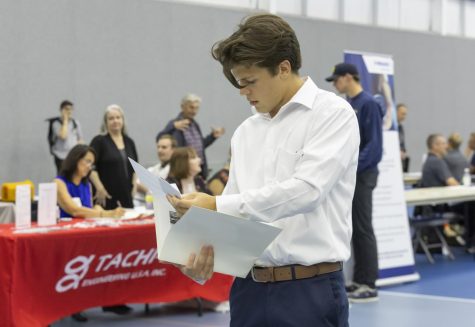 Vice President of the Business Club Adam Rose believes that the Job Fair is not composed of monotonous recruitment, but businesses that genuinely want to share conversations between attendees and possibly share their personal experiences of being in a certain career field.  
"The people, businesses and companies that reserve these spots for the job fair only want one thing, to learn from you. They don't want to pressure or force their business on you. Instead, they want to learn about who you are and help guide you to where you might want to be," said Rose. "There's no harm in stopping by to check it out and see if a table might catch your eye!"
Filled with equal opportunity for Schoolcraft and local community members, the Job Fair offers those to pursue their ambitions, become aware of the businesses and career fields that they develop newfound interest for and take advantage of an event that is free!
For more information, contact Career Services at 734-462-4421 or [email protected].