Truly a gift
Student employees receive recognition for their hard work
Schoolcraft does not only offer higher education to students but also a way to make an income or financial aid with tuition by employing students across campus departments. Student employees are a commonality on campus and to recognize their dedication, commitment and hard work Career Services held its 2023 Student Employee of The Year Nominee Luncheon March 17 to recognize the achievements of nine students who were nominated by their supervisors for their efforts.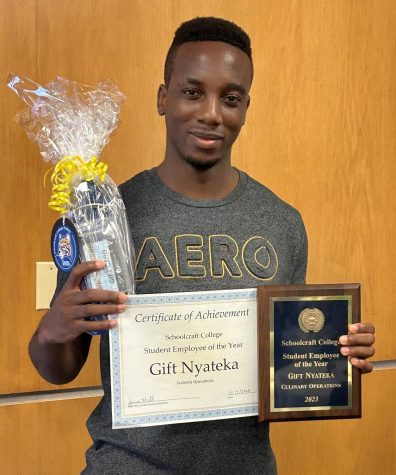 This year's nominees were Kennedy Bowen (Registration), Jared Hynes (Information Technology), Abbie Cattermole (Sciences), Rebekah Allen (Registration), Xhesika Luarasi (Learning Support Services), Matasha Robinson (Schoolcraft Foundation), Darci O'Neil (Admissions), Nathan Pierce (Facilities) and Gift Nyateka (Culinary Operations) was selected as the recipient of the 2023 award.
"We were thrilled to be able to honor and recognize nine outstanding nominees at this year's event!  It's the first time in a while that we can recall having all our nominees in attendance at the celebration luncheon," said Director of Career Services Julie Hill. "The event was a wonderful way for us to express our gratitude for all the hard work and positivity our student employees bring to the Schoolcraft College campus." 
The student employees were awarded in categories of Critical Thinking, Leadership, Diversity and Inclusion, Community Service and Technology and Innovation. Nyateka was chosen to receive this award on account of their skills matching that of a model employee at Schoolcraft, with a particular knack for leadership, which was the category he was chosen for. 
"It was clear from the start that Gift would be an outstanding employee. He caught on quickly. He took charge quickly but in a very subtle way," said Culinary Operations Business Manager Lisa Alteri. "Everyone he worked with commented on what a great person he was, how smart he was and how much they enjoyed working with him."
Being an international student born in Zimbabwe to then South Africa and only living in the U.S. a few weeks prior to his hiring at Culinary Operations, it did not discourage Nyateka. He was noted to be friendly and a fantastic collaborative leader. "My goal each day is to try and make a change: something [to bring into] someone's life. I always go with the mindset of  brightening someone's day, or finding something to smile for each day," said Nyateka.
Nyateka was also notably humble, as he was just excited to have been nominated and was even more so when Alteri and others presented him their printed agenda announcing that he had won.  "I was in disbelief, to be honest. It's just one of those things that [make you] kind of speechless. It was a big deal; I mean, out of the whole campus I was voted for the student [employee of the year]. It was too much for me to handle."
Nyateka, as well as all of the recipients are well deserved of their awards. The community can look forward to seeing our student employees continue to improve and grow Schoolcraft, as well as themselves. 
For those interested in working on campus contact Career Services at call 734-462-4421 or email [email protected].