Behind the scenes
Campus Police has your back
For lack of better words, appropriate campus safety has been a discussion throughout the U.S., especially when it hits close to home. The shooting at the Michigan State University shocked and scared us all, as it happened unexpectedly. Many questions on the precautions that could or should have been taken spiraled and fingers were likely pointed at the departments who manage the emergencies on campus. 
Other incidents could happen on any campus, which is why Schoolcraft's relatively recent President Dr. Cerny made it one of his first missions as vice president in office of 2010 was to have a stable, strong, professional and impressive Certified Police Department stationed and dedicated to the campus from the previous Security Department. 
"One of the main missions was to install state-of-the-art intelligence operations and make sure that we had state-of-the-art security systems in place. So everything that you see there has been in existence for about seven, eight years now and it's continued to be built upon," said Schoolcraft Chief of Police Mark Engstrom. "We have had other colleges and universities, including the University of Michigan, that have come here to see what we've done and then they're going back and trying to replicate it." 
With an Intelligence Operations Center with 800 surveillance cameras, the department is staffed with officers who have served active duty in city police stations and are no stranger to emergency situations. Through vigorous interview processes, the department prioritizes their mission of community engagement and policing. 
"We're trying to recruit the person that's been in law enforcement for 20, 25 years and that still has interest in working for another 10, 15, 20 years. They [also must] show that they still have that engagement and their commitment to the community is more than just a talking point," said Engstrom. "We want to connect with our community and our students to feel safe: we have a lot of staff and faculty here that we want to feel safe. So really that's our number one mission, is making sure that we're taking every opportunity to connect with people and that they feel good about where they're at."
In regards to alerting the campus and what measures are taken, there is a red button in the Intelligence Operations Center to alert the campus of any problems, such as an active assailant. If ever such a case, there are special keycards that when scanned close down the whole campus. The department will send out emergency SC Alerts to our phones and emails; whether it's weather warnings or other. Social Media, such as Instagram and Facebook, are flagged and monitored for keywords mentioned in case they are alarming or pose a threat to campus safety. 
For in-person surveillance, they generally have three officers with a supervisor for the day shift, two officers with a supervisor on the afternoon shift and minimal staff on night shift. 
The Schoolcraft Police Department amplifies the importance of preparedness, including partnerships with the City of Livonia Police Department, Northville Township Police Department and all of Western Wayne County and a part of the Western Wayne Special Operations Team. Not only does this aid in a healthy rapport with the surrounding stations, but also developing strong ties and dependency to lean on each other when needed.  
The Department does not only handle life or death situations, but also interpersonal incidents and mental health cases. "We trained about half of our department in mental health, critical response and dealing with people. We've got a great working relationship with Student Relations," said Engstrom. 
Student Relations acts as the support for students when they are involved in incidents, as well as crossover into some of the things the Police Department does. They will review SC Aware Reports and will sometimes cover social media monitoring, along with evaluations of cases. Both of these departments prioritize one thing, which is keeping their students safe. 
"Listen to your gut and follow your instincts. If something doesn't feel right, report it through SC Aware. If it bothers you, bother us," said Associate Dean of Student Relations and Chair of Campus Awareness, Response and Education (CARE) Team, Nicole Wilson-Fennel. 
If there are ever incidents when faculty or staff are at risk, staff are informed with steps to make themselves safe and how they should handle such instances.
"Instructors should report concerning and disruptive behavior through SC Aware. Student Relations and the college's CARE team will follow their threat assessment and behavioral intervention protocols," said Dean of Students and Deputy Title IX Coordinator for Students Marty Heator. "Student Relations will take steps under Policy 2011 Regulations Governing Students to determine if the student is allowed to continue to participate in classes and campus life. Dangerous behavior should be reported to campus police." 
Incidents still happen, but preventative measures, as well as quality tactics and responses are necessary to keep the campus safe and prove to lessen cases as the standard of etiquette have been raised.
 If something does not feel right, trust your instinct and take the right steps for your safety and file an SC Aware report or call Campus Police at 734-462-4424.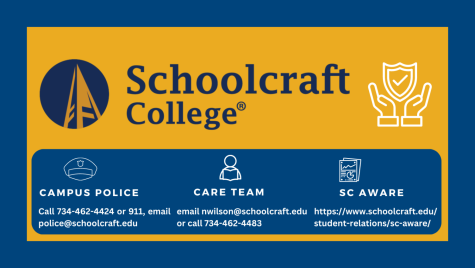 SC aware
https://www.schoolcraft.edu/student-relations/sc-aware/
SC aware is the college's online portal for reporting concerns and requesting support. MOST SC aware reports come to the Student Relations Office. Reports of crimes or potential criminal activity go to SCPD.
 Schoolcraft College CARE Team
CARE stands for Campus Awareness, Response and Education.
CARE team members represent Campus Police, Human Resources, Office of Instruction, and Student Services.
CARE team is chaired by Nicole Wilson-Fennell, Associate Dean of Student Relations ([email protected], 734-462-4483).
Schoolcraft Campus Police 
Call X4424 or 911 from any cell/campus phone: to reach the department, call 734-462-4424 or email [email protected].